This post contains links that, if you click on them and make a purchase, will earn me money. As an Amazon Associate, I earn from qualifying purchases. . Regardless, I only recommend products or services that I believe will be good for my readers. Thanks for helping me continue to produce great content!
Easier Than Pie Homemade Peach Cobbler has its charms, and one of them is that it's so easy, it's almost like magic!
In The Tradition of "Magic Pies"
In fact, this recipe is very much in the tradition of those impossibly easy "Magic Pies" some of our moms used to make when we were kids. I think there used to be a recipe for those involving broccoli, eggs, hamburger and cheese, on the back of the Bisquick Box. Remember those? No?
Well, the idea is that you make a loose runny batter out of the dry ingredients and the melted butter, and that goes in the bottom of the pie dish. You dump the ingredients in that you want to show up later ~underneath~ the crust, on top of that batter, and just like ~Magic~, the crust rises and forms on top of the filling. And it all comes together faster than the Germans took over Poland in 1939.
Still too soon?
I guess I could have named it Blitzkrieg Peach Cobbler, but that conjures up images of bombs going off in my stomach, and *this* is nothing like *that*.
Great for a Weeknight Dessert
While Homemade Peach Pie is my daughter's favorite, I have to say that, in my estimation, Easier Than Pie Homemade Peach Cobbler is an extremely close second, in terms of flavor and customer satisfaction, at my house. My son, in fact, prefers this cobbler, so if I make the cobbler, I save a lot of time, and that is the REAL beauty, in my opinion, of this recipe.
Plus, I get to fuel the as-yet-unextinguished sibling rivalry fire that burns like a flame, in regard to which kid Mom loves better. (If I make the cobbler, clearly my son wins. The pie? I love my daughter more.)
~insert maniacal evil mother laughter here~
I promise, I love them both equally.
I really DON'T try to encourage this argument…
Why do they compete???
Oy.
A Southern Living Recipe:
I found this recipe through the Southern Living recipe website, called MyRecipes. I altered it in regard to specifying freshly grated nutmeg, because I find that nutmeg that's been freshly grated makes such a wonderful difference in flavor, and I reduced the baking time, ever so slightly, because the first time I made it, when I used their baking time, my cobbler was overly browned. (I baked this using my convection oven setting, so that may figure into the equation as well. Always use baking times as estimates, and trust your eyes, and your sense of smell, as to when your baked good is ready.
Anyway, on to the recipe for
Easier Than Pie Homemade Peach Cobbler:
Yield: 8 servings
Easier Than Pie Homemade Peach Cobbler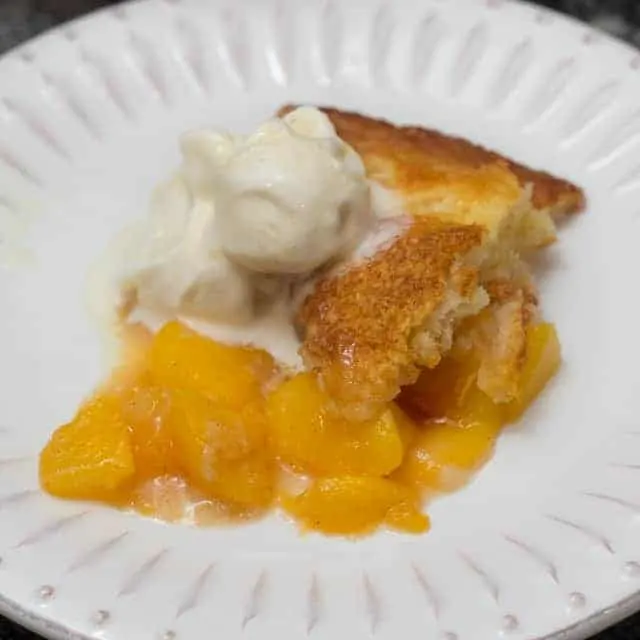 A peach cobbler recipe that's homemade, delicious, and hey, it's easier than pie.
Ingredients
1/2 cup butter
1 cup all-purpose flour
2 cups sugar, divided
1 tablespoon baking powder
Pinch of salt
1 cup milk
4 cups fresh peach slices
1 tablespoon lemon juice
1/4 teaspoon freshly ground nutmeg
Instructions
Melt butter in either a 13- x 9-inch baking dish or a 9 1/2" pie pan.
Combine flour, 1 cup sugar, baking powder, and salt in a bowl;
add milk, stirring just until dry ingredients are moistened.
Pour batter over melted butter in pie dish, but do not stir batter.
Bring remaining 1 cup sugar, peach slices, and lemon juice to a boil over high heat, stirring constantly; pour over batter (do not stir). Sprinkle with freshly grated nutmeg.
Bake at 375° for 35 to 40 minutes or until golden brown. Serve cobbler warm or cool.


Notes
I think vanilla ice cream is the perfect accompaniment to this dessert. It helps me forget I'm missing out on a golden, flaky pie crust that I might have had, had I used the peaches in a peach pie. 🙂
Because there is sugar in the crust, this recipe browns more quickly than a regular peach pie, does, so keep an eye on it. I've reduced the baking time by 5 minutes, to compensate for that, since when I went with what the original recipe said the first time I made it, my cobbler came out too brown. Just keep an eye on yours. It will be done when it *looks* right.
Recommended Products
As an Amazon Associate and member of other affiliate programs, I earn from qualifying purchases.
Nutrition Information:
Yield:
8
Serving Size:
1
Amount Per Serving:
Calories:

399
Total Fat:

12g
Saturated Fat:

8g
Trans Fat:

0g
Unsaturated Fat:

4g
Cholesterol:

33mg
Sodium:

308mg
Carbohydrates:

71g
Fiber:

2g
Sugar:

56g
Protein:

4g
I'd really appreciate it if you'd pin this on Pinterest, or flip it on Flipboard, or share it on Facebook, or tweet it on Twitter. Just share it SOMEwhere!