This post contains links that, if you click on them and make a purchase, will earn me money. As an Amazon Associate, I earn from qualifying purchases. . Regardless, I only recommend products or services that I believe will be good for my readers. Thanks for helping me continue to produce great content!
This recipe for Pasta with Roasted Butternut Squash, Pine Nuts, Sage, and Browned Butter is the perfect comfort food for a cozy autumn evening. The first time I had this dish, it was made by Chef Nick Pelegrino, of Mangia, Nashville.
Mangia Nashville is a Nashville Treasure
Mangia Nashville is one of my favorite restaurants, and if I've invited you there for one of their weekend feasts, it's a mark of how highly I value your friendship. It's a WHALE of a good time! Mangia Nashville has good food, and plenty of it, and singing and dancing. (And if you're visiting Nashville for the first time, it's on my list of MUST SEE places! You can read why, here. )
The last time I went there, I took a few of my closest friends with me.
No, I'm not kidding. I really took all these women with me!!!!
So, one of the dishes we most enjoyed that night was this wonderful pasta, made with browned butter and butternut squash. I found Nick's recipe, online, but then I added some pine nuts for crunch, and some bacon for a bit of salty, smoky flavor, when I roasted the squash in the oven.
Do You Have to Roast the Squash?
Now, you don't HAVE to roast the squash. You could certainly steam it. But I find that roasting it in a bit of olive oil with salt & pepper …. and bacon (!!!!) ,,,causes the squash to caramelize (brown) a bit on the edges, and that brings out the sweetness in it. Yum! The bacon is totally optional, and perhaps gilds the lily a bit. But I've never been one to balk over a gilded lily.
Possibly one of the better parts of this dish, besides the fact that it is SWOONINGLY DELICIOUS, is that it's super easy. I mean it!
How to Peel, Chop, and Roast a Butternut Squash:
You can, if you prefer, cut a corner by buying butternut squash that's already been cubed. I've heard it really exists, although I'm not sure if I've ever SEEN it. But if you're not cutting that corner…
Start by peeling your squash, down past where you see the little green lines. (The peel's a little thick, so it will likely take a few swipes with your peeler to get down to the level that you want.)
Then lay the squash down on your cutting board, and cut it kind of in half, by cutting off the bulbous end.
Cut off the stem, and the base, so that you have flat edges on each half.
Cut each half in half.
Scape the seeds out of each of the bottom halves.
And now you're ready to cut it into bite sized chunks. Maybe like 3/4″ cubes.
Whatever sized cube you cut, try to make them all fairly uniform in size. They'll roast more evenly that way.
Heat the oven to 425º. Line a sheet pan with parchment paper or foil, and drizzle the cubes with olive oil, salt & pepper. Cut a couple of strips of bacon into similar sized rectangles, and stir them around with squash. Spread everything out evenly on the sheet pan, and roast for about 20 minutes, until squash is tender and the bacon is cooked.
What Kind of Pasta Should You Use?
In terms of what kind of pasta to use? I think a type of medium noodle will do: I used a rotini, but a penne or a rigatoni would be nice, too. Just be sure to get the water nice and salty: salty like the sea. And cook it just till it's al dente, which means "to the teeth". That often means that at about 1 minute less than package directions say, you try a bite of pasta. You should feel a bit of chew to it. But not too much. It's going to soak up the beautiful browned butter and pine nut sauce that is coming.
UPDATE/Editors Note Regarding Crispy Sage:
Since I wrote this recipe, I've learned how to make the sage leaves nice and crispy. In a small sauté pan, heat a couple of tablespoons of olive oil, till it's ripply hot, and drop the sage leaves in for about 10 seconds. Fish them back out of the olive oil, and drain them on a paper towel. If they don't sizzle when they hit the oil, your oil isn't hot enough. Fish them back out of the olive oil, and drain them on a paper towel. Sprinkle the crispy sage leaves on the dish at the end, so they won't get soggy.

The Recipe for Roasted Butternut Squash Pasta with Pine Nuts, Sage, and Browned Butter
Yield: 6 servings
Butternut Squash Pasta with Pine Nuts, Sage, and Browned Butter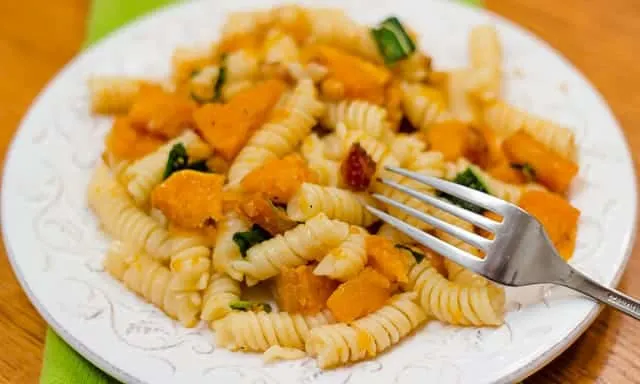 This fall recipe for roasted butternut squash with pine nuts, sage, and browned butter is the perfect comfort food for a cozy autumn evening.
Ingredients
1 butternut squash, peeled and diced
2 slices of bacon, diced
2 T. olive oil
sea salt
freshly ground pepper
1 lb. pasta, cooked according to package directions, in water that is salty like the sea (about 2 T. salt)
1 stick butter (8 T. or 1/2 c.)
1/4 c. pine nuts
handful of sage leaves, coarsely chopped or torn
sprinkle of red pepper flakes (optional)
1 c. freshly grated parmesan cheese
Instructions
Pre-heat oven to 425º. Toss the squash and bacon pieces in olive oil, salt, and pepper. Roast butternut squash and bacon pieces for about 25 minutes, until bacon and squash are both beginning to be browned, and squash is tender.
Heat 2 tablespoons of olive oil in a small sauté pan till the oil is shimmery hot. Drop the sage leaves in the hot olive oil (if the oil is hot enough, you'll hear them sizzle) and fry them for about 10 seconds. Rescue them with a slotted spoon or spider, and drain them on paper towels. Set aside for finishing the dish.
Melt butter in large pan. It's helpful if the pan is silver or light in color so you can watch the color of brown the butter is turning. The butter should smell nutty - not burned. When the butter is beginning to change color, and you're just getting those first nutty odors, add the pine nuts, and continue browning about 1 minute more. When the butter is becoming perfectly brown, the pine nuts will also be browning.
Add the hot red pepper flakes if you like a bit of heat, and swirl them around and then stir in the roasted butternut squash and bacon. Pour all that over the cooked and drained pasta. Add about a half of a cup of Parmigiano Regianno cheese to the pot at large, and then garnish each plate with another sprinkling of cheese, and the crispy fried sage leaves.
Recommended Products
As an Amazon Associate and member of other affiliate programs, I earn from qualifying purchases.
Nutrition Information:
Yield:
6
Serving Size:
1
Amount Per Serving:
Calories:

431
Total Fat:

30g
Saturated Fat:

14g
Trans Fat:

1g
Unsaturated Fat:

14g
Cholesterol:

57mg
Sodium:

558mg
Carbohydrates:

30g
Fiber:

3g
Sugar:

1g
Protein:

12g
Please share this recipe anywhere and everywhere. I don't want anyone to miss out on this fabulous dish! Pin it on Pinterest, share it on Facebook, Flip it on Flipboard, Stumble it on StumbleUpon, Yum it on Yummly, or Tweet it on Twitter.