This post contains links that, if you click on them and make a purchase, will earn me money. As an Amazon Associate, I earn from qualifying purchases. . Regardless, I only recommend products or services that I believe will be good for my readers. Thanks for helping me continue to produce great content!
This appetizer recipe for Goat Cheese with Sun-Dried Tomatoes is easy, creamy, tangy, crunchy, and goes great with a nice glass of wine. It's the perfect thing to enjoy before plowing into Thanksgiving meal preparations.
Why Goat Cheese with Sun-Dried Tomatoes?
Every Thanksgiving, I serve an appetizer of Goat Cheese with Sun-dried Tomatoes, Garlic and Rosemary on Crostini. Every family has holiday traditions, and this is one of ours. In fact, if I didn't serve it, there'd be a mob formed (by my family), which would include pitchforks and torches.
Why is it our choice, year after year?
It's quick. It's easy. It's beautiful to look at. And It's AMAZINGLY DELICIOUS!!!!!!
Delicious Food Trends Never Go Out of Style
I first made it in 1998, the year the Southern Living 20th Anniversary Edition of their Annual Recipes Cookbook was published. My son was only 4 years old back then, but even he loved the tangy creaminess of the goat cheese, with the savory sweetness of the garlicky sun-dried tomatoes with rosemary, all served on a freshly warmed salty, crispy crostini. If you garnish your platter with rosemary sprigs, the whole dish has a Christmas-y appearance, as well. (Think about the colors of red and green, and how the rosemary plant resembles an evergreen tree.)
Yes, sun-dried tomatoes are so very 1990's, but there's a reason they were so popular for an entire decade: they are tiny flavor bombs of sweet and savory yumminess. Especially when you add that dark herbal note of rosemary, and the garlic and extra virgin olive oil. So Don't Disdain the Sun-Dried Tomato: employ its magic. And splurge and buy a nice fruity extra virgin olive oil. In a dish this simple, it's the excellence of the basic ingredients that counts. Buy a beautiful baguette from the best artisan bakery you have access to. (It's ok if it's a day or two old, because you're going to toast it in the oven, anyway, which will freshen it up.)
I've actually shared this recipe before, but I kind of buried it at the end of a post I wrote for Morton Salt. And for people who are looking for a GREAT Thanksgiving appetizer, this one is the business, and it deserves to be found by Google, or your favorite search engine.
What Wine Should I Choose To Go With This?
Now that the kids are old enough to enjoy wine with a nice meal, I always choose a nice Sauvignon Blanc to go with this appetizer. It really pairs beautifully!
With our appetizer plates filled, and our glass of wine, my daughter and I retire to the living room for a bit of a mid-day break, where we watch the Purina National Dog Show. Because what would Thanksgiving Day be to a dog lover, without it? It's like having a light lunch that's really special. And it's the perfect dish to tide us over till the big feast that's coming at around 5:00.
Looking for other great Thanksgiving dishes? Like my Easy Cranberry Orange Apple Walnut Relish? I can supply! There's a list of them below the recipe.
So here's the recipe for:
Goat Cheese with Sun-Dried Tomatoes Appetizer
Yield: 8 servings
Goat Cheese with Sun-Dried Tomatoes Holiday Appetizer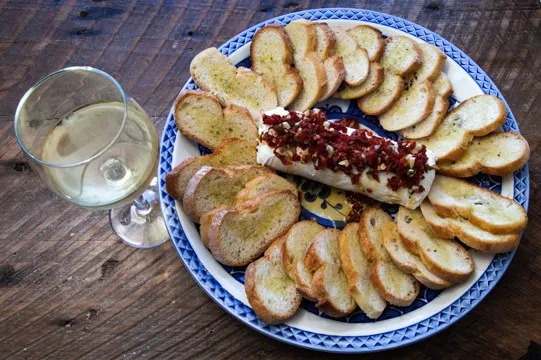 A Thanksgiving appetizer that's quick, easy, beautiful, and amazingly delicious! Goat Cheese with Sun-Dried Tomatoes, Garlic, and Rosemary on Crostini. Perfect for Christmas parties, too! It's the red and the green, dontchaknow?
Ingredients
Approximately 6 sun-dried tomato halves
3 cloves of garlic, minced
2 T. of excellent, fruity extra virgin olive oil
1 T. chopped fresh rosemary
1 French baguette, thinly sliced
olive oil
sea salt
freshly ground black pepper
1 11 oz. package of fresh goat cheese
Instructions
Cover sun-dried tomato halves in boiling water; let stand five minutes. Drain, and chop. Combine chopped tomatoes, garlic, oil, and rosemary in a bowl. Cover with plastic wrap and chill up to 4 hours.
Pre-heat oven to 350º. Brush baguette rounds with additional olive oil. Sprinkle with sea salt and freshly ground black pepper. Place on an ungreased baking sheet and bake for 8 minutes, or until lightly toasted.

Just before serving, place goat cheese on a serving plate, and top with tomato mixture. Serve with toasted baguette slices

.
Notes
You can substitute sun-dried tomatoes that have been packed in oil; just don't hydrate them, if you do.

Adapted from Southern Living 20th Anniversary Edition Annual Recipes
Recommended Products
As an Amazon Associate and member of other affiliate programs, I earn from qualifying purchases.
Nutrition Information:
Yield:
8
Serving Size:
1
Amount Per Serving:
Calories:

265
Total Fat:

14g
Saturated Fat:

7g
Trans Fat:

0g
Unsaturated Fat:

7g
Cholesterol:

18mg
Sodium:

499mg
Carbohydrates:

23g
Fiber:

1g
Sugar:

2g
Protein:

12g
Other Scrumptious Thanksgiving Dishes
These are the dishes I serve at my OWN Thanksgiving celebrations. Not a loser in sight! Each one is over the top fabulous!