This post contains links that, if you click on them and make a purchase, will earn me money. Regardless, I only recommend products or services that I believe will be good for my readers. Thanks for helping me continue to produce great content!
This Apple-Pear Salad with Maple Pecan Bacon is the perfect salad for Thanksgiving. Apples, pears, grapes, salad greens, with Maple Pecan Bacon, drizzled with a cranberry vinaigrette!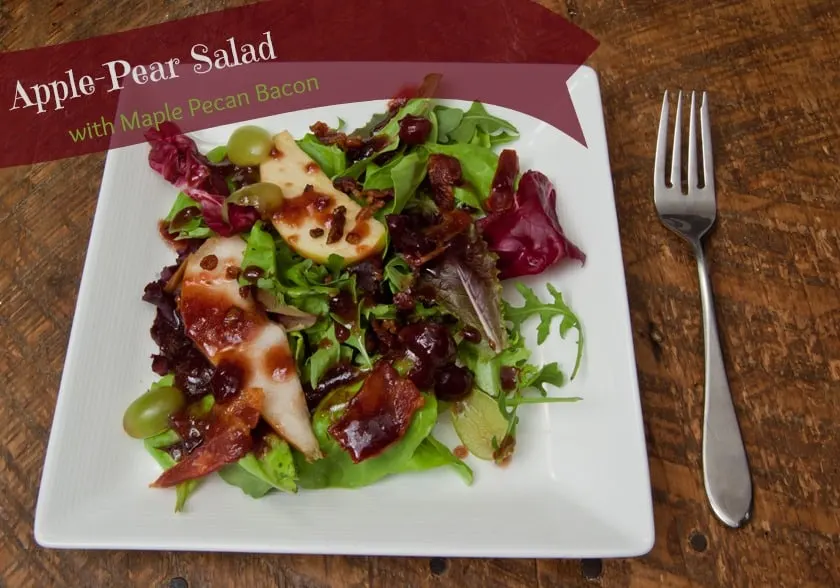 How I Discovered This Apple-Pear Salad
I went to a slumber party with my wonderful girlfriends, and came home with the salad of my dreams: Apple-Pear Salad with Maple Pecan Bacon in a Cranberry Vinaigrette!
OK, the truth is, nearly all of us bugged out after Bible study, dinner, and the hot tub, and went home to sleep in our own beds BEFORE we got to the slumber portion of the evening. I think 4 guests remained when I left. So, not much slumbering on site. And yes, I was one of the ones who hit the trail, late at night, so I could go home and sleep in the Boonies. But nearly all of us showed back up again the next morning for breakfast together, so it was ALMOST a slumber party.
But at the dinner we had on Friday night, my friend Debbie had prepared a huge, glorious salad that was so good, it had all of us begging for the recipe. And then, the next day, I found that very recipe, in my brand new Southern Living 2011 Annual Recipes cookbook that had just arrived in the mail.
It was listed among the very select group of the Best Recipes of 2011. And I can assure you, it earned that place of high honor. This was one of the best salads I've had in a LONG time. And, since it was actually published in the Southern Living Magazine during the month of October, its ingredients are very fall-friendly, making it perfect for your Thanksgiving table.
Better Than A Side Dish/Almost a Meal
If I didn't love my recipe for Green Beans Gremolata so much, I would almost say that I tire of green beans on Thanksgiving. I always use fresh green beans, and they are a lot of work to tip, string and break.
This salad requires very little preparation, in comparison. The biggest amount of effort is in coating and browning the bacon, but that could easily be done the day before Thanksgiving.
It's the Maple Pecan Bacon.
The bacon gets dipped in maple syrup, and coated in chopped pecans, before it's baked. Pig Candy, people. It may smoke a little while it's cooking, but it's worth it!That maple syrup browns and caramelizes quickly, so keep an eye on things.
If you're looking for a reputable, delicious, and super-convenient source of pecans, I recommend Millican Pecans. I LOVE their pecans, and they don't JUST sell pecans. (I also heartily endorse their Sweet and Spicy pecans, that go great on a salad, or are delicious as an appetizer.) If you'd like to order their VERY reasonably priced and highest quality pecans, or any of their pecan treats from them, please use my coupon code: SUSAW100
No, Wait. It's the Cranberry Vinaigrette.
And then, there's the cranberry vinaigrette, that explodes with flavor by the addition of grated fresh ginger and grated orange zest. Holy molé!!! I imagine this vinaigrette would be great on almost any other type of salad you've a mind to experiment with.
It's a dish that is colorful, beautiful, fresh and BURSTING WITH FLAVOR. It's a welcome addition to a primarily brown holiday menu. But the cranberry fits the Thanksgiving holiday so well, I hated the thought of NOT telling you about it in time for the holiday.
Here's the recipe for:
Yield: 12 servings
Thanksgiving-Worthy Salad: Apple-Pear Salad with Maple Pecan Bacon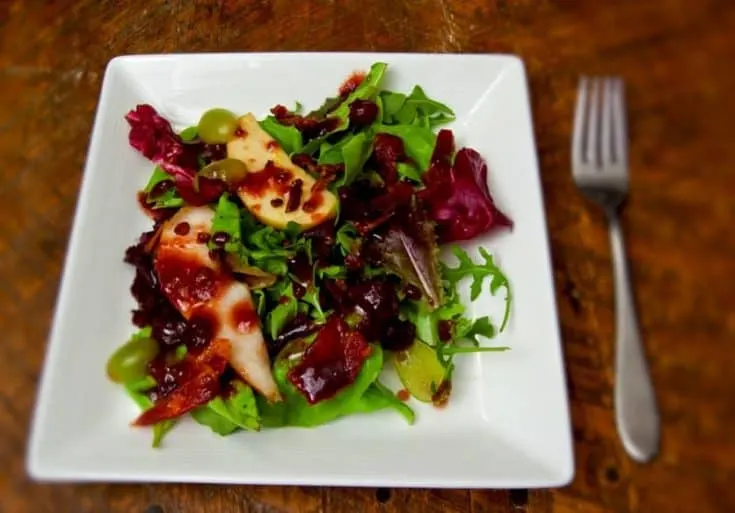 This salad is absolutely amazing. It requires a bit of prep work, but every one of your guests will come back for seconds, and thirds!
Total Time
1 hour
5 minutes
Ingredients
Salad Ingredients
For bacon:
8 thick bacon slices
1/4 c. maple syrup
1 1/2 c. finely chopped pecans
For salad:
1/2 of a large plastic container spring mix salad greens (I buy mine at Costco)
1 large pear, thinly sliced
1 large Honeycrisp apple (other variety, like Gala, will do), thinly sliced
1 c. halved seedless grapes (whatever color you'd like: I had green on hand)
4 oz. Gorgonzola cheese (I substituted Feta, which worked fine; you want something with zing, that is dry and crumbly)
For Cranberry Vinaigrette:
1 c. whole berry cranberry sauce
1 t. grated orange zest
1/2 c. fresh squeezed orange juice
1/4 c. balsamic vinegar
1/4 c. olive oil
1 T. light brown sugar
2 t. grated fresh ginger
1/2 t. salt
Instructions
To Prepare Vinaigrette:
Combine all ingredients in a jar with a lid, and shake vigorously, until blended and smooth. (Alternatively, you can whisk it.)
To Prepare Bacon:
Preheat oven to 400º. Place a lightly greased wire rack in an aluminum foil-lined jelly roll pan. Dip bacon in syrup, allowing excess to drip off. Dredge bacon in pecan pieces. Arrange bacon slices in a single layer on rack, and bake 20 minutes; turn bacon slices, and bake 5 to 10 minutes more, or until browned and crisp. Remove from oven, let stand 5 minutes, and cut bacon crosswise into 1" pieces.
To Prepare Salad:
Place salad greens on a serving platter. Top with apple slices grapes, cheese, and bacon. Serve with cranberry vinaigrette.


Recommended Products
As an Amazon Associate and member of other affiliate programs, I earn from qualifying purchases.
Nutrition Information:
Yield:
12
Serving Size:
1
Amount Per Serving:
Calories:

319
Total Fat:

20g
Saturated Fat:

4g
Trans Fat:

0g
Unsaturated Fat:

15g
Cholesterol:

15mg
Sodium:

347mg
Carbohydrates:

31g
Fiber:

5g
Sugar:

21g
Protein:

7g
I suggest you give it a trial run before Thanksgiving, and see if you don't decide to add this to your Thanksgiving menu. It's spectacular! Got any side dish that you typically serve that you'd like to replace? I would love it if you'd share this recipe with your family or friends on Facebook! And even more if you'd pin it on Pinterest!