This post contains links that, if you click on them and make a purchase, will earn me money. Regardless, I only recommend products or services that I believe will be good for my readers. Thanks for helping me continue to produce great content!
Green Beans Gremolata, a recipe developed by Ina Garten, the Barefoot Contessa, has become my go-to green bean dish for the holidays. Easter, Thanksgiving, or Christmas, this recipe is a family favorite, and a standout dish beside any protein: whether poultry, beef, or pork.
Why Is Green Beans Gremolata A Go-To Holiday Side Dish?
When company's coming over, and I'm already making several other dishes, this is one super simple side dish that is EXTRAORDINARILY delicious, without being fussy, at all. The reason I decided to try it was that I read that it was what Ina Garten herself was serving at her own Thanksgiving dinner. She mentioned how easy it was, yet how delicious. She did not steer me wrong! It really is a standout dish in an already standout meal.
What Is A "Gremolata"?
The magic is in the gremolata itself. It is hard to overstate the deliciousness of the gremolata. A gremolata is a topping that you sprinkle on a dish to bring freshness, acidity, and flavor to that dish. This gremolata contains fresh lemon zest, minced garlic, grated Parmagiano Reggiano, chopped parsley, and pine nuts. And it really makes all the difference in the flavor of the dish.
These pictures were taken last Christmas dinner, but my mouth still waters looking at them. It's a dish that my guests remember, and ask for, year to year. "Oh, I hope you're making those delicious green beans again this year – the kind you made last year." Those kinds of compliments are music to a cook's ears, and confirmation that yes, this dish really *is* as tasty as you *think* it is, and well worth holding on to in your own personal Holiday Recipe Hall of Fame.
The Recipe for Green Beans Gremolata
Yield: 8 servings
Green Beans Gremolata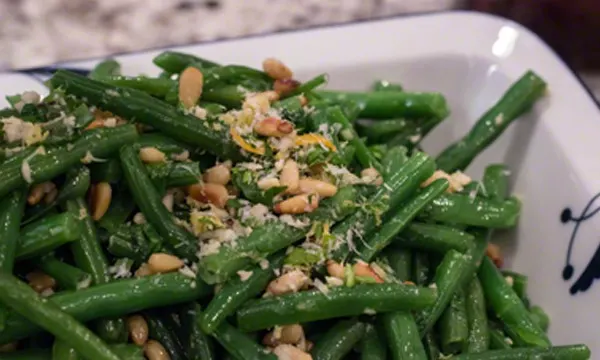 A delicious green bean side dish that is more than the sum of its parts. Perfect for holiday entertaining, as a worthy sidekick to a stellar protein.
Ingredients
2 lbs. green beans
4 cloves minced garlic
the grated zest of one lemon
1/4 c. minced fresh flat leaf parsley
1/4 c. freshly grated Parmigiano Reggiano
1/4. c. toasted pine nuts
3 T. extra virgin olive oil
sea salt and freshly ground black pepper
Instructions
For the Green Beans:
Blanch green beans in a large pot of boiling water, for 2-3 minutes. They should be bright green, and crisp-tender. Drain the beans and quickly submerge them in a bowl of ice water, to stop the cooking process. This will preserve that bright green color.
For the Gremolata:
Combine the garlic, lemon zest, parsley, cheese, and pine nuts in a bowl. Set aside.
To finish the dish:
Heat the olive oil in a large sauté pan over medium-high heat. Drain the beans and pat them dry (or else the water will cause the oil to splatter). Sauté beans for 2-3 minutes, until coated in olive oil and heated through. Remove from heat. Add the gremolata and toss well. Sprinkle with salt and pepper, to taste. Serve.
Notes
To Make Ahead: You can blanch and chill the beans early in the day, and then make the gremolata and warm the beans up at the last minute, when you're ready to serve the rest of the meal.
I'm recommending the Microplane Grater/Zester tool in the Recommended Products section below. It's awesome, both for grating the lemon zest, and for grating the Parmigiano Reggiano in beautifully fluffy snowy flakes. The Microplane Grater Zester is one of my FAVORITE kitchen tools. I use mine on an almost daily basis, and it's also extremely affordable.
I'm also recommending a highly rated/reasonably priced olive oil, as well as giving you a link so that you can buy a larger bag of pine nuts than you can find in most grocery stores. I use toasted pine nuts in a variety of dishes. Their flavor and crunch is unparalleled.
Recommended Products
As an Amazon Associate and member of other affiliate programs, I earn from qualifying purchases.
If you're looking for some other ideas for your holiday table, let me encourage you to check out my recipe for
Easy Cranberry-Orange-Apple Relish
. It's my most popular holiday recipe.