This post contains links that, if you click on them and make a purchase, will earn me money. Regardless, I only recommend products or services that I believe will be good for my readers. Thanks for helping me continue to produce great content!
This post contains Seven Smart Tips for Roasted Sweet Potatoes, and the end result is Maple Thyme Glazed Roasted Sweet Potatoes. This type of recipe produces what's sometimes called "melting potatoes": crispy on the outside, tender on the inside. It's based on science, but I think once you taste them, you'll agree that artistry is involved in the recipe development, as well.
This is a sponsored post written by me on behalf of PAM Cooking Spray for Roasted Sweet Potatoes. PAM asked me to share my "Smart-Tips" for making sure my holiday recipe comes out just right!
When it comes to side dishes at holiday meals, I have a love/hate thing going on with sweet potatoes. I've had to-die-for sweet potato fries in restaurants. I know, in theory, that it can be done. But my results at home have always turned out a little lackluster, at best.
Let's face it: fried foods are not that good for us, even if we're frying that rock star of a vegetable: the sweet potato. And fried sweet potatoes are hard to get right, unless they're frozen, and done in an air fryer.
So if we're avoiding frying them, we often resort to roasting them. And that's a good idea, but the reality is that sweet potatoes always seem to steam, without getting crispy or browning on the outside.
How to Solve the Problem of Non-Crispy Sweet Potatoes Starts with PAM:
I knew there had to be SOME kind of tricks that a home cook could employ that would make roasted sweet potatoes turn out right, and today, I'm going to share those "Smart-tips" with you!
My recipe called for spraying my foil-covered pan in cooking spray, so that the sweet potatoes wouldn't stick to the pan. PAM Cooking Spray is known for being a helpful tool in a cook's arsenal of culinary weapons, because it was designed to help keep food from sticking.
The product packaging states that their cooking spray now leaves up to 99 percent less residue buildup than margarine or bargain brand-cooking spray, while still offering superior no-stick results. Sounds like a long-needed improvement to me: my major complaint about using cooking sprays is that yellowish goo that shows up on your baking and roasting pans, after its use.
So, to prepare a fantastic side dish for your holiday meal, (or any weeknight meal, for that matter), while at the same time taking advantage of the fresh produce of the season (the beautiful, delicious and nutritious sweet potato) here are seven "Smart-tips" that make this recipe super-easy and delicious! This recipe will produce roasted sweet potatoes that are sweet and creamy on in the inside, yet crispy and flavorful on the outside.
Seven "Smart-tips" for Stellar Sweet Potatoes
Cover the bottom of your pan with foil: this makes clean-up practically nonexistent. The first time I tried this recipe, I used regular strength, 12″ foil, and my rimmed baking sheet needed two sheets to cover the bottom of the pan, and another two two sheets to cover the sweet potatoes. That was a lot of foil! The second time I tested this recipe, I used the heavy-duty 18″ roll of foil for my pan, and only needed one sheet for the bottom of the pan, and one sheet to cover the potatoes. I strongly recommend going with the 18″ heavy duty foil, if you have it, for ease.
Spray the foil covered pan with PAM Cooking Spray. The recipe calls for the foil to be sprayed with a cooking spray, and PAM worked like a charm. Super easy!
Cut off the tiny ends of your sweet potatoes. The sweet potato slices should be relatively uniform in size to roast evenly. Those skinny tips will burn! Side dish fail!
Start roasting the sweet potatoes in a cold oven: NOT pre-heating the oven is counter-intuitive to everything you've ever been taught, but there is a scientific method to the madness. The longer sweet potatoes stay between 135-170 degrees, the sweeter the flavor. Once their temperature exceeds 170°, the starches will no longer convert to sugar.
Cover the sweet potatoes with foil initially: this first step (while they're covered with foil) steams and tenderizes them, so that their interior is perfect.
Uncover your sweet potatoes for the rest of their time in their oven.This second part of roasting – where they're uncovered – allows them to develop that caramelized, buttery crispy edge that we all long for in sweet potatoes. Perhaps surprisingly, the browning shows up on the UNDERSIDE of the sweet potato slice, so you'll be flipping them even though they don't look like they're browning on top. That's as it should be. To check how well the first side has browned, you're going to have to watch the timer, and then peek at the little sweet potato slice's bottom. Go on. You know you want to. 😀
Brush the halfway roasted slices with a super simple glaze. After half the browning is done, and right before you flip them, using a pastry brush, brush the slices with a flavorful glaze of maple syrup, butter and chopped fresh thyme. This glaze adds several important flavor components: the sweetness of the maple syrup, the silky mouth-feel and creamy flavor of the butter, and the savory, herbal note of the thyme. Put them all together and they pack a powerful flavor punch. (And don't skimp on the salt and pepper: I love the zing that freshly ground black pepper adds to this dish.)
This is a sponsored post written by me on behalf of PAM Cooking Spray.
For more information, visit https://www.pamcookingspray.com.
The Recipe for Maple Thyme Glazed Roasted Sweet Potatoes
Yield: 4 servings
Maple Thyme Glazed Roasted Sweet Potatoes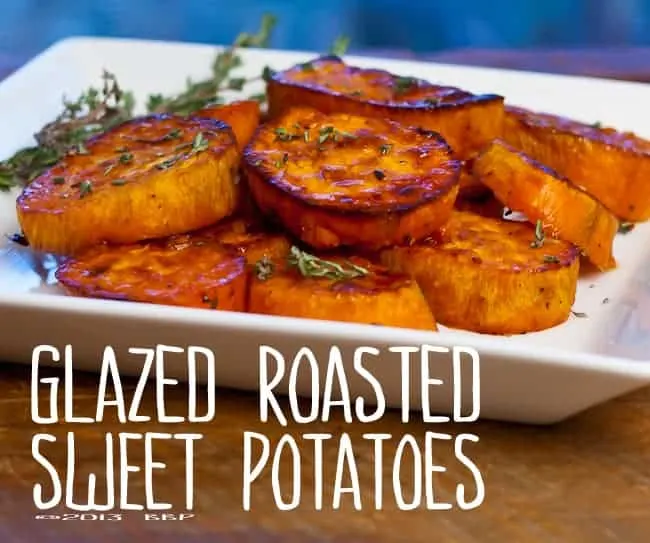 Crispy yet tender roasted sweet potatoes, glazed with a maple thyme butter.
Total Time
1 hour
10 minutes
Ingredients
For potatoes:
3 lbs. sweet potatoes, peeled, small ends trimmed, cut into 1/2" slices
2 T. canola oil
sea salt
freshly ground black pepper
For glaze:
1/4 c. maple syrup
2 T. melted butter
2 t. chopped fresh thyme
Instructions
Toss sweet potato slices in a large bowl with oil, 1 t. sea salt, and 1/4 t. freshly ground black pepper until potatoes are coated in oil and spices.
Line a rimmed baking sheet with foil, and spray with PAM Cooking Spray.
Arrange potatoes in a single layer on the baking sheet (I put the largest, fattest slices on the corners and along the edges, since that is where the heat concentrates.)
Cover tightly with foil.
Place on middle rack of a cold oven.
Turn oven to 425°, and roast for 30 minutes.
While potatoes are roasting, prepare the glaze:
Whisk maple syrup, melted butter and thyme together.
Remove baking sheet from oven, and CAREFULLY remove top piece of foil. (The steam will come rolling out, so be CAREFUL!) Return pan to oven, and roast potatoes, uncovered, until bottom edges of potatoes are golden brown. This took me only 15 minutes, but your oven may vary.
Using a pastry brush, brush the potato slices with the glaze.
Now carefully turn the potato slices over using a thin bladed spatula, and baste the other side as well.
Return potatoes to the oven and continue to roast an additional 15 minutes or so (your oven may take longer) until bottom edges of potatoes are golden brown. Let cool for 10 minutes, and serve.
Notes
These potatoes can be served without the glaze. The roasting method still works well, if you only use oil, salt, and pepper.
Adapted from Cook's Illustrated: The Science of Good Cooking
Recommended Products
As an Amazon Associate and member of other affiliate programs, I earn from qualifying purchases.
Nutrition Information:
Yield:
4
Serving Size:
1
Amount Per Serving:
Calories:

425
Total Fat:

13g
Saturated Fat:

4g
Trans Fat:

0g
Unsaturated Fat:

8g
Cholesterol:

15mg
Sodium:

285mg
Carbohydrates:

74g
Fiber:

9g
Sugar:

32g
Protein:

5g
Thanksgiving Desserts You Might Also Like
I try to add a new dish each year. Maybe this year, you'd like to try a recipe at your house, that you've never tried before. I have several for your consideration, and each one is a proven winner!