This post contains links that, if you click on them and make a purchase, will earn me money. Regardless, I only recommend products or services that I believe will be good for my readers. Thanks for helping me continue to produce great content!
This is the recipe that was waiting to happen: Sticky Toffee Pumpkin Pudding.
It almost had to happen. It was destined to happen.
What is this Sticky Toffee Cross Cultural Fusion?
English Childhood Comfort Food meets America's Favorite Fall Flavor, Pumpkin: it's a beautiful cross-cultural union! Cultural appropriation of the very BEST kind. We've stolen so very much from the Mother Country. Why not steal one more unbelievably delicious thing?
And I just happen to be the fortunate one who made it up. And basically, we're all fortunate now, because what I made up happened to work. The science of baking should not be lightly trifled with. But, I dared to trifle. And how'd that turn out for me?
It turned out beautifully and deliciously. And now that I've tested it on two different sets of friends, on two different occasions, and both sets swooned with delight, I can tell you that it needs to happen at your house. One friend told me it's the best dessert she's ever put in her mouth. And frankly, I kind of agree.
And you know what? Maybe this year, is THE year. The year you try something new at your house for Thanksgiving.
Try Something New for Thanksgiving
("SOMETHING NEW???" you imagine your people crying. "ON THANKSGIVING??? WHAT SACRILEGE!!!!")
They'll give over their skepticism, right quick, when they taste what you're about to make. I'm here to tell you: this recipe will cause YOUR guests to swoon as well.
And, look, for their own sakes, if the "SOMETHING NEW???" reaction is what you get in regard to a slight alteration in your Thanksgiving menu, you've got some training to do. My people have learned that one dish that's new and different each year is NOT too much. Nearly always, the new dish I pick ends up also being a superstar. So sniff not at a little innovation. Give them one new thing a try, per year, and keep Thanksgiving ever gradually improving. Hang on to the ones that are favored, let go to the sad old less-delicious ones.
How I Came Up With The Recipe for Sticky Toffee Pumpkin Pudding
So here's how I came up with this recipe. I saw a wedding couple swooning over Gordon Ramsay's version of Sticky Toffee Pudding that he served as dessert at their wedding on Master Chef.
Then, I went and found Martha's Stewart's version of it. It's made with dates, that have been hydrated in black coffee, and it's truly scrumptious.
Following that, I thought about how much moisture the dates and coffee provided in her recipe. I left them out, but subbed an equivalent amount of canned pumpkin. Obviously, it's not dried fruit. It needs no hydration, and is itself moist.
To add a bit more pumpking pie-like flavor, I added in some pumpkin spices. Then, why not add some brandy, to give the dessert a bit of a boozy kick, and a bit of vanilla, while I was at it.
Finally, I made sure to make the sauce out of dark brown sugar. Because the sauce is just going to slay you. SLAY you. No kidding.
Does Sticky Toffee Pumpkin Pudding Need Alcohol?
The second time I made it, I made it with bourbon instead of brandy. I love that bourbon flavor, in general. But, I surprised myself when I discovered that I actually preferred the brandy. I've also made it with no alcohol, and that was good, too. So you can certainly omit the alcohol, if you prefer, but your end product's flavor will have a bit less complexity. And what makes this recipe so yummy, I think, is that even though it's very sweet, there is a dark richness to the flavor.
This dessert needs to be served warm. To do that, I bake it right before the meal, pour half the sauce over it, (or if you want to bake it earlier in the day, at least warm it back up in the oven right before the meal, adding half the sauce then) and then hold it in the oven on Warm during the meal. Warm up the toffee/caramel sauce that you'll be topping it with, as well.
You can top this with ice cream if you'd like, but I prefer a simple whipped cream. This lily is already so gilded, it's Baroque, if you know what I mean.
Pictures of How to Make Sticky Toffee Pumpkin Pudding
Yield: 12 servings
Sticky Toffee Pumpkin Pudding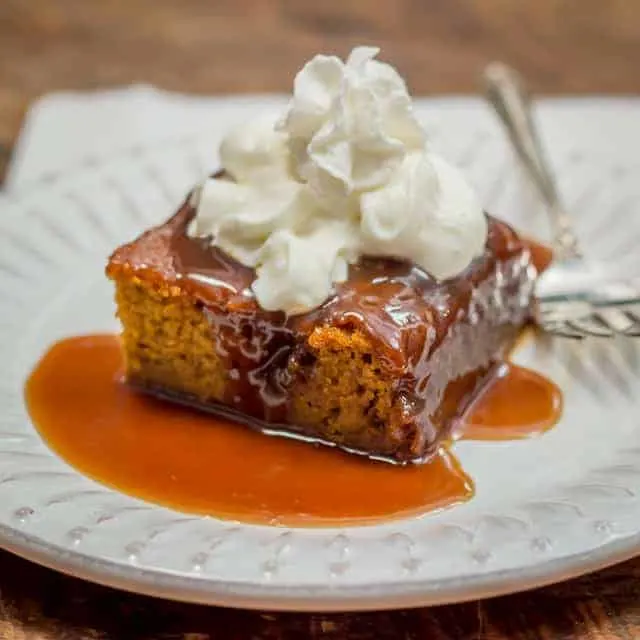 A marriage of the UK's favorite childhood dessert: sticky toffee pudding and America's favorite fall flavor, pumpkin.
Total Time
1 hour
5 minutes
Ingredients
For the Cake:
6 tablespoons unsalted butter, room temperature, plus more for dish
1 1/2 cups all-purpose flour, plus more for dish
1/2 t. ginger
1/2 t. cinnamon
1/2 t. freshly grated nutmeg
1 teaspoon baking soda
1 teaspoon baking powder
1/2 teaspoon sea salt
1 14.5 oz can of pumpkin purée
3/4 cup lightly packed dark-brown sugar
2 large eggs, room temperature
1 T. brandy
1 t. vanilla
For the Sauce:
1 stick unsalted butter
1 cup lightly packed dark-brown sugar
3/4 cup heavy cream
1 T. brandy
Instructions
For Cake:
Preheat oven to 325 degrees. Butter and flour a 2 1/2-quart baking dish.
Whisk together flour, baking powder, baking soda, ginger, cinnamon, nutmeg, and salt. Beat together butter and sugar with a mixer on medium-high speed until pale and fluffy, about 3 minutes. Reduce speed to medium and beat in eggs, one at a time, until thoroughly incorporated.
Reduce speed to low, and add half the flour mixture, beating until combined. Add pumpkin, beat, and then add remaining flour mixture, and beat until just combined. (Do not over-mix.) Stir in vanilla and brandy. Transfer batter to dish, and bake until cake is puffed and springs back in center when gently pressed with a finger, and a toothpick comes out clean, about 40-45 minutes. The texture will be much moister than a regular cake, but the toothpick should still come out clean. (Think more like a cheesecake).
For Sauce: Meanwhile, combine butter, sugar, brandy and cream in a medium saucepan and bring to a boil over high heat. Reduce heat to medium (so sauce does not boil over) and boil, stirring frequently, until sauce thickens and darkens slightly, about 4 minutes.
Remove cake from oven and pierce holes at 1-inch intervals to bottom of cake with a wooden skewer. Pour HALF of hot sauce over cake and let soak 20 minutes. Serve warm with remaining sauce.
If You're Planning to Serve the Cake Later: Cake soaked in sauce and remaining toffee sauce can be stored at room temperature up to 1 day. Before serving, warm cake in a 300 degrees oven 10 minutes, and warm the sauce in a small saucepan over medium heat.


Notes
One important secret to this recipe is to be sure and use DARK brown sugar. The flavor is simply amazing in this dish. Do not compromise, or you'll miss out.
Recommended Products
As an Amazon Associate and member of other affiliate programs, I earn from qualifying purchases.
Nutrition Information:
Yield:
12
Serving Size:
12
Amount Per Serving:
Calories:

268
Total Fat:

15g
Saturated Fat:

9g
Trans Fat:

0g
Unsaturated Fat:

5g
Cholesterol:

62mg
Sodium:

196mg
Carbohydrates:

31g
Fiber:

1g
Sugar:

21g
Protein:

3g
I have other Thanksgiving desserts, like
Bourbon Pumpkin Cheesecake with Bourbon Sour Cream Glaze
, the
Fluffiest Pumpkin Pie
you'll ever have, and good
Old Fashioned Pecan Pie
. So be sure to check those out while you're here, if any of those titles ring your chimes.
Other Scrumptious Thanksgiving Dishes
These are the dishes I serve at my OWN Thanksgiving celebrations. Not a loser in sight! Each one is over the top fabulous!