This post contains links that, if you click on them and make a purchase, will earn me money. As an Amazon Associate, I earn from qualifying purchases. . Regardless, I only recommend products or services that I believe will be good for my readers. Thanks for helping me continue to produce great content!
Tuscan Bread Stuffing with Goat Cheese, Dried Cherries and Prosciutto is, for me, the highlight of my Thanksgiving table, where I only serve the best recipes of the season that I know.
Why Is This Your Family's Favorite Stuffing?
Oh for a thousand tongues to sing this great stuffing recipe's praise. It really is the best Thanksgiving dressing I've ever had: there's something about the combination of the salty smokiness of the prosciutto, the crunchiness of the nuts, the tangy creaminess of the goat cheese, and the warm sweetness of the dried cherries. It all works together for the good, if you know what I mean.
I call it the best, even though I loved the stuffing/dressing that my mother made. (I know of one member of my family who would argue me down over whether or not this *is* the best stuffing recipe, but I remain resolute in my conviction, and while she's usually a guest at my table, it *is* my table. Anyway, I don't think she's coming this year, so she can make mom's recipe this year, when she stays home. )
Tips to Make This Recipe Turn Out Perfectly
I learned a few things the last time I made this recipe, when I made it for the photo shoot for this post, and I wanted to be sure to mention a few caveats that could cause your results to vary greatly, so heed my warnings!
Stuffing Tip #1:
Buy the most delicious loaf of bread that you can, because the quality of the bread makes a world of difference. When we did this photo shoot, we used a peasant bread made by Whole Foods bakery, and while it looked much the same as the bread that I typically buy, it didn't have the same toothsome chewiness that we love so much about the Tuscan Bread that we buy at a local Nashville Bakery, Provence. So be sure you buy the best bread you can find. Don't skimp here. A ciabatta might work.
Stuffing Tip #2:
Go ahead and cut the crusts off, because it will give your stuffing a nicer texture without the crusts, and you can grind them up for bread crumbs to be used later. Just freeze them. You won't waste your delicious artisan bread that way.
Stuffing Tip #3:
Hazelnuts are also called filberts. I went looking for them at Whole Foods, could find none, but recognized them by shape under that different name. I bought the skinless ones, and roasted them in a sauté pan on my cooktop, for 3 or 4 minutes. When you begin to smell their lovely odor, they're about done. So, don't over roast them, because they will get more oven time when you bake your stuffing.
Stuffing Tip #4:
Chop those veggies FINELY (the green pepper, celery and onion) just like the directions tell you to. You'll be happier with a fine chop. Trust me on this. I know.
I usually buy the bread on Tuesday, and do the bread and vegetable chopping on Wednesday, and assemble the whole shebang on Thursday after lunch. (We eat our big meal @6:00ish) It goes in the oven after the turkey comes out, and bakes, with the rolls, while the turkey's resting.
Here's the recipe for:
Tuscan Bread Stuffing with Goat Cheese, Dried Cherries, and Prosciutto
Yield: 12 servings
Tuscan Bread Stuffing with Goat Cheese, Dried Cherries and Prosciutto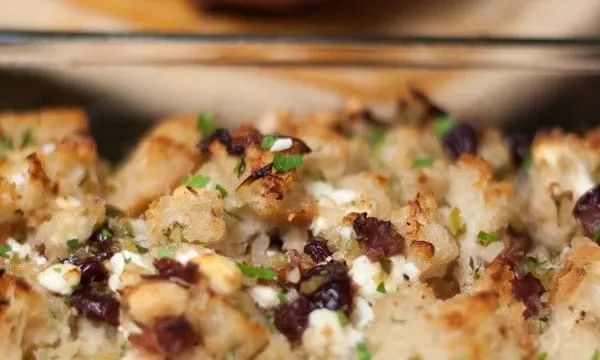 This is simply the best Thanksgiving stuffing I've ever had.
Additional Time
30 minutes
Total Time
2 hours
20 minutes
Ingredients
1/2 cup dried tart cherries, halving each cherry
1 (1-pound) loaf crusty Tuscan-style white bread
1/4 cup olive oil
sea salt
freshly ground black pepper
4 teaspoons chopped fresh thyme
1 large garlic clove, minced
6 tablespoons (3/4 stick) butter
1 1/2 cups finely chopped onion
1 1/2 cups thinly sliced celery
1 cup finely chopped green bell pepper
4 oz. sliced prosciutto
1/3 cup chopped fresh parsley
1/2 cup toasted husked hazelnuts, coarsely chopped (or any nut your family likes)
1 3/4 cups low-salt chicken broth or turkey stock, heated
4 ounces chilled fresh goat cheese, crumbled into 1/2-inch pieces
Instructions
Preheat oven to 375°F.
To Hydrate the Cherries: Place cherry halves in a heatproof bowl; cover with boiling water. Let stand until soft, about 15 minutes. Drain.
To Prepare the Bread Cubes:
Cut bread with crust into 1-inch cubes (10 cups loosely packed). Place in large bowl. Add oil, thyme, and garlic; toss. Spread the cubes out on large rimmed baking sheet. Sprinkle with sea salt and pepper. Bake until golden and slightly crunchy, stirring often, about 20 minutes. Return to same large bowl.
Melt butter in large skillet over medium-high heat. Add onion, celery and pepper to skillet, and sauté until vegetables are soft, about 10 minutes. Mix in parsley, prosciutto and cherries.
(The recipe can be prepared up to this point the day before, and the stuffing assembled on Thanksgiving Day.)
To Assemble the Stuffing
Preheat oven to 375°F. Butter 11x7x2-inch glass baking dish. Stir vegetables and nuts into bread cubes. Add hot broth, tossing to coat. Mix in cheese. Transfer to dish. Cover with buttered foil, buttered side down. Bake until heated through, about 25 minutes. Uncover and bake until top is brown, about 25 minutes longer, and serve.
Notes

Notes
DO AHEAD: If you want to do a portion of this recipe the day before, as I do, you can Toast the Bread Cubes and Sauté the Vegetable Mixture, which is the first part of the recipe, 1 day ahead. Cover them each separately.

Store bread at room temperature. Chill vegetables.
Recommended Products
As an Amazon Associate and member of other affiliate programs, I earn from qualifying purchases.
Nutrition Information:
Yield:
12
Serving Size:
1
Amount Per Serving:
Calories:

161
Total Fat:

11g
Saturated Fat:

3g
Trans Fat:

0g
Unsaturated Fat:

8g
Cholesterol:

12mg
Sodium:

420mg
Carbohydrates:

9g
Fiber:

2g
Sugar:

3g
Protein:

7g
If you like this recipe, why not pin it on Pinterest, or share it on Facebook or Tweet it?
If you're looking for some other delicious recipes for Thanksgiving, I bet you'd love my mother's easy cranberry orange apple walnut relish!
And…by the way, do you call it dressing, or stuffing?
Other Scrumptious Thanksgiving Dishes
These are the dishes I serve at my OWN Thanksgiving celebrations. Not a loser in sight! Each one is over the top fabulous!