This post contains links that, if you click on them and make a purchase, will earn me money. As an Amazon Associate, I earn from qualifying purchases. . Regardless, I only recommend products or services that I believe will be good for my readers. Thanks for helping me continue to produce great content!
How about a dessert that celebrates the goodness of the fall harvest? This Fresh Apple Toasted Walnut Cake is so delicious it had me dreaming about making another one, as soon as the first one was gone. It is dense and moist, crisp and crunchy, all at the same time. And what could smell more like fall than filling your house with the smell of roasting apples and cinnamon. You are going to LOVE this cake!!!
A Classic Recipe Originally from The Silver Palate Cookbook
The first time I tasted this cake was probably in my senior year of college, so it's a little bit throwback/retro recipe for me. It came from the Silver Palate cookbook, a cookbook that introduced me to some really, really fine food, way back when. The changes I've made to this recipe have only made it even more delicious, in my opinion.
It reminds me of a carrot cake, texture and color, in that it's made with vegetable oil, so it's super-moist with that crunchy-crusty exterior that I love so much. The apple chunks also add to the cake's super moistness, not to mention the warm apple cider sauce that you pour over it.
That sauce is laden with an almost butterscotchy golden flavor, that's been brightened by a squeeze of orange juice. The brandy in the sauce lends depth of flavor and the cream makes it…well…creamy!
Changes I made to the Original Recipe for Apple and Toasted Walnut Cake:
The original recipe called for Calvados (an apple brandy) or Applejack (a poor man's Calvados), but since I didn't have any of that, I decided to go with brandy (which I had on hand) and trust that the apple cider would contain enough apple flavor. It did.
The original recipe called for mace, and since I didn't have any of that on hand, I substituted freshly grated nutmeg, which is fairly heavenly. Nutmeg comes from the same fruit that mace comes from. (Mace is the outer coating of the nutmeg.)
Another improvement I made in this recipe that I didn't have access to way back when is that I now own my own flour mill, so I ground my own whole wheat flour. The flavor and texture of freshly ground whole wheat flour just cannot be compared to store bought whole wheat flour.
If you don't have your own mill, the very best substitute I have found is King Arthur Whole Wheat flour. Just be sure it's fresh: whole wheat flour contains the oil of the bran, which causes it to go rancid much much faster than regular flour. So, if you have a bag on hand, be sure to give it a sniff, to make sure it hasn't gone over the edge.
The original recipe called for Rome Beauty apples. I didn't have any of those, but what I did have was a variety called Cripps Pink: sweet and slightly tart, it had the perfect flavor. Plus, they weren't particularly crisp, which is how my daughter and I like our apples, so I needed to use them somehow in a recipe, and this recipe was absolutely perfect using them.
Toast Those Walnuts!
One other slight change I made that improves the flavor of this recipe over the recipe I knew in my youth, was to toast the walnuts before I used them. Toasting a nut is super easy to do, and brings a richer flavor to the nut's natural oils. It also gives the nuts a crispier texture. So, it really is a step worth doing!
I simply measured the nuts I needed into a small sauté pan, put them over a medium high heat, and heated them for 2-3 minutes, stirring them often as they toasted. You can tell the nuts are ready by using your eyes but most especially, by using your nose. When they start smelling great, they're ready. Ten seconds more can cause them to burn, though, so watch them closely! To stop the cooking process quickly, simply pour them out of the pan and into a saucer.
Recipe for Fresh Apple and Toasted Walnut Cake
Yield: 12 servings
Fresh Apple and Toasted Walnut Cake with Warm Apple Cider and Brandy Sauce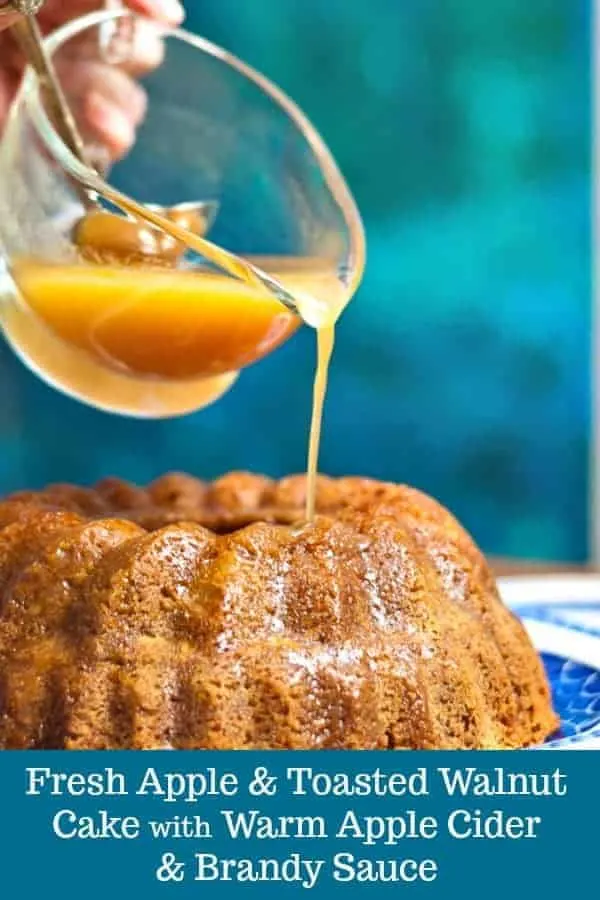 A delicious taste of fall: fresh apples, apple cider and toasted walnut make a dense, moist cake that is topped with a golden sweet cider and brandy sauce. Adapted from the Silver Palate Cookbook.
Cook Time
1 hour
15 minutes
Total Time
1 hour
35 minutes
Ingredients
For the Cake:
1 1/2 c. canola oil
2 c. sugar
3 eggs
2 c. unbleached all-purpose flour
1/8 t. cloves
1 1/4 t. cinnamon
1/4 t. freshly ground nutmeg
1 t. baking soda
3/4 t. salt
1 c. freshly ground whole wheat flour
1 1/4 c. toasted walnuts, coarsely chopped
3 1/4 c. peeled and coarsely chopped apples (I used Pink Cripps)
3 T. brandy
For the Apple Cider Glaze:
4 T. butter
2 T. brown sugar
6 T. sugar
3 T. brandy
1/4 c. apple cider
2 T. orange juice
2 T. cream
Instructions
For the Cake: Preheat oven to 325º.
In mixer, beat vegetable oil and sugar until thick and opaque. Add eggs, one at a time, beating well after each addition.
Sift together all purpose flour, cloves, cinnamon, nutmeg, baking soda, and salt. Then sift in whole wheat flour. Add to oil and egg mixture, and mix just until blended.
Add toasted walnuts, apple chunks, and brandy all at once, and stir batter until chunks are evenly distributed.
Pour batter into a greased bundt pan. Bake for 1 hour and 15 minutes, or until a cake tester inserted in the center comes out clean.
Let cake rest for 10 minutes. Then unmold and pour glaze over warm cake. (You can also cut the cake, and pour the glaze over slices.
For the Glaze: While cake is baking, melt butter in a small saucepan, and stir in both sugars.
Add remaining ingredients, stir and bring to a boil. Reduce heat slightly and cook for 4 minutes.
Remove from heat and cool slightly. Pour while still warm over cake.


Recommended Products
As an Amazon Associate and member of other affiliate programs, I earn from qualifying purchases.
Nutrition Information:
Yield:
12
Serving Size:
1
Amount Per Serving:
Calories:

676
Total Fat:

41g
Saturated Fat:

6g
Trans Fat:

0g
Unsaturated Fat:

34g
Cholesterol:

60mg
Sodium:

302mg
Carbohydrates:

71g
Fiber:

3g
Sugar:

46g
Protein:

7g