This post contains links that, if you click on them and make a purchase, will earn me money. Regardless, I only recommend products or services that I believe will be good for my readers. Thanks for helping me continue to produce great content!
Farmers Market Salad with Spiced Goat Cheese Medallions is a beautiful composed salad, that makes the best of all that great summer produce that's available.
All summer long, I have been reaping the benefits of someone else's labor, and loving every minute of it, especially with recipes like this one.
I refer to the glorious treasures carted home from the Farmers Market.
And yes, it's true, the Farmers were given our hard earned legal tender/green stuff, in exchange for it, so it was probably a fair trade.
They were askin' for it, if you know what I mean. 😀
Farmers Market Salad is A Blue Ribbon Recipe
Tomatoes: how I have rejoiced in you this summer!
I have had countless tomato sandwiches, salsa, made three batches of tomato sauce, panzanella, served eggplant pamigiana, and ratatouille pasta.
But this past week brought me a new treasure in my basket from the Farmers' Market: new potatoes. (Well, they SHOULD HAVE been a treasure, anyway.)
I puzzled over how to use up the tomatoes already in my possession in conjunction with these new potatoes.
The recipe I came up with, through my internet searches is a winner: it's a Blue Ribbon recipe from the Epicurious website.
Don't Use the Wrong Potato
But my first go-round with the salad, sadly, was not the best.
And I blame those dang new potatoes.
I think they were TOO NEW, if that makes any sense. (Too young. Quite, quite hard.)
On my first attempt of this recipe, I cooked the new potatoes the length of time specified in the original recipe, but I was under a bit of a time crunch, so I didn't check the tenderness of the new potatoes after steaming them. BIG MISTAKE. You can't just go by recipe times: and even though I KNOW that in my head, the time constraints I was working under got the better of me.
Be sure you have tested them to see if they're fork tender. If you don't steam those potatoes till they are fork tender? You will have a disappointing result, as I did, on my first try.
Time to Try a NEW Potato…Rather than a New Potato
So, for my next attempt at the salad, I decided to chop and steam Yukon Gold potatoes, to see if I liked the recipe any better with them. Lo, and behold, they were creamy, and dreamy, and soaked up the vinaigrette just the way I hoped they would. They changed the whole recipe, from something that should have been good, but lacked cohesiveness, into a fully integrated whole, and a dish that was more than the sum of its parts. A salad worth the making: something fresh and healthy, that celebrated the bounties of summer: tomatoes, green beans, salad greens, basil, and potatoes. And what the heck: throw in some Kalamata olives for a briny tang.
What's a Composed Salad?
This type of salad is what is called a composed salad, which simply means that it's a meal in a salad, where you prepare each of the elements separately and then assemble them together at the end. Often, a composed salad has each ingredient in a separate section, but composed salads can be tossed together with the vinaigrette, as well, as I have done here.
If you hate goat cheese, or cumin (and I find it hard to believe, but there are some haters out there) you could substitute just some slices of fresh mozzarella, and/or omit the spice rub. Do what works for you and your family.
The Recipe for Farmer's Market Salad
Yield: 6 servings
Farmers Market Salad with Spiced Goat Cheese Medallions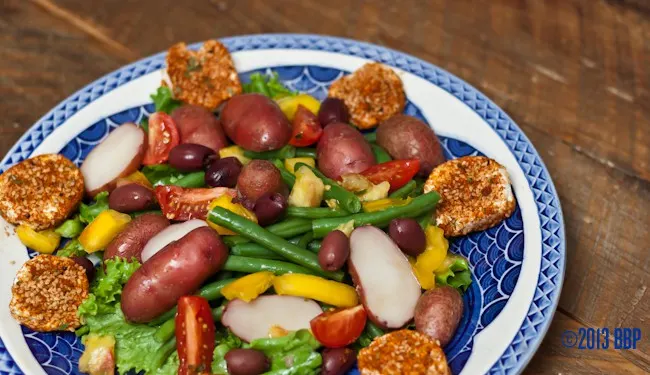 Farmers Market Salad with Spiced Goat Cheese Medallions is a composed salad recipe made with the fresh vegetables of summer.
Total Time
2 hours
30 minutes
Ingredients
GOAT CHEESE ROUNDS:
2 tablespoons toasted sesame seeds
2 teaspoons ground cumin
1 1/2 teaspoons smoked paprika
1 teaspoon finely chopped fresh thyme
1/4 teaspoon sea salt
1/8 teaspoon freshly ground black pepper
1 (11 oz.) goat cheese log, sliced into 16 rounds (about 1/3" each)
VINAIGRETTE:
2 tablespoons red wine vinegar
1 shallot, minced
1 teaspoon chopped fresh thyme
1 teaspoon Dijon mustard
5 tablespoons extra virgin olive oil
pinch of coarse sea salt
freshly ground black pepper
SALAD:
2 med.Yukon gold potatoes, sliced approximately into eighths; each one about a 1 1/2" cubed
1 lb. green beans, trimmed
8 c. mixed salad greens
1/3 c. fresh chopped basil
12 oz. assorted tomatoes
1/2 c. Kalamata olives
.
Instructions
For Goat Cheese Medallions: In a small bowl, mix the first six ingredients. They will be the coating for the goat cheese medallions. Dip the slices of cheese into the spice mixture, and place on a tray lined with parchment paper. NOTE: these can be made up to a day ahead, and chilled. Bring to room temperature before serving.
For Vinaigrette: Whisk the first four ingredients together, and then gradually whisk in the olive oil. Season to taste with salt and pepper. NOTE: vinaigrette can also be made a day in advance, and stored in refrigerator. Rewhisk before using.
For Salad: Steam chunks of potato until fork tender, about 10 minutes. Toss with some of the vinaigrette while potatoes are still warm: this helps them absorb the dressing. Set aside to cool.
Steam green beans until crisp tender, about 5 minutes. Rinse under cold water, and then drain in a colander. Pat dry with paper towels. NOTE: potatoes and green beans can be made 6 hours ahead of time. Wrap separately, in paper towels, and place in a ziplock bag. Refrigerate.
Combine mixed salad greens and basil in a large bowl, Add enough vinaigrette to coat lightly. Toss. Arrange on a large platter. Add potatoes and green beans to same large bowl. Toss with remaining vinaigrette. Arrange potatoes and green beans atop greens. Scatter with tomatoes and olives, and surround with goat cheese medallions.
Recommended Products
As an Amazon Associate and member of other affiliate programs, I earn from qualifying purchases.
Please feel free to share this recipe with others, on Facebook, or Twitter, or even better: you should probably pin it on Pinterest so that you remember to try it.