This post contains links that, if you click on them and make a purchase, will earn me money. As an Amazon Associate, I earn from qualifying purchases. . Regardless, I only recommend products or services that I believe will be good for my readers. Thanks for helping me continue to produce great content!
Extravagantly Excellent Eggplant Parmigiana
I can hear you now: Eggplant Parmigiana?
Eggplant??? I HATE eggplant!
And honestly, at one point in my life, I would have said exactly the same thing.
I grew up hating eggplant. I was raised, in fact, on the hatred of eggplant.
Nasty, bitter, detestable stuff, eggplant.
I was disgusted by it, until I learned a secret or two, (that I will share with you, today) that turned my eggplant hating days into a thing of the past. Eggplant became, in fact, one of the most begged for dishes in my arsenal of culinary weapons. But how did THAT come to be? I'm so glad you asked, my friend!
The first recipe I ever tucked away into my "Sure Fire Hits" recipe box was for lasagna. It was my favorite dish, and I learned how to make amazing, incredible lasagna at an early age. I'd always been told, and so I knew it was true: if I was ever going to capture Prince Charming's heart, the way was through his stomach. My lasagna would be my heart lasso. And sure enough, it worked like a charm. I still remember the look on my now-hubby's face the first time he tasted my lasagna. The black pupils in the center of his big brown eyes became momentarily heart-shaped.W
(Helpful hint to single individuals: be sure to look for someone whose mother was a bad cook. Your stock will rise by leaps and bounds in the eyes of your significant other when a future filled with food that actually tastes good opens up as a possibility.)
Turns out, however, that while to this day, he loves my lasagna, he loves even better my eggplant parmesan, (which I used to make very similarly to my lasagna). Go figure! No one was more surprised than me, the former eggplant hater. But it's true! I used to make a version that used a big jar of Prego, and if you want to do that, I can assure you that you can make beautifully delicious eggplant parmesan out of sauce from the store, and no one will think any the less of you.
Summer Isn't Too Hot for Eggplant Parmigiana
However: it's summer! The produce is fresh! So why not revel in the bounties of the season? I saw this recipe prepared by Chef Alex Guarnaschelli on Food Network, where she said if she had one last remaining meal on this earth, this would be the recipe she would prepare for herself. Now when an excellent chef makes a statement like that, I pay attention!!! So I tried her recipe, homemade sauce, and all. Was it better than my recipe made with Prego? Well…it was different, and MORE SUMMERY. And yes, I'd even say that I preferred it over my old recipe. It tasted fresher. And so, despite the extra effort, I think it's worth doing, especially since it's August, and fresh tomatoes abound.
There were a couple of other differences from my own original recipe that I liked a lot. One was the addition of smokey provolone cheese, which added a lovely depth of flavor. And then there was the addition of the fresh basil, which added a welcome green note. Chef Guarnaschelli called for a full tablespoon of dried red pepper flakes, which would have melted my family's taste buds, so I reduced that ingredient to 1/2 teaspoon. My sauce still turned out with a nice little bite to it, that I liked a lot, especially with the addition of the small amount of sugar that the recipe calls for. It all combined together to make for an extravagantly excellent eggplant parmesan.
Two Secret Tips for EXCELLENT Eggplant Parmigiana
Secret Tip #1: How to Have Non-Bitter Eggplant
I promised you a secret tip, and I actually have two. Here's the first: since eggplant really CAN be terribly bitter, here's the remedy to that situation. After you have sliced your eggplant into 1/2″ slices, salt them, on both sides, and leave them to drain on baking racks, placed on top of cookie sheets for about an hour. You'll see all these ugly looking brown drops of juice that have been drawn out of the eggplant beaded on top, and having dripped off onto the cookie sheet beneath. That is the desired result: you've drawn the bitter juice out. Now rinse the eggplant in cold running water to get off the excess juice and salt, and dry with paper towels. BOOYAH! You did it! No more bitter eggplant.
Secret Tip #2: How to Make Your Own Delicious Bread Crumbs
My second secret tip is that instead of buying those nasty pre-fab bread crumbs, you can totally make your own Italian style bread crumbs, and here's how you do it:
You'll need 4 oz of stale bread. You can use leftover bread of almost any type. (Well…not cinnamon raisin…but you get the idea.) I prefer a leftover artisan loaf, but plain white bread, or leftover hot dog buns will do nicely. (And don't you nearly ALWAYS have a couple of straggler hot dog buns?) You can, in fact, process bread crumbs at any point you have some leftover stale bread, and then store the crumbs in a ziplock in the freezer, for when you have to bread something for frying.
I do this in a food processor, but you could use a blender if you prefer. My blender tends to make crumbs that are too fine for my taste.
How to Make Homemade Italian Bread Crumbs for Eggplant Parmigiana

Ingredients:
4 oz. stale bread, torn into 1″ pieces
1 T. Italian seasoning
1/2 t. garlic powder
1/2 t. salt
Preheat the oven to 300º.
In food processor, pulse all the ingredients, until coarse crumbs form. Spread the crumbs evenly on 2 cookie sheets, and bake until the crumbs just begin to brown: about 5 minutes, depending on your oven. Cool for 15 to 20 minutes. Crumbs can then be stored in an airtight container, or frozen in a ziplock bag.
Because this eggplant recipe has quite a few steps, I tend to make my crumbs (if I don't have any on hand), de-bitter-ize my eggplant and cook my sauce in the morning or early afternoon of the day I'm making it. Then, I fry the eggplant near dinnertime, just before I'm ready to assemble the dish and pop it in the oven.
Now, assuming you have your bread crumbs at the ready, and your eggplant slices all prepped and de-bittered, let's move on to the main part of the recipe that I adapted from Alex Guarnaschelli.
The Recipe for Eggplant Parmigiana
Yield: 12 servings
Extravagantly Excellent Eggplant Parmigiana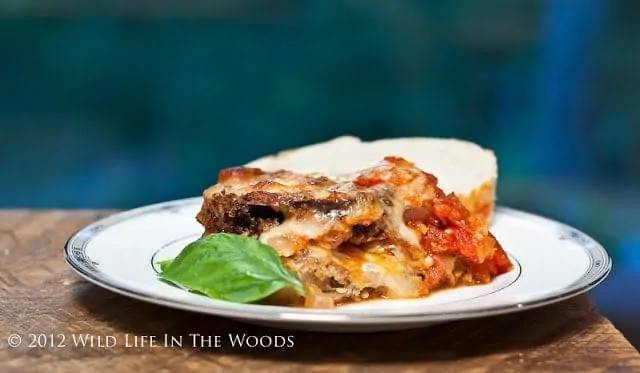 Extravagantly Excellent Eggplant Parmesan is one of the best dishes I've ever made! It's one of my favorite dishes to serve when we're entertaining guests. Never fails to elicit groans of satisfaction!
Ingredients
For the Homemade Sauce:
1/4 c. extra virgin olive oil
3 medium yellow onions, peeled, halved, cut into thin slices
8 garlic cloves, minced
salt
1/2 to 1 t. red pepper flakes, or to taste
1 T. sugar
3 (28 oz) cans of San Marzano peeled plum tomatoes
For the Eggplant: 2 medium eggplants, cut into 1/2" slices (approximately 2 1/2 lbs. of eggplant), salted, drained, rinsed and dried (see directions above)
1/2 c. flour
Freshly ground black pepper
5 large eggs, beaten
3 T. milk
4 c. Italian style breadcrumbs (see recipe above)
1 T. dried oregano
1 T. chopped fresh thyme leaves
Vegetable oil, as needed for frying; oil needs to be about a half inch deep
To layer with the eggplant and sauce:
1 1/2 lb.mozzarella cheese, grated
1/2 c. grated Parmigiano Reggiano
1 lb. Provolone, sliced
2 handfuls fresh basil leaves, torn
Instructions
To Make the Tomato Sauce: In a large saucepan, heat the olive oil over medium-high heat. Add the onion and garlic and season with salt and red pepper flakes. Cook until the onions become translucent, 3 to 5 minutes.
Add the sugar and the canned tomatoes. Use a wooden spoon to break up some of the whole tomatoes and cook 10 to 15 minutes over medium heat, stirring from time to time. Taste for seasoning. The tomatoes should be fairly broken down and the flavors should be starting to come together. Cook for another few minutes if the tomatoes still taste like they need a little more time to break down. Set aside to cool.
Frying the Eggplant: Put the flour in a medium bowl and season with salt and pepper. In another bowl, whisk together the eggs and milk, and season with salt and pepper. In a third bowl, combine the breadcrumbs with the oregano and fresh thyme leaves, and season with salt and pepper.
Dip each eggplant slice in the flour and shake off any excess. Then dip in the egg mixture, and finally in the breadcrumbs. Make sure to coat both sides of each slice of eggplant. Arrange them in single layers on baking sheets.
To work from left to right, set up your breading/frying/draining station like this:
flour + eggs + breadcrumbs + frying skillet + baking sheet with drain rack . (When breading, to minimize gunk coating the fingers of both hands, I use my left hand for coating with flour, and my right hand for coating in eggs and crumbs. It helps a little.)

In a large skillet, heat 1/2'' of oil, until it begins to smoke lightly . Use a pair of kitchen tongs to add a single layer of the eggplant to the pan. Cook them until they are golden brown, about 2 minutes on each side. Remove from the oil and transfer to a rack on a baking sheet so they can drain as the others cook. Season lightly with salt.
Take care to reheat the oil back up to temperature before adding the next batch of eggplant. If you are checking the oil's heat by temperature, you want it between 380º and 400º.
Preheat the oven to 350º.
Assembling the Dish:
In a 9"x13" baking dish, spoon about 1/4 of the sauce on the bottom of the dish. Top with a layer of the fried eggplant. Top with about 1/3 of the mozzarella. Sprinkle with about 1/4 of the Parmigiano Reggiano and Provolone cheeses. Top with a layer of torn basil leaves. Spoon sauce and repeat the layering two more times, to make 3 layers. End with the remaining mozzarella and Parmesan. Carefully press the layers down firmly into the dish once assembled. Place the dish in the top part of the oven and cook until the cheese is melted and bubbly, 35 to 40 minutes.

Notes
If you've used the homemade breadcrumb recipe I gave you in the post, you don't need to season them again with thyme and oregano, but you do need to toast them. Panko is also a really great substitute.

Adapted from Alex Guarnaschelli
Recommended Products
As an Amazon Associate and member of other affiliate programs, I earn from qualifying purchases.
Melty, Cheesy Goodness
Bon appétit!
Tell me truly: how do you feel about eggplant?
Give it to me straight. I can take it.