This post contains links that, if you click on them and make a purchase, will earn me money. Regardless, I only recommend products or services that I believe will be good for my readers. Thanks for helping me continue to produce great content!
I am about to fall from grace, in the eyes of some of you, but let me just go ahead and 'fess up, right off the bat: the World's Best (and Easiest) Lasagna has store-bought pasta sauce in it. Yup. I use Prego Pasta Sauce in this recipe. This is the recipe that won my husband's heart, before we got married, and I've tried (now that I'm a better, more experienced cook) substituting my own homemade tomato sauce. But when I did so, I left my husband bitterly disappointed, and asking why I couldn't just use Prego.
You know how when you have warm, loving memories associated with a certain dish, and nothing else will do? Well, that's how he feels about my lasagna recipe. I've made peace with his preferences, and with my own weakness in using something that's pretty processed, and now that I have, I also recognize that it sure is a time-saver to open a jar of tomato sauce, rather than make my own!
To make that Prego really taste delicious, though, I add a secret ingredient: one pound of Italian Sausage. (I use the Mild variety, not the Hot.) I brown it in a sauté pan, breaking it up into chunks, and then draining the cooked sausage on a plate that's been covered with paper towels. Something about that Italian Sausage works MAGIC on the Prego, and suddenly, you've turned something kind of boring into the Food of the Gods!
So here it is: and it truly is the Best Lasagna Recipe I've ever tasted. So good, in fact, that I dare to call it the:
World's Best, and Easiest, Lasagna Recipe
Yield: 8-10 servings
World's Best (and Easiest) Lasagna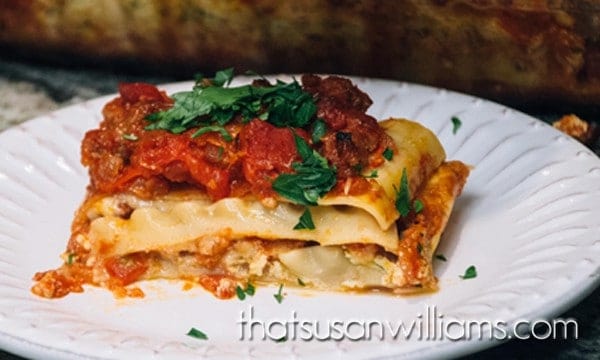 This recipe, which I've adapted from The Moosewood Cookbook, relies on jarred Prego Pasta sauce, and no-boil lasagna noodles to save me a few steps. It's still the best lasagna I've ever had, anywhere..
Total Time
1 hour
25 minutes
Ingredients
Sauce:
1 1/2 large jars of Prego Pasta sauce, (the large jars are 67 oz.)
to which I add
1 lb. browned, drained Italian Sausage
15 Lasagna noodles: I'm finding the no-boil lasagna noodles from Barilla or Trader Joe's work great - and it saves me a step.
Filling:
2 c. ricotta cheese, mixed with
2 beaten eggs,
sea salt & freshly ground black pepper, to taste
1/2 c. chopped fresh parsley
Other cheeses:
1 lb. shredded mozzarella cheese
1 cup freshly grated Pamagiano Reggiano cheese
Instructions
Instructions
Mix together the ingredients for the filling: the ricotta, beaten eggs, parsley, salt, and pepper. Then it's time to assemble the lasagna.
Spread a little sauce over bottom of pan.
Cover with a layer of noodles (1/3 of the noodles)
Put a blotch of filling here and there. Use 1/2 of the filling
Sauce (1/3 the remaining sauce)
1/2 the mozzarella, hither and thither
Another 1/3 of the noodles
Remaining filling, followed by
Sauce - another 1/3 - which gets followed by
Remaining mozzarella
Every last noodle
Ultimate dosage of sauce
The parmesan
Bake 45 minutes covered by foil at 375º; uncover for last 10 minutes. Let stand 10 minutes before serving.
Notes
Make your own tomato sauce if you must, but I'm telling you this because I care about you: Prego is delicious, when you add in that browned Italian sausage, and you'll be thrilled with the results and the time savings.
Recommended Products
As an Amazon Associate and member of other affiliate programs, I earn from qualifying purchases.
I've got lots of other great pasta recipes, if Italian Food is what floats your boat, as it is mine. Why not try Beggar's Linguine? It's a recipe you can probably make from ingredients you've got buried in your pantry! You'll beg for more! Or Butternut Squash Pasta: oh, that browned butter, pine nuts, and sage!
Yum