This post contains links that, if you click on them and make a purchase, will earn me money. Regardless, I only recommend products or services that I believe will be good for my readers. Thanks for helping me continue to produce great content!
This recipe for Pasta with Roasted Parsnips, Leeks and Bacon is creamy, cozy, comfort food, at its apex. I'll admit, the first time I heard Melissa Clark (a wonderful chef from the New York Times Food Section) begin describing a recipe for pasta with roasted parsnips, my head cocked like my dog's head swivels when he hears me start a sentence with "You wanna….(You know…that sentence that generally ends with beloved phrases like…"go for a walk, go for a ride, treat, some kibble", etc.) THAT kind of head cocking.
A Word About Parsnips
Parsnips are a root vegetable that I often buy on a whim, and then allow to languish unnoticed for months in my crisper drawer. They look sort of like albino carrots. Their flavor is somewhat sweet, but more peppery than a carrot. They're a bit like a cross between a carrot and a turnip, but more delicious than that sounds. I've used them in soups and broths, before, and occasionally roasted them with other root veggies (like potatoes and carrots) and served them with a roasted pork loin. But never had I imagined combining them with a pasta!
However, the more I listened to Ms. Clark's description of pasta with roasted parsnips, the more my taste buds could imagine it, and ultimately, I couldn't wait to try it! And guess what? She was right! This dish is amazing!!! So, I thought I'd try to help YOU imagine it before your head swivels off your pretty little neck.
When you cut parsnips into little cubes, drizzle them with a little olive oil, and sprinkle them with a little sea salt, and some freshly ground black pepper, and roast them for about 20 minutes, they get that beautiful browning effect we call the Maillard effect, that means FLAVOR. The sugars on the outside edges have caramelized, and they're a tiny bit crispy.
You fry some bacon in a pan, and take the bacon out to drain, and then you use that bacon fat to sauté your chopped leeks. Again, the leeks are a root vegetable that will gain a lovely smoky sweetness from their time in that bacon fat. Then you stir in some heavy cream, and allow the cream to reduce for a few minutes, which will thicken up your sauce.
Now combine that thickened sauce with some pasta that has been cooked just a minute or two shy of al dente (so that it will soak up that creamy sauce into itself), and the reserved fried bacon, the roasted parsnips, and some freshly grated Parmigiano Reggiano. Sweet, smoky, salty, creamy, crunchy (the bacon), and absolutely to die for!
You're going to love this!!!!
The Recipe for Pasta with Roasted Parsnips, Leeks and Bacon
Yield: 4 servings
Pasta with Roasted Parsnips, Leeks and Bacon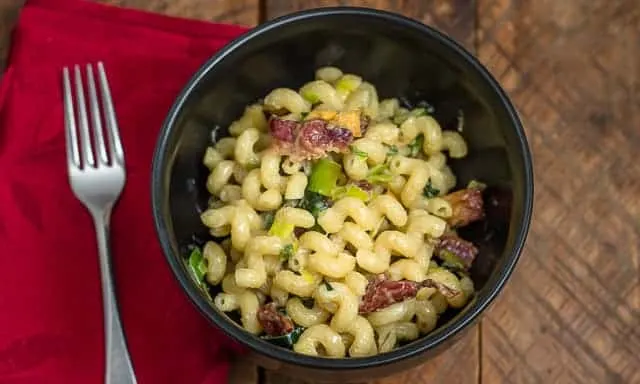 A simply scrumptious recipe for a bowl of pasta that is pure creamy, cozy comfort food.
Ingredients
3 or 4 parsnips (weighing about 3/4 lb.), peeled and cut into 1/2" cubes
1 tablespoon olive oil for drizzling parsnip cubes
sea salt (for the parsnips, in addition to more for the pasta water)
freshly ground black pepper
1 box of Cavatappi pasta, or whatever type of larger pasta noodle you like)
4 slices of thickly sliced bacon, diced
1 medium leek, carefully cleaned, and then thinly sliced
3/4 c. of heavy cream
2/3 c. of grated parmesan cheese
2 tablespoons chopped parsley (optional....I think I forgot mine....)
Instructions
Heat oven to 400º. Toss parsnips with olive oil and season with sea salt and freshly ground black pepper. Roast until parsnip cubes begin to get that lovely caramelization on them. 20-25 minutes.
Meanwhile, bring a large pot of salted water to a boil. Cook pasta according to package instructions, minus about 1 - 2 minutes. Drain the pasta. (You want it to still *want* to absorb the sauce you're about to pour over it.)
While the pasta is cooking, brown the bacon until it's crisp - which will probably take around 5 minutes. Rescue the bacon from the pan using a slotted spoon, and allow it to drain on a paper towel.
Add leeks to the bacon fat, and cook them until they're softened, for about 5 minutes.Stir in heavy cream, then cooked bacon, and bring to a simmer. You're reducing the cream (allowing some of the water vapor to escape), which will thicken the sauce. This will take 2-3 minutes.
Stir in the cheese to the sauce. Then pour the sauce all over the drained pasta. Season with salt, and plenty of black pepper, because something there is about a parsnip that loves its pepper. And toss on that chopped parsley, if you've remembered to chop it.
Recommended Products
As an Amazon Associate and member of other affiliate programs, I earn from qualifying purchases.
Nutrition Information:
Yield:
4
Serving Size:
1
Amount Per Serving:
Calories:

503
Total Fat:

26g
Saturated Fat:

14g
Trans Fat:

1g
Unsaturated Fat:

10g
Cholesterol:

66mg
Sodium:

495mg
Carbohydrates:

55g
Fiber:

7g
Sugar:

8g
Protein:

14g
Sharing is Caring!
If you liked this post, I have a couple of other pasta posts I'd love to recommend to you. This recipe reminds me a lot of my recipe for Pasta with Butternut Squash, Sage, Pine Nuts and Browned Butter. Oh, my gosh. That one's also to die for. And then, there's Nicole Kidman's recipe for ….get ready for it….FRIED GOLDEN BROWN Pasta with Broccoli aka Nicole Kidman's Pasta. It's all vegetarian, but it's so rich! It's wonderful as well!
If you think you'd like to make this, or if you know someone you'd like to talk into making it for you, please, by all means, be my guest and share this wonderful recipe! Share it on Facebook, Tweet it on Twitter, Flip it on Flipboard, or go hog wild PIN this sucker on Pinterest! I've made you the perfect pin for it!
There's Never Enough Pasta
A collection of some of my favorite pasta recipes.