This post contains links that, if you click on them and make a purchase, will earn me money. Regardless, I only recommend products or services that I believe will be good for my readers. Thanks for helping me continue to produce great content!
Pasta with Peas, Ham, and Cream is a quick and easy weeknight meal, perfect for when you've had a busy day, need to bring dinner together fast, and you happen to have some leftover ham on hand. Easter is coming, and it's typically a time when a lot of people serve ham, and have some leftover meat. This is an absolutely delicious way to use that leftover cooked ham, and get dinner on the table in a hurry.
Before I share with you today's information on how to use leftover ham, and the accompanying recipe for Pasta with Peas, Ham, and Cream, I'd like to back up a bit.
Money Saving Tips for Leftover Ham:
In my last post (which was on Feijoada: Brazilian Black Beans and Rice), I gave you some great money saving tips in regard to buying a HoneyBaked Ham Bone. I told you that I learned that I could enjoy the great flavor of a HoneyBaked Ham, and save a lot of money by buying only the ham bone, (rather than a whole ham), which HoneyBaked Hams tend to have an abundance of after the holidays.
In particular, I'm referring to the holidays of Easter, Christmas, and Thanksgiving, when they move a lot of product. (Although you might check right after Memorial Day, the 4th of July, and Labor Day – any holiday where people tend to gather together.)
After the holidays, if you're really lucky, and they have a lot of leftover ham bones in their coolers, my local HoneyBaked Ham store offers a two-fer deal, which cuts your cost in half!) I wanted to show you, in this post, just how much ham we're actually talking about.
I Bought Two Hambones
I purchased 2 hambones the last time I was there, since my local store was offering the two-fer deal. The total weight and price of each ham was within pennies of being identical. The unit price was 2.29 a pound, and each ham weighed right around 4.3 pounds. Thus, each hambone was priced right around $10.00.
With the two-fer deal, that made each one $5.00. And there was enough meat on each bone to get 2 full dinners using the meat, a couple of sandwiches, and one big pot of beans, by using the bone, and about a cup of leftover ham scraps.
That's 3 dinners, and a couple of lunches for $5.00. Worth searching out? You bet! (Here's the other dinner recipe I alluded to, as well: Viennese Noodles with Ham, Sour Cream, and Alpine Cheddar.)
So, if you'd like to check out their locations, to see if they have a HoneyBaked Ham store near you, here's a link to the Store Locator .
The Recipe that uses Leftover Ham:
The Story of Today's Recipe
When my girlfriends came to visit me about a month ago, I served Pasta with Peas, Ham, and Cream to them, and sweet Robin asked for the recipe. I promised her I'd put it up on the blog, because it's one I've been making for years, and my family really enjoys it, and it's soooo easy to throw together.
What Kind of Pasta Should I Use?
I found the recipe on the epicurious website, when I watched Michael Lomanco make it, in 2002. He made his recipe with orecchiette, which is a pasta whose name means "little ears". I've made this with orecchiette, but I've also used spaghetti, and many other types of decorative pasta. This time, I used campanelle. (That's the pasta you'll see in the photo.) A few weeks ago, I made it with cavatappi.
My point is, the type of pasta really doesn't matter with this dish which consists of a cream sauce, chunks of ham, and peas, so that's why I titled the recipe with a generic term, "pasta". Whatever kind you have will work fine: you can adapt as needed. When Robin was here, I had no peas, so I used whole sugar snap peas. And they worked great, too. I think edamame would also work. My point is, you're going to make a very easy cream sauce, pour it over cooked pasta, throw in some ham, as well as a green veggie.
Yield: 4 servings
How to Use Leftover Ham: Pasta with Peas, Ham, and Cream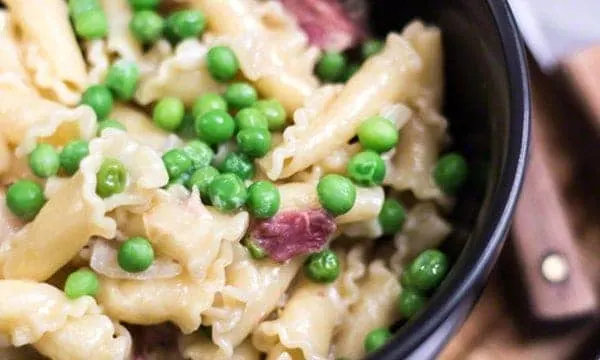 A very adaptable pasta recipe that uses leftover ham, cream, and peas to make a delicious and easy weeknight meal.
Ingredients
1 lb. pasta (I used campanelle)
3 T. butter
1/2 c. diced onion
1 c. frozen peas
1 c. honeybaked ham, cut into bite sized chunks
3/4 c. heavy cream
1/2 c. freshly grated Parmigiano Reggiano
salt and pepper, to taste
Instructions
Cook pasta according to package directions, in boiling water that is salty like the sea. (I use about 1 T. salt for a big pot of water.)
Warm 1 T. of the butter in a saucepan over medium heat. When the butter starts to bubble, add the onion and cook for 3-4 minutes, until the onion is translucent. Stir in the peas and the ham, and cook for a minute. Pour in the cream, bring to a low simmer, and simmer 5 minutes.
Drain pasta. Put back in the pasta pot. Pour sauce over pasta, drop remaining butter into pot, and sprinkle with grated Parmigiano Reggiano . Toss to coat, and taste for seasoning. Add salt and pepper, to taste. Serve with additional grated Parm, if desired.
Recommended Products
As an Amazon Associate and member of other affiliate programs, I earn from qualifying purchases.
Nutrition Information:
Yield:
4
Serving Size:
1
Amount Per Serving:
Calories:

540
Total Fat:

30g
Saturated Fat:

18g
Trans Fat:

1g
Unsaturated Fat:

9g
Cholesterol:

91mg
Sodium:

690mg
Carbohydrates:

49g
Fiber:

4g
Sugar:

5g
Protein:

20g