This post contains links that, if you click on them and make a purchase, will earn me money. Regardless, I only recommend products or services that I believe will be good for my readers. Thanks for helping me continue to produce great content!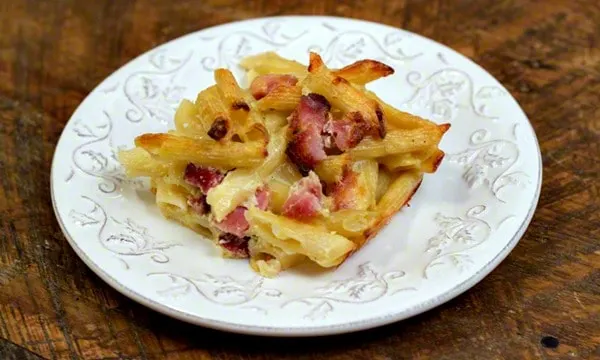 This recipe for Viennese Noodles with Ham, Sour Cream and Alpine Cheddar is the third in a series of recipes I've written on what to do with leftover ham, and the virtue inherent in buying, in particular, a HoneyBaked Ham bone. In this post, I'm also using another of my favorite products, Cabot Cheese's variety known as Alpine Cheddar. The reason I love it so much is because its nuttiness really reminds me of my favorite Swiss cheese: Gruyère.
Which Cheese Should I Use for these Viennese Noodles? Alpine Cheddar, or Gruyère?
I want you to know that I have not received any kind of compensation for writing this post, although from time to time Cabot DOES send me cheese – for which I am forever grateful, and which has turned me into a complete Cabot supporter. Not only are they a co-op of 1200 farm families, but they make the best darn cheddar, ever. (That's my opinion, and it oughtta be yours.)
So which of those two cheeses, Cabot Alpine Cheddar, or Gruyère, should you use? Whichever one you can find first. They'll both be delicious!
What's The Deal with Buying a Ham Bone for Viennese Noodles?
Did you know I can get three dinners and a few sandwiches out of just buying the bone??? You won't believe how meaty they are! (And if you don't believe me, check out this post to see for yourself.)
"Ham bones" are not listed on the menu on their wall, at least, not where I live. You have to walk in and ASK for them, but they are very happy to sell you one. If you walk in, say, right AFTER Easter or another holiday where they cut a lot of hams, you may just get lucky and discover that they are having a two-fer sale. (Please check out this recipe, while you're looking around my blog, for the best pot of black beans you've ever had in your life, which are also the national dish of Brazil, known as Feijoada. )
Why Do You Call Viennese Noodles a Desperation Dinner?
I came across this recipe from food writer Rick Rodgers back in around 2003. It's from his cookbook, "The Carefree Cook". My kids were babies then, and I needed a recipe that I could prepare QUICKLY. I wanted something easy and luscious, that could help me use up the ham on the ham bone I'd purchased. Rick Rodgers has written over 40 cookbooks, including 12 titles for Williams-Sonoma, so I knew that even though I'd never seen him on a cooking show, this guy knew his way around the kitchen. He wrote The Carefree Cook and filled it with quick, easy, weeknight recipes. I call those Desperation Dinners.
A good cook should *always* have a few recipes like this one, in her hip pocket, to pull out when time is tight, and dinner needs to be on the table in a hurry. Viennese Noodles with Ham and Sour Cream are indulgent, delicious, and easy. Kind of like a baked macaroni and cheese…but…the sour cream, and the nutty flavor of the cheese? It's wonderful together. Serve it with a salad on the side, and you have a perfectly lovely meal.
NOTE: I usually make this recipe with egg noodles, but when it was time to cook dinner, I discovered I didn't have enough, so I decided to use a box of penne rigatte pasta that I had in the pantry. It worked great, so this just points out the versatility of this recipe! A Desperation Dinner, indeed!
Yield: 6 servings
Viennese Noodles with Ham, Sour Cream, and Alpine Cheddar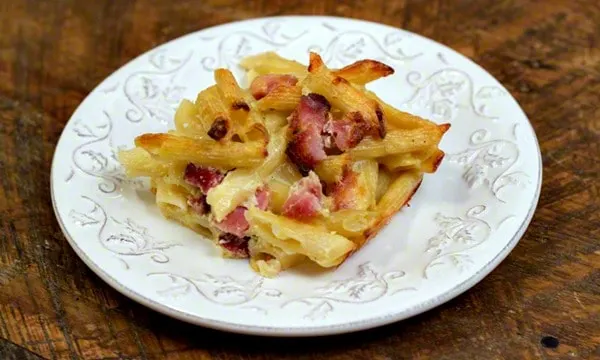 An easy, delicious, and indulgent recipe, perfect for a weeknight meal. And a great way to use up any leftover ham.
Ingredients
2 T. butter
12 oz. egg noodles, or 1 16 oz. box of pasta - I used penne rigate last time
16 oz. sour cream
6 oz. shredded Alpine Cheddar or Gruyère
3 large eggs
3/4 t. salt
1/4 t. finely ground black pepper
8 oz. ham, cut into 1/2 " dice
Instructions
Pre-heat oven to 375º. Generously butter a 9 x 13" baking dish with 1 T. of butter.
Bring a large pot of salted water to a boil and cook pasta or noodles according to package directions. Drain well and return noodles to the pot.
Add in the sour cream, cheese, eggs, salt and pepper and mix well. Stir in the ham. Spread evenly in the prepared dish, and dot with 1 T. butter.
Bake until the noodles feel set when pressed in the center and the tips are lightly browned, about 30 minutes. Let stand for 5 minutes. This allows the mixture to "set".
Cut the noodles into squares to serve.
Notes
Even though the recipe calls for egg noodles, it's perfect with pasta as well.
Recommended Products
As an Amazon Associate and member of other affiliate programs, I earn from qualifying purchases.
Nutrition Information:
Yield:
6
Serving Size:
1
Amount Per Serving:
Calories:

691
Total Fat:

40g
Saturated Fat:

20g
Trans Fat:

1g
Unsaturated Fat:

14g
Cholesterol:

236mg
Sodium:

1067mg
Carbohydrates:

49g
Fiber:

2g
Sugar:

4g
Protein:

33g