This post contains links that, if you click on them and make a purchase, will earn me money. Regardless, I only recommend products or services that I believe will be good for my readers. Thanks for helping me continue to produce great content!
This recipe for Venison Bolognese is so rich and full of flavor! You'll definitely be lining up for seconds. It's different than my Mama's meat spaghetti sauce, (my favorite meal growing up), but it's every bit as good.
What Does Bolognese Mean?
It means, literally, pertaining or belonging to the people of the city of Bologna, Italy. So, it's a pasta sauce, made in the fashion of folks from the city of Bologna. NO, it is not made WITH what Americans refer to as Bologna (what Oscar Meyer makes). Because that would be weird, pink, and squishy. People from the city of Bologna, apparently like to make their pasta sauce with beef.
In Italian, it's pronounced Bo-lo-nyay-say. And you kind of lean in to the "nyay". You're welcome.
Why Did You Replace the Beef with Venison?
I went looking for a 5 star recipe on the New York Times for spaghetti sauce, and found this one, by the famous Italian chef Marcella Hazan. It had glowing reviews, so I knew this was the one for me. But I took a huge liberty and replaced the beef she called for with venison. Why would I do such a thing?
Since I am married to a hunter, we have a freezer full of Tennessee white tail deer meat. Sadly, most hunting cookbooks don't really contain much more than "fry it" or "make it into chili" recipes, and very often, they contain lots of processed ingredients, as well.
But that's not the way we roll around here. And I've learned that venison can easily be used as a substitute for beef in many, many recipes. Like chili and jerky, yes. But also in burgers, and tacos, and Shepherd's Pie, and Stroganoff.
So if you're looking for gourmet venison recipes, you've come to the right place.
But if you don't have venison, please use beef, and know that you'll be using what Marcella Hazan herself used in her 5 star Bolognese sauce.
Did You Alter the Original Recipe Any Other Way?
The only other alteration I made in this sauce was in doubling her original recipe, because I typically use packages of venison that weigh 2 lbs., rather than the 1 lb. of beef she called for in her original recipe.
So, if you try my version, you'll make enough bolognese to make 1 meal for a family of 4, and have enough to freeze, for another meal, later. And don't we love to have a treasured cache of homemade spaghetti sauce stashed away in our freezers for a Desperation Dinner some busy weeknight?
Make Venison Bolognese On A Day You'll Be at Home
Each step of Venison Bolognese is quite easy, but it does require 3 hours of simmering. DON'T LET THAT PUT YOU OFF!!! This sauce is so worth it. Every mouthful is full of deep, rich flavor, and you'll taste the difference a slow simmer makes!
I've put the steps below, in order, and you'll see how easy each step is.
The Joy Set Before You: Rich, Meaty Venison Bolognese Sauce!
After a lovely afternoon of inhaling that luscious tomatoey-meaty smell, (and the smell may drive you wild with anticipation) and the occasional peek in the pot a time to give the sauce an occasional stir, and to see if more liquid is needed, you'll be rewarded with a beautifully rich reduced sauce like this to top your pasta
Yield: 8 servings
The Best Meat Sauce for Spaghetti: Venison Bolognese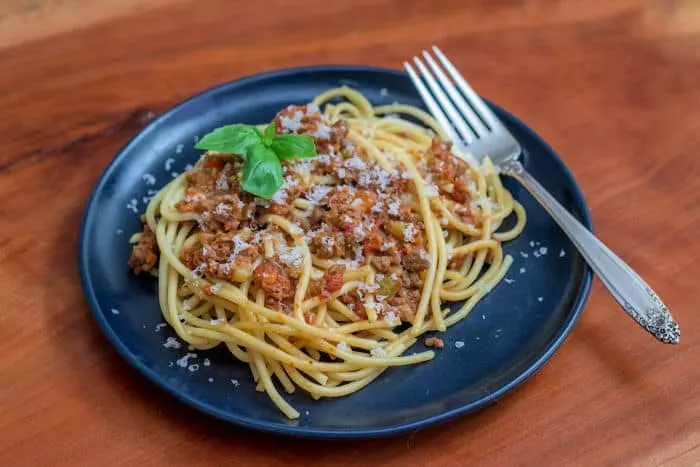 The best meat sauce for spaghetti that I've ever made is this venison bolognese, adapted from Marcella Hazan.
Ingredients
2 tablespoon vegetable oil
6 tablespoons butter (plus 1 tablespoon for tossing the pasta)
1 cup chopped onion
1 1/3 cup chopped celery
1 1/3 cup chopped carrot
2 pounds ground venison
Sea salt
freshly ground black pepper
1 cup milk
1/4 t. freshly grated nutmeg
2 cups of dry white wine
1 28 oz. can of tomatoes, cut up, with their juice
1 ¼ to 1 ½ pounds pasta
Freshly grated Parmigiano-Reggiano cheese
Instructions
Heat the oil and butter over medium heat in a large pot, or Dutch oven. Add the chopped onion. Cook and stir the onion until it has become translucent, then add the chopped celery and carrot. Cook for about 2 minutes, stirring vegetables to coat them well.
Add ground venison, a large pinch of salt and a few grindings of pepper. Crumble the meat with a fork, stir well and cook until the beef has lost its rosy, red color.
Add milk and let it simmer gently, stirring frequently, until it has bubbled away completely. This will take at least 10 minutes. Add a small grating -- about 1/4 teaspoon -- of nutmeg, and stir.
Add the wine, let it simmer until it has evaporated, then add the tomatoes and stir thoroughly to coat all ingredients well. When the tomatoes begin to bubble, turn the heat down so that the sauce cooks at the slightest of simmers, with just the occasional bubble breaking through to the surface. Cook, uncovered, for 3 hours or more, stirring from time to time. While the sauce is cooking, the liquid level may begin to get low. Check on it every now and again. To keep any thing from sticking to the bottom of the pot, add 1/2 cup of water whenever necessary. (I didn't need any, but your simmer may be higher than my simmer, so check.) At the end, however, no water at all must be left. Taste and correct for salt.
Toss with cooked drained pasta, adding the tablespoon of butter, and serve with freshly grated Parmesan on the side.
Recommended Products
As an Amazon Associate and member of other affiliate programs, I earn from qualifying purchases.
Nutrition Information:
Yield:
10
Serving Size:
1
Amount Per Serving:
Calories:

384
Total Fat:

16g
Saturated Fat:

7g
Trans Fat:

0g
Unsaturated Fat:

6g
Cholesterol:

91mg
Sodium:

281mg
Carbohydrates:

28g
Fiber:

3g
Sugar:

7g
Protein:

25g
More Venison For YOU! Because You're Such A Deer.
Santa knows you've been a good person. Also, since he doesn't want you feeding on his OWN herd, he wanted you to have MORE venison recipes out of regular deer. So here ya go!