This post contains links that, if you click on them and make a purchase, will earn me money. Regardless, I only recommend products or services that I believe will be good for my readers. Thanks for helping me continue to produce great content!
Sometimes, you NEED a comforting, meltingly delicious cookie, and there's just not much better, at such a time, as Good Old Fashioned Snickerdoodles. (Man, I love that word!) They're tangy, chewy, and buttery!
And honestly, when I made these, I just could not stop eating them. They're that good! So, for your sake, since the recipe I started with only made a dozen cookies, I went ahead and doubled that recipe for you. Because you're going to want more than a dozen of these Snickerdoodles.
Did You Make Any Changes to Your Snickerdoodle Recipe?
Well, besides doubling the original recipe, of COURSE I tinkered with it, just a little bit! I like my cookies tender, moist, chewy, and a touch crispy on the outside. To increase the moisture factor, I replaced one half of a cup of sugar with an equal amount of brown sugar. Brown sugar keeps cookies more moist, and adds a slightly deeper under note of flavor. I loved that change! It's a keeper.
One More Change for Fall: Pumpkin Spice
Since it was fall when I was making these, I decided to try rolling half of this batch of cookies in the traditional cinnamon sugar mixture, and the other half in some cinnamon sugar to which I added some of the spices you'd find in a pumpkin pie. So basically, I made a Pumpkin Spice Snickerdoodle. Which you may call a Punkin'Doodle, if you wish. (Which kind of sounds like a dog breed. Anyway….)
Was this a change for the better? Well, I thought it was, But my husband and daughter are both opposed to the Pumpkin Spice movement, so they objected to it, in principle. You may have to decide for yourself which you prefer. I suggest you make this recipe MANY times, just to be sure which you prefer. And I bet you'll get no complaints from the Natives.
What's the Only Ingredient I Might Not Have?
The only ingredient I didn't have was Cream of Tartar, because we had run out of it. I had a bit of a hard time spotting it in my grocery store, so I thought I'd include a picture of what a jar of it looks like. (My old container of Cream of Tartar was in a can, and I hadn't thought of looking for it in a jar. So here's the picture.
What is Cream of Tartar, Anyway?
Well, for one thing, it's NOT cream. It's a white powder.
According to the dictionary, cream of tartar is a white crystalline acidic compound obtained as a byproduct of wine fermentation and used chiefly in baking powder. WINE! See??? I knew there was a reason I loved these cookies so much!
It's highly acidic, and therefore, it's what gives these cookies that tang I love so much! It also prevents the sugar in the cookie dough from crystallizing, and that's what makes a great snickerdoodle delightfully chewy.
Yes, if you're desperate, there is a substitution. You could substitute 2 t. of baking powder for the cream of tartar, AND the baking soda. Hope that helps someone in dire straits. But cream of tartar is worth searching out, and not in the least expensive.
Just in case you'd like to order some cream of tartar via Amazon, I've added a handy link below, right beneath the recipe card.
How Easy Are Old Fashioned Snickerdoodles to Make?
Old Fashioned Snickerdoodles are easy enough to turn a kid loose on. Really. They come together quickly, and kids will love helping by rolling them them in the cinnamon sugar, or pumpkin spice sugar.
Oh, just get busy and make these. They are, and I mean this sincerely, the best snickerdoodles I have EVER had. Even if you already have a recipe you make? I challenge you to try my recipe and tell me which you prefer! Seriously! I'd love to hear from you!
Yield: 2 dozen cookies
Old Fashioned Snickerdoodles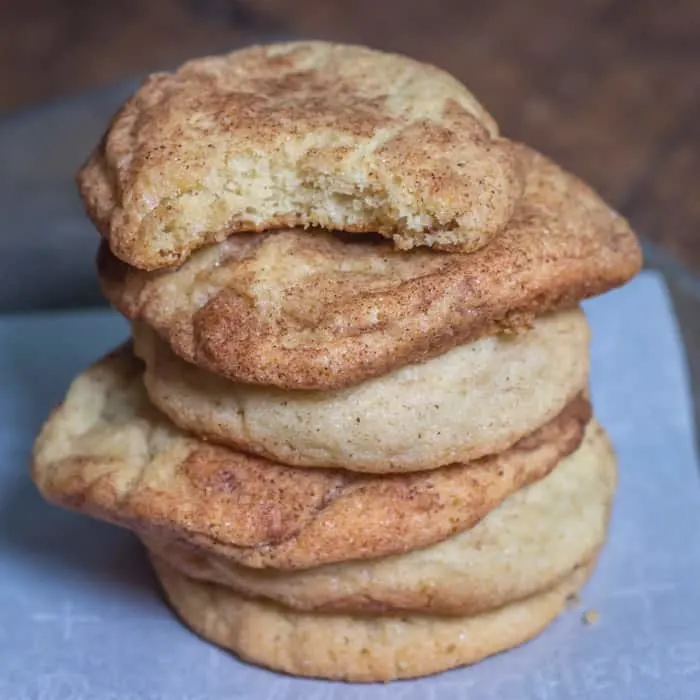 Good old fashioned Snickerdoodles are tangy, sweet, spicy, and melt in your mouth delicious, and you probably already have everything you need to make them.
Ingredients
3 cups/360 grams all-purpose flour
2 teaspoons cream of tartar
1 teaspoon baking soda
1 teaspoon kosher salt
2 1/2 sticks/280 grams unsalted butter, at room temperature
1 cup/200 grams granulated sugar, plus 1/4 cup more for garnish
1/2 cup/110 grams of light brown sugar
2 large eggs
1 teaspoon vanilla extract
2 tablespoon ground cinnamon
If making Punkin' Spice Snickerdoodles you'll need to add:
1/2 teaspoon ground ginger
1/4 teaspoon ground cloves
1/4 teaspoon freshly grated ground nutmeg
to the cinnamon sugar mixture.
Instructions
Pre-heat the oven to 375 degrees.
In a medium bowl, whisk together the flour, cream of tartar, baking soda and salt.
In the bowl of an electric mixer, beat together the butter and 1 1/2 cup white sugar and 1/2 cup brown sugar until fluffy, about 2 minutes, scraping down the sides as necessary. Beat in the eggs until creamy, and then add the vanilla, again scraping down the sides. Add the flour mixture to the butter and sugar mixture and beat on low until just combined.
In a small bowl, combine the remaining 1/4 cup of white sugar and the cinnamon. (If you're making the Punkin' Doodles, add in the ginger, cloves, and nutmeg, as well.) Using a cookie scoop, drop the cookie dough balls into the cinnamon sugar or Pumpkin Spice sugar mixture, and roll to coat.
Transfer the coated cookie dough balls to rimmed baking sheets, at least 3 inches apart. Bake the cookies until just set and dry in the center, 10 to 12 minutes. Do not overbake. Transfer each sheet to a rack to cool for a few minutes, then transfer the cookies to racks to cool completely.


Notes
Underbake, rather than overbake these cookies.
Recommended Products
As an Amazon Associate and member of other affiliate programs, I earn from qualifying purchases.
Nutrition Information:
Yield:
24
Serving Size:
1
Amount Per Serving:
Calories:

330
Total Fat:

24g
Saturated Fat:

15g
Trans Fat:

0g
Unsaturated Fat:

8g
Cholesterol:

79mg
Sodium:

154mg
Carbohydrates:

27g
Fiber:

1g
Sugar:

13g
Protein:

2g
I've got some other stellar cookie recipes, like my
Browned Butter Dark Brown Sugar Cookies.
Some have even won me a couple of Christmas cookie contests. You can check them out below.
Cookies I Have Loved
Each one a winner! You've got to try making at LEAST one of these!!!