This post contains links that, if you click on them and make a purchase, will earn me money. Regardless, I only recommend products or services that I believe will be good for my readers. Thanks for helping me continue to produce great content!
Curry Coriander Shortbread Cookies are one of my favorite Christmas Cookies. My friend Gwen Pratesi, who is a blogger over on Pratesi Living, shared the recipe with me. They sounded intriguing to me, but maybe you're a bit put off by the title: after all, the recipe uses spices that are normally reserved for savory meals, in a cookie.
I love molasses crinkles, and they have an intense spice flavor, but what my friend Gwen was describing was something quite different. "You know," she said, "I get overloaded on sugar this time of year. And these are so distinct, and unique." Well, "distinct and unique" sounded good. But I confess, I had my doubts. So much so, that I let a whole year go by. And then, while I was sorting through a pile of recipes that I had printed out that I wanted to try, there was Gwen's almost savory – lightly sweet with a little heat – shortbread cookie recipe. That I had never tried.
"OK, that's it," I thought. "I'm going to try them". Girding up my loins, and pre-heating my oven, I focused my attention on the recipe, which I found among Epicurious' collection of Blue Ribbon Cookie recipes. Which required me to lightly toast the spices. Say, WHAT? In a cookie? I knew that toasting spices was a step you do often in Indian food. I knew that heat releases the oils in the spices, and that this steps changes the spice, and allows a glorious aroma to come to the forefront. But would this be a good thing in a cookie?
It was time to find out.
The toasting process is quick and easy, and it only takes a small sauté pan, and a couple of minutes. The first spice you toast are coriander seeds. You heat the whole seeds in the sauté pan for approximately 2 minutes, shaking the pan and rolling the seeds occasionally, so they don't toast too much on one side. Use your sense of smell to help you with this process. Your nose will detect when the flavor of the coriander begins to warm and change. Allow those seeds to cool, and use the same pan to toast the curry powder. The recipe called for Madras curry powder, and I didn't have any of that. But after looking it up, I learned that it is the hottest curry powder spice mixtures. Because in general, I tend to be a weenie where spicy food are concerned, I was OK with NOT using Madras Curry powder. Instead, I used this really lovely blend that I picked up at Whole Foods called Balti Curry Powder, and it was delicious. So, my recommendation in terms of the TYPE of curry powder you use would be to use one you already have and love. And if you don't have one that you love, don't use the one that's been sitting in the back of your spice cabinet for 6 years now. Go buy yourself something fresh. Jarred ground spices begin to lose flavor after about a year, and you want a curry blend that is fresh, flavorful, and aromatic.
I don't have a coffee grinder designated as a spice grinder, but I do have two other things that helped me process my whole coriander seeds. (The two teaspoons of whole coriander seeds was too small an amount for my Vitamix to grind up. They stayed below the blades. But I am resourceful!) I wiped out and used my old coffee grinder, which did grind them a little finer. But they still came out a bit too chunky. What's a cook to do? Go old school! I remembered a cooking show where I had seen an Asian cook make a curry practically by hand, the way her Asian momma did, using a mortar and pestle. I eyed my own rarely used mortar and pestle and thought, "I can do that!" So I dumped my slightly ground coriander seeds into its bowl, and within about a minute, I had the ground the coriander seeds much finer, to the point that they were what I deemed to be "cookie-ready". (And the bonus was that I felt all MacGyver-like and resourceful and primal and stuff.)
(By the way, if you don't have whole coriander seeds in your spice cupboard, but do have ground coriander, I think it would be fine to use that. Just toast the already ground spice a minute less.)
The other thing I learned after making a couple of batches of these is that – for me, personally – if I had to choose between these cookies when they were slightly overbaked, and when they were slightly underbaked, I surprised myself by deciding that I'd choose them more on the darker golden side. Normally, I always prefer a chewy cookie. But these are shortbread cookies, so they are full of fat, and there's something about the spices and the toastiness and the way they crumble that I just adore.
These cookies are VERY unusual, but they are like crack to me. Absolutely addictive. They were selected as a Blue Ribbon cookie on the Epicurious website, which is ALWAYS a good sign.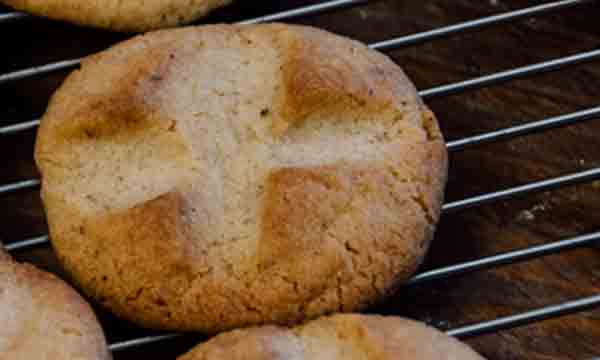 I hope you'll love them, too. Remember: they are less sweet, with a little heat. They go great with a cup of coffee or tea, but it might surprise you to learn that also are lovely with a glass of wine. No, I'm not kidding. The savory/heat aspect of the flavor profile goes really nicely with a glass of wine, so you should try it. Really!
Because…cookies and wine? Hello? Who doesn't want both those things?
Now Pin this on Pinterest! Tweet it on Twitter! Share it with your friends on Facebook!
And by all means, make them, and take them to your next holiday party. All your friends will be dying to know who made those AMAZING cookies!!!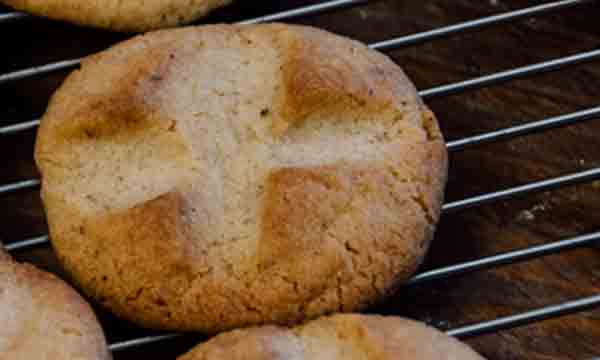 Curry Coriander Shortbread Cookies
2014-12-17 07:29:19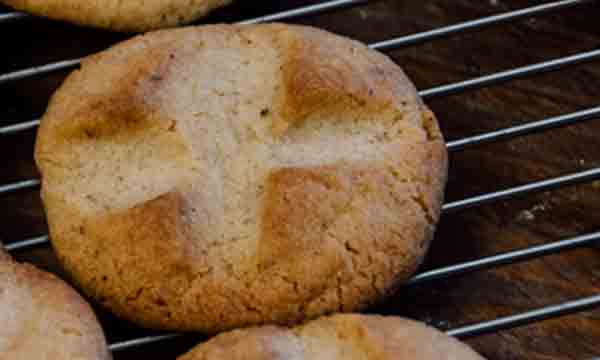 Flaky, buttery shortbread cookie that is *almost* savory. A little sweet with a hint of heat.
Ingredients
2 t. coriander seeds
1 1/2 t. curry powder (I used Balti)
2 sticks butter
1/2 c. sugar
1 t. vanilla extract
1 t. salt
1 3/4 c. all purpose flour
Instructions
Toast coriander seeds in a small sauté skillet, shaking pan often, until fragrant, and about a shade darker. This should take about 2 minutes. Cool them, and then grind them in a spice grinder, or bash them with a mortar and pestle, like I did.
Toast curry powder in that same skillet, stirring and shaking the skillet to bring out the fragrance of the spice, and slightly deepen the hue. Since the spice is already ground, this will go quicker: about 1 minute.
Preheat oven to 350º.
Blend butter, sugar, vanilla and salt in a mixer. Scrape down the sides with a rubber spatula.
Whisk spices into flour, and then mix into butter and sugar mixture in the mixer. Again, scrape down sides to be sure all ingredients are incorporated.
Form 1" dough balls and arrange 2" apart on 2 ungreased cookie sheets. With a small skewer, press an "X" into the top of each cookie, gently flattening that cookie just slightly.
Bake until edges are golden, approximately 15 - 20 minutes, depending on your oven. Keep an eye on them at the end, to determine when you want to take them out. Cool them on the pan for 5 minutes, and then transfer them to racks to cool.
Notes
An almost savory cookie: slightly sweet, with a little heat. One of Epicurious website's Blue Ribbon Cookie recipes.
Adapted from Paul Grimes/Gourmet
That Susan Williams https://www.thatsusanwilliams.com/
Yum