This post contains links that, if you click on them and make a purchase, will earn me money. Regardless, I only recommend products or services that I believe will be good for my readers. Thanks for helping me continue to produce great content!
Do you dream of making a chocolate dessert that is BETTER than restaurant-quality? Maybe a CHEESECAKE? What if I told you that YOU could easily make a chocolate cheesecake dessert that would make your guests swoon, and that would live on, in legend, long after the evening you made it for?
What if that cheesecake had a crust made of chocolate cookie wafers? And on top of that, a beautiful chocolate cheesecake layer? And on top of that, almost a butterscotch/pecan cheesecake layer? And on top of that, a vanilla sour cream cheesecake layer? And on top of that, a knee-weakening chocolate ganache, whose creaminess would melt on your tongue, like a lover's kiss?
My beautiful and talented friend Diane, she of the Fabulous Friday Friends, is full of love, the gift of hospitality, and brilliant ideas. One of her latest ideas was to host a chick-flick party, at which she would show the movie "Chocolat", and to which we could bring any yummy snacks we might enjoy. Diane told us she was planning to make us homemade truffles. They were spectacular!!! Several others of us decided to do a small variation on the chocolate theme, and bring chocolate treasures of our own.
I promised the girls that I would post the recipe that I made on my blog. I wish I could tell you that it is my own recipe, but actually, it is not. It came from my Southern Living cookbook. I have been making it for years, though, because it seems to have the effect of causing people to swoon, cheesecake and chocolate lovers alike.
And now, here it is, 5 years later. We now know how to take better photographs, so I recently made it for my friend Denny's 60th birthday party. Once again: the reaction was the same. Guests went back for seconds, and licked their forks. It went beautifully with our party for Denny, where we transferred the Sangiovese wine we made from the carboy, into bottles: our red wine bottling party.
My hope, is that instead of you feeling sorry for yourself because you weren't there at either of our WONDERFUL parties, that you will purpose in your heart to have a little party and a lot of fun of your own.
I hope that YOU will invite some friends (or even better, some POTENTIAL friends) over, and have the time of your life, while you enjoy good food and good company. It is such a great thing to spread the love around! As the old song that I learned as a girl goes, "Love is something if you give it away, you end up having more".
So here, without further ado, and just in time for your very next special occasion, here is:
The Recipe for Chocolate-Glazed Triple Layer Chocolate Cheesecake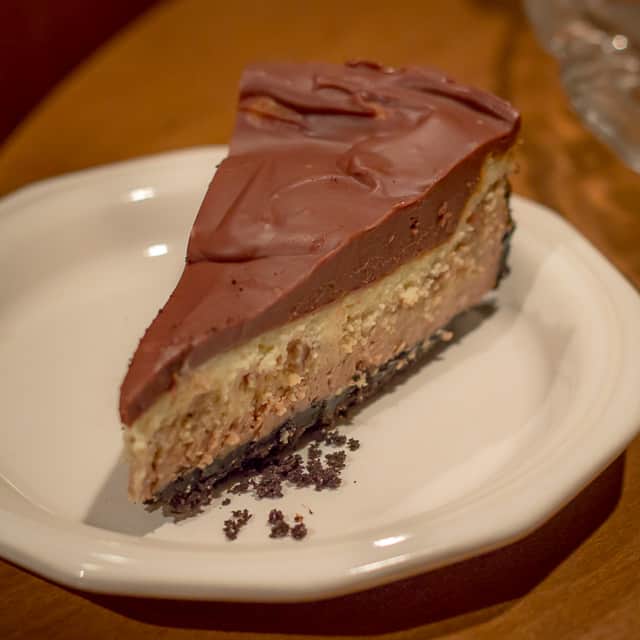 Chocolate-Glazed Triple Layer Chocolate Cheesecake
2018-01-28 18:15:06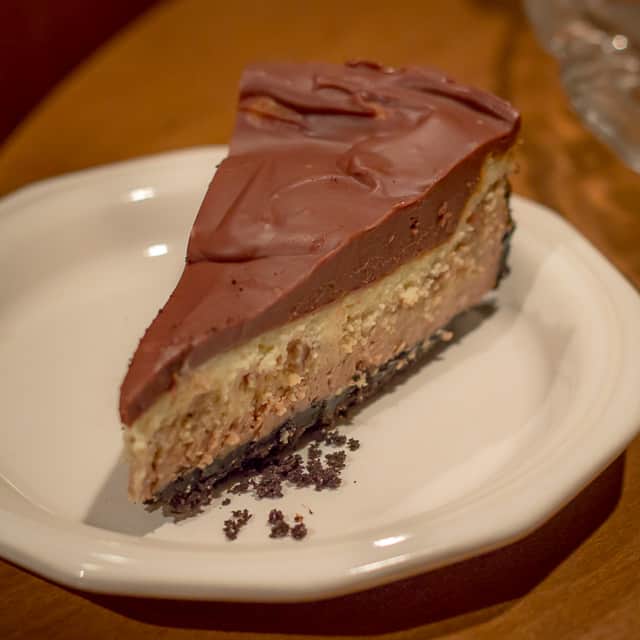 Serves 10
The best combination of ganache, cheesecake, and chocolate that you'll ever have!
For the Crust
1 (8 1/2 oz.) package chocolate wafer cookies, crushed (about 2 c.) (I think the ones I use are called Nabisco's Famous Chocolate wafers)
3/4 c. sugar, divided
1/4 c. plus 1 T. butter, melted
For the Cheesecake Layers
2 (8 oz.) packages cream cheese, softened and divided
3 eggs
1 t. vanilla extract, divided
2 (1 oz.) squares semisweet chocolate, melted
1 1/3 c. sour cream, divided
1/3 c. firmly packed dark brown sugar
1 T. flour
1/4 c. chopped pecans
5 oz. cream cheese softened
1/4 t. almond extract
For the Chocolate Ganache/ Chocolate Glaze/Topping
6 (1 oz.) squares semisweet chocolate
1/4 c. butter
3/4 c. sifted powdered sugar
2 T. water
1 t. vanilla extract
For the Crust
Combine cookie crumbs, 1/4 c. sugar, and butter in a bowl; blend well. Press on bottom and 2" up sides of a 9'" springform pan. Set aside. (I use a little flat bottomed dish I have to help me press down the crumbs evenly.)
For the First Layer
Combine 1 (8 oz) package cream cheese and 1/4 c. sugar; beat until fluffy. Add 1 egg and 1/4 t. vanilla; blend well. Stir in melted chocolate and 1/3 c. sour cream.
Spoon over chocolate crust.
For the Second Layer
Combine remaining (8 oz.) package cream cheese, brown sugar, and flour; beat until fluffy. Add 1 egg and 1/2 t. vanilla; blend well. Stir in pecans. Spoon gently over chocolate layer.
Third Layer
Combine 5 ounces cream cheese and remaining 1/4 c. sugar; beat until fluffy. Add remaining egg, and blend well. Stir in remaining 1 c. sour cream, 1/4 teaspoon vanilla, and almond extract. Spoon gently over pecan layer.
Bake at 325 degrees for 1 hr.; turn off oven, and leave cheesecake in oven 30 minutes. Partially open door of oven and leave cheesecake in oven an additional 30 minutes. Let cool to room temperature on a wire rack. Chill at least 8 hours. Remove from pan.
For the Glaze/Ganache
Combine chocolate and butter in top of a double boiler. Bring water in bottom of double boiler to a boil, and reduce to a simmer. Stir the chocolate and butter, until the chocolate melts. Remove from heat. Add remaining ingredients, stirring until smooth. Spread over cheesecake while glaze is warm.
Spread warm chocolate glaze over cheesecake.
Notes
If you refrigerate after applying the ganache, the ganache/glaze will lose its gloss.
Adapted from the Southern Living Cookbook
Adapted from the Southern Living Cookbook
That Susan Williams https://www.thatsusanwilliams.com/
Here's all the ingredients you'll need to make this recipe:
And when the glaze is solidified, you get to enjoy!
If Chocolate Cheesecake isn't your thing, despair not. I have a beautiful Blueberry Cheesecake made with homemade shortbread cookies, for which I am also renowned, she said, modestly. (HA!) But it ain't braggin' if it's the truth.
Yum