This post contains links that, if you click on them and make a purchase, will earn me money. Regardless, I only recommend products or services that I believe will be good for my readers. Thanks for helping me continue to produce great content!
This recipe for my berry best Blueberry Cheesecake is quite literally the best cheesecake I've ever eaten. It has a homemade shortbread cookie crust, a moist cheesecake interior, and a beautiful fresh blueberry topping, bursting with flavor.
I have better pictures now, so it's time for me to update my blueberry cheesecake recipe. My initial post tells the story of how we typically spend our 4th of Julys, with our friends, down by the river.
Sadly, our friends have other plans this year, so we'll have to make do with a LATER-in-July celebration, that will HAVE to involve this cheesecake. Because if I don't make it, there will be an Independence Day Insurrection and Uprising, the likes of which Philadelphia never saw, back in 1776. John Adams will weep tears in his grave, while Abigail wrings out his hankie. Benjamin Franklin will need a Viagra, and Thomas Jefferson will play a DIRGE on his violin. And none of us wants that.
What's So Great About YOUR Blueberry Cheesecake?
The process of making this cheesecake is easy, but takes some time, if you follow the process I'll outline in this post. (But I PROMISE, it's worth it!!! You'll be so glad you did!)
There is a shortcut you can take that would speed things up, but may increase your cost. A great cheesecake is worthy of respect, which means only using the best ingredients, so to shorten the process, you could buy a fine shortbread cookie like Walker's Shortbread, which is made in Scotland. (I think Costco carries it.) It's a truly delicious shortbread, and completely comparable to the homemade shortbread recipe I have here on my site: Buttery, Easy Shortbread Cookies.
I mean, you COULD substitute animal crackers or Lorna Doone Cookies, but that's just not something I would EVER recommend. But you could. Or you COULD EVEN use a graham cracker crust. But I truly do NOT recommend it. Your result will not be comparable to what I'm offering you here, which is excellence that will be remembered long after you're pushing up daisies.
I promise you that one of the most important aspects, that people go NUTS over when they eat my cheesecake is the homemade shortbread cookie crust. So, substitute at your own peril, but don't blame me if the result is just OK, but not exceptional. FINE INGREDIENTS and FOLLOWING DIRECTIONS, both of these things MATTER, people. I've never said that before, quite that loudly, but it's TRUE, and if you, as a cook, take a recipe and substitute willy-nilly, you really CAN'T blame the recipe writer, when things go awry. Or, at least, you shouldn't.
Three Steps to Making My Cheesecake:
So, there are three basic steps to making this cheesecake, and it usually takes me at least 2 days to make it, and some years, I give myself three days.
I make the shortbread, that I will use for making the crust.
I bake the cheesecake, and put it in the fridge to chill overnight.
Then, on the morning of the Fourth, the day of the party, I make the blueberry topping, and put it on top of the cheesecake, and then I let it chill till the afternoon, when we head to the 4th of July party, to try, once again, to set our friend's field on fire, via children wielding sparklers, not to mention grown men with so much money that they feel a need to literally burn it, by way of buying all matter of fireworks. Said grown men may, perhaps, be under the influence of a beer or two. And then, they proceed to light such incendiary objects as One Bad Mother, and, scariest of all, One Bad Mother-in-Law.
Because….Amur'ca.
I used to go all Martha Stewart and insist on picking my own blueberries, but Costco has blueberries that are just as good, and cheaper, and I don't have to sweat, or add ANOTHER day to this process, so I say use Costco's delicious blueberries.
However, if you have access to picking your own, by all means, do so, and enjoy! It will up your feelings of being all Martha Stewart-y. God knows, I did it for years, and we had a lot of fun doing it, too. ("Kerplink, kerplank, kerplunk", from Blueberries for Sal.) It was all fun, except for the bees and the sweat and once, there WAS this snake…but that was amongst the blackberry bushes, I think.
Yield: 16 servings
Berry Best Blueberry Cheesecake Recipe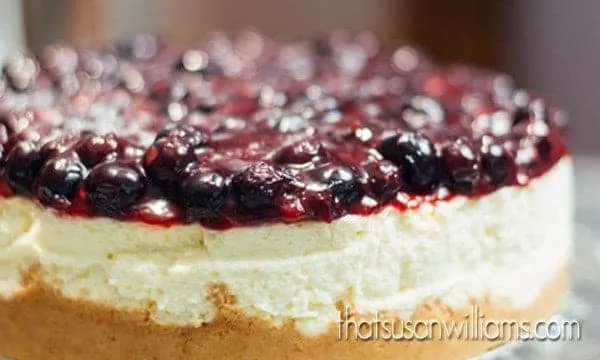 An amazing cheesecake, suitable for topping with blueberries, or whatever strikes your fancy. Recipe for blueberry topping included.
Ingredients
For Crust:
2 c. shortbread cookie crumbs, ground in a food processor with
1 T. sugar
For Cheesecake:
4 8 oz. packages of cream cheese, at room temperature
1 1/2 c. sugar
1/4 c. flour
5 large eggs
1 16 oz. carton of sour cream
1/4 c. milk
1 T. vanilla
For Topping:
4 c. blueberries, divided
3/4 c. sugar
3 T. cornstarch
1/8 t. salt
1/4 c. water
1 T. butter
1 T. lemon juice
Instructions
For crust: Position rack in center of oven and pre-heat to 375º. Wrap outside of 10" diameter springform pan with heavy duty aluminum foil (to keep pan from taking in water from water bath/Bain Marie). Combine cookie crumbs and sugar in food processor. Pulse until just mixed. Press crumb mixture firmly onto bottom and approximately 2" up side of pan. Bake until crust begins to brown, about 8 minutes. Transfer pan to rack and cool, but maintain oven temperature.
For filling: Using electric mixer, beat cream cheese and sugar until well blended. Beat in flour. Add eggs 1 at a time, beating just until combined. Beat in sour cream, milk, and vanilla. Pour filling into crust.
To Bake Cheesecake: Place springform pan in large roasting pan. Pour enough hot water into roasting pan to come 1" up sides of pan. Bake cheesecake until just set in center and top is slightly puffed and golden brown, about 1 hour. TURN OVEN OFF. KEEP DOOR CLOSED. Let cheesecake stay in oven 1 hour. Remove cheesecake from roasting pan. Refrigerate until cold, at least 6 hours. Cover with plastic wrap, and refrigerate overnight.
For Blueberry Topping : Combine sugar, cornstarch, and salt in pan. Add water, and 2 c. blueberries. Cook over medium heat, stirring constantly, until mixture comes to a boil and is thickened. Mixture will be quite thick. Remove from heat, and stir in butter and lemon juice. Add in remaining 2 c. blueberries. Spoon blueberry mixture over top of cake, spreading evenly. Chill until cold, at least 1 hour, and up to 4 hours.
Notes
The original recipe for cheesecake that I found on epicurious.com had neither the shortbread crust, and a different blueberry topping. So, this is my own creation. Clearly, I must be a little bit proud of this. And, I am. 😀
Recommended Products
As an Amazon Associate and member of other affiliate programs, I earn from qualifying purchases.
Nutrition Information:
Yield:
16
Serving Size:
1
Amount Per Serving:
Calories:

580
Total Fat:

35g
Saturated Fat:

18g
Trans Fat:

0g
Unsaturated Fat:

13g
Cholesterol:

134mg
Sodium:

336mg
Carbohydrates:

60g
Fiber:

1g
Sugar:

42g
Protein:

8g
Have I mentioned I would really appreciate pins on Pinterest, or shares on Facebook, or tweets on Twitter? Because, you know, I really would!
Mind Blowing Desserts
Because you'll need the shortbread cookie recipe, I'll include it here. It's simply luscious with a cup of tea. But as long as you're the type looking at mind blowing blueberry cheesecake recipes, I might as well share a few more that will blow your mind.