This post contains links that, if you click on them and make a purchase, will earn me money. As an Amazon Associate, I earn from qualifying purchases. . Regardless, I only recommend products or services that I believe will be good for my readers. Thanks for helping me continue to produce great content!
Are you ready for that most luscious of Southern cakes? Caramel Cake? I whisper its very name, in reverence. Caramel Cake: heaven on a plate.
In the words of my dear friend Martha, who was an Episcopal priest, "Could a mere mortal make such a thing?"
Yes, you CAN make a Caramel Cake. That is, indeed, YOU can make Heaven on a Plate.
Will it be easy? Well…, you may be surprised to learn that it's actually not rocket science. All you need is a great recipe. And a little bit of time.
But is it doable for the average cook?
Without doubt.
My Mama used to make a yellow cake with caramel frosting almost every Saturday night, to be served after Sunday afternoon lunch, after the roast chicken, or roast beef (and mashed potatoes, and corn and peas or green beans). I had no idea that I was receiving riches. No doubt, I thought it was what was NORMAL: what everybody's Mama did.
Probably, we all grow up thinking that we grow up with is what's normal.
But one of the bigger mistakes I have ever made in my life, was never asking my Mom to teach me how to make one, myself.
And I've been through a bunch of recipes, searching for the RIGHT recipe to duplicate the greatness that my Mama made on a weekly basis.
None of my siblings are going to be happy with me if they read this, but, I'm feeling lucky. I don't think a one of them will read this!!! (And, yes, Lynn, I realize that Mom never used an egg in her caramel frosting. Nevertheless, this frosting recipe is perfect.)
So, I'll just go ahead and say it right out loud:
I think I have come up with a couple of recipes that even SURPASS my Mama's recipes.
~GASP~
SACRILEGE!!!
But it's true.
The cake recipe comes from Cooks Illustrated, and the icing recipe comes from The Ultimate Southern Living Cookbook.
How to Get Perfect Caramel Icing: The Struggle is REAL!
I can show you a picture from my last two efforts, (Nailed it? Not so much.) that were made prior to the recipes I'm going to share with you today. The issue was the icing. They both suffer from the Goldilocks syndrome. With the first effort, I let the icing get TOO HARD. I stirred it a little too long before I spread it. The sugar crystalized and hardened too quickly. Of course, it was still delicious.
With the first recipe, I let the icing get TOO HARD. I stirred it a little too long before I spread it. The sugar crystalized and hardened too quickly. Even so, it was still delicious.
At Christmas time, on my second effort, using the second icing recipe, the frosting turned out TOO SOFT. Possibly too much fat in the ingredient ratio, and I also probably didn't beat it long enough. But it was even more delicious than the first recipe I'd tried. Alas, I was a little gun shy from beating the frosting too much in my prior frosting effort, so I probably engaged in what's known as PREMATURE FROSTING.
If you've ever done that, you know how embarrassing that can be. 😀
Neither of those things will happen for you, though, because I've hit upon a recipe for the frosting that didn't let me down. Nor should it let you down, either.
But hey: if it does, (God forbid) don't let that get to you. Practice makes perfect, the efforts will still yield deliciousness, and the joy is in the journey, if you know what I mean.
And honest to gosh, this latest one was the best stinkin' caramel cake I have ever had. Ever! My Mama would have even agreed. I know she was beaming down on me from heaven, doing a little: "That's my girl" nudge-nudge to one of the angels.
Without further ado, here are the recipes necessary to make your own little slice of heaven. Or big slice of heaven. I won't judge you, either way.
The Recipe for Fluffy Yellow Cake
The cake recipe I used comes from Cook's Illustrated. I started by using their recipe for Fluffy Yellow Cake. Personally, I find cake flour to have a teeny tiny aftertaste of chlorine bleach, and my taste buds do NOT like it. So I used an old substitution tip I learned somewhere, for what to do if you DON'T have any cake flour. You subtract one tablespoon of flour per cup of flour, and replace it with one tablespoon of cornstarch. This substitution delivers a cake with a beautifully tender texture, but no nasty aftertaste for those of who can detect the chlorine gas that cake flour is bleached with. (ACK!)
The flavor of the cake was excellent, and the moistness and texture were sublime. I would make this yellow cake recipe over and over. It will now be my standard for yellow cake recipes. No need to search for a better one. (And I've tried many, searching for the perfect yellow cake, that is NOT from a box.)
Yield: 12 servings
Fluffy Yellow Cake with Caramel Icing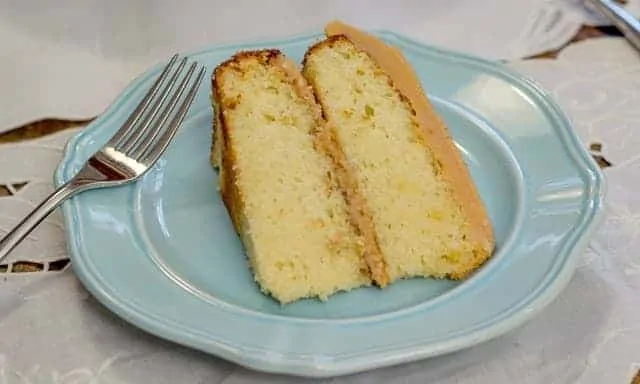 Tender and moist, this is the yellow cake of your dreams.
Ingredients
All ingredients (the butter, the buttermilk, and the eggs) should be brought to room temperature.
I also start out by making my own buttermilk, because I never buy buttermilk. Add 1 T. of white vinegar to 1 c. milk, and in 5 minutes time, the milk will have soured, and you will have buttermilk.
2 1/2 c. All-Purpose Flour (then subtract 2 T. + 1 t. of that flour)
2 T. + 1 t. cornstarch
1 1/4 t. baking powder
1/4 t. baking soda
3/4 t. table salt
1 3/4 c. sugar
10 T. butter, melted and cooled slightly
1 c. buttermilk
3 T. vegetable oil
2 t. vanilla extract
6 large egg yolks, room temperature
3 large egg whites, room temperature
Instructions
Adjust oven rack to middle position and heat oven to 350º. Grease 2 9" cake pans. Dust pans with flour, and knock out excess. Line bottoms with parchment paper.
Whisk flour, cornstarch, baking powder, baking soda, salt, and 1 1/2 c. sugar together in large bowl. In 4 c. liquid measuring cup or medium bowl, whisk together melted butter, buttermilk, oil, vanilla, and yolks.
In clean bowl of stand mixer fitted with whisk attachment, beat egg whites at medium-high speed until foamy, about 30 seconds. With machine running, gradually add remaining 1/4 c. sugar; continue to beat until stiff peaks just form, 30 to 60 seconds. Whites should hold peak, but mixture should appear moist. Transfer to bowl and set aside.
Add flour mixture to now-empty mixing bowl fitted with whisk attachment. With mixer running at low speed, gradually pour in butter mixture and mix until almost incorporated (a few streaks of dry flour will remain), about 15 seconds. Stop mixer and scrape whisk and sides of bowl. Return mixer to medium-low speed and beat until smooth and fully incorporated, 10 to 15 seconds.
Using rubber spatula, stir 1/3 of whites into batter to lighten, then add remaining whites and gently fold into batter until no white streaks remain. Divide batter evenly between prepared cake pans. Lightly tap pans against couter 2 or 3 times to dislodge ay large air bubbles.
Bake until cake layers begin to pull away from sides of pans and toothpick inserted into center comes out clean, 20 to 22 minutes. Cool cakes in pans on wire rack for 10 minutes. Loosen cakes form sides of pans with small knife, then invert onto greased wire rack and peel off parchment. Invert cakes again and cool completely on rack, about 1 1/2 hours.
Recommended Products
As an Amazon Associate and member of other affiliate programs, I earn from qualifying purchases.
Nutrition Information:
Yield:
12
Serving Size:
1
Amount Per Serving:
Calories:

347
Total Fat:

18g
Saturated Fat:

9g
Trans Fat:

1g
Unsaturated Fat:

8g
Cholesterol:

144mg
Sodium:

572mg
Carbohydrates:

37g
Fiber:

0g
Sugar:

34g
Protein:

9g
The Recipe for Caramel Frosting
And now, for the caramel icing that makes this a caramel cake! This recipe comes from the Ultimate Southern Living Cookbook.
You'll need a candy thermometer or a really good meat thermometer to make this. If you don't own one, now's the time to purchase one.
I don't own a handheld mixer, so when it comes time to start mixing this icing, I VERY CAREFULLY pour the icing from the saucepan into my mixer's metal mixing bowl.
If you've never worked with boiling sugar before, it's like working with molten lava. A splat of a bubble onto your skin can leave a serious burn, so exercise great caution in making this. It only took me one experience with a caramel burn for me to figure this out. When stirring, I use my whisk that has the longest handle. I encourage you to do the same, whether you use a spoon or a whisk: you need a lot of distance between your hand and the steamy bubbling sugar.
Caramel Frosting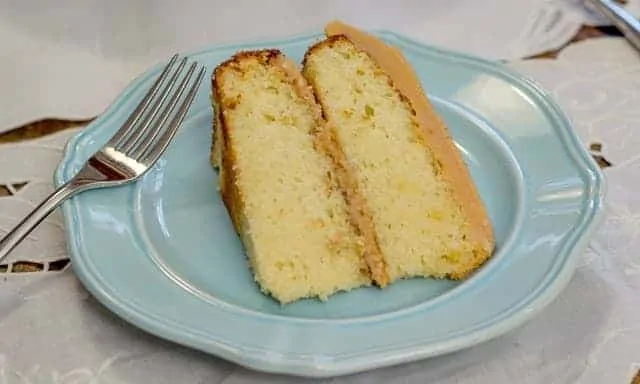 Goldilocks says this is "The perfect caramel frosting to go with the perfect yellow cake. Not too hard. Not too soft. Juuuuuuust right."
Ingredients
3 c. sugar, divided
3/4 c. milk
1 large egg, lightly beaten
pinch of salt
1/2 c. butter, cut up into tablespoon-sized chunks
Instructions
Combine 2 1/2 c. sugar, milk, egg, and salt in a bowl, stirring well; stir in butter.
Sprinkle remaining 1/2 c. sugar in a heavy 3 1/2 qt. saucepan; place over medium-high heat. Cook, stirring constantly, until sugar melts and syrup is light golden brown. This will take about 6 minutes. Remove from heat. Stir butter mixture into hot caramelized sugar. (The sugar will lump; remain calm - it's supposed to do that. It will dissolve with further cooking.)
Cook sugar mixture over medium heat until a candy thermometer registers 235º, stirring often. (This took my frosting about 16 minutes, but the cookbook says 18-24 minutes, so keep an eye on that thermometer.) Cool mixture, off heat, for 5 minutes.
Beat frosting, either in a mixer, or with a portable mixer, or with your arms of steel, you great big muscled person, you, until it's reached a spreading consistency. In my mixer, with the metal bowl, it took about 4 minutes: but I was constantly watching and checking it. If you're using your arm and a wooden spoon, try 5-10 minutes.
By Susan Williams
Adapted from The Ultimate Southern Living Cookbook
Nutrition Information:
Yield:
12
Serving Size:
1
Amount Per Serving:
Calories:

276
Total Fat:

8g
Saturated Fat:

5g
Trans Fat:

0g
Unsaturated Fat:

3g
Cholesterol:

37mg
Sodium:

86mg
Carbohydrates:

51g
Fiber:

0g
Sugar:

50g
Protein:

1g
Any time is a great time to make this cake: sugar knows no season, after all! LOL But I would like to suggest you consider it as you consider your recipe options for Easter, Mother's Day, and/or Father's Day. Pinterest is where I like to save recipes I'd like to try.
At any rate, please share this article on Facebook, Pinterest, Reddit, Flipbook, or Twitter. That would help me out a lot.
What recipe do you think of when you hear the words "Heaven on a Plate"?
Every time I eat this, I think of my dear friend Martha, and my Mom, and my Dad, who all now reside in heaven. This cake was my Dad's favorite, as well as Martha's. I have no doubt that my Mom is serving Martha and my Dad a slice of caramel cake in heaven, long about now. Just one more reason this cake is truly heaven on a plate.
Cakes I Have Loved
This cake is divine. But so are these. So consider them, in your search for the perfect cake.