This post contains links that, if you click on them and make a purchase, will earn me money. Regardless, I only recommend products or services that I believe will be good for my readers. Thanks for helping me continue to produce great content!
I made this cake, Chocolate Sour Cream Pound Cake with Raspberry Sauce, specifically for my sweet husband. To his way of thinking, there is no better Valentine's Day Gift than this.
If it's NOT Valentine's day, I have no justification for this recipe whatsoever other than…chocolate.
If you are health conscious, as we all should be, stick with a lovely cup of plain yogurt, and enjoy. But read no further. Seriously. I mean it. You'll be really, really sorry if you carry on reading.
You're about to be tempted. Turn back.
There be dragons here.
OK. Enough with the warnings. You're an adult. You've made your choice.
The Love of Chocolate Pound Cake Runs Deep
My husband LOVES chocolate pound cake.
Even though, and I quote him directly, "I'm not much on sweets".
(Oh, puh-LEEZE. How do you think he came by the name Hoovie???)
We went to a picnic recently, where, ignoring my Barefoot Contessa brownies, he went ape over a simple chocolate pound cake. Back when we were engaged, I got the recipe for a chocolate pound cake that he loved almost more than he loved me, from one of our friends.
Her recipe was an old family recipe, and it had things in it like "oleo" and shortening, and I thought, "Surely I can find something without shortening. Butter ought to be better than margarine and shortening".
Paula Knows Pound Cake and Ina Knows Sauce:
So I went to Paula Deen, the source of all recipes containing butter, and found Paula's recipe for Sour Cream Chocolate Pound Cake. And, then, since I was making this as a special treat for my man, I thought about one of the other things that my Hoovie loves so much: raspberries.
And I thought that it ought to be a piece of cake (ar, ar, ar) to find an easy Raspberry Sauce that was delicious. And it was. The Barefoot Contessa, Ina Garten, had a lovely, very easy recipe.
In the interests of truth in food blogging, let me tell you a thing or two I learned in the course of making this, and the slight changes I made to each recipe.
How I Altered Paula Recipe:
My husband used to jump up and down in front of the oven to get pound cakes to fall, when he was a lad. He likes them dense. (Others might find his behavior dense. But I digress.)
I followed the Southern Living Cookbook's instructions in regard to pound cake, which is to beat the sugar and fat for 5 minutes in an electric mixer to get them nice and fluffy to give your pound cake a lighter texture.
My pound cake was light and tender, and I think it was due to all that mixing. (Paula's recipe doesn't ask you to do that. I did it, because I remembered the Southern Living instructions.)
I LIKED the texture of my cake, very much. I thought it was perfect. But my husband wishes he had been around to jump in front of the oven and make the cake fall. So…you must decide for yourself.
Either don't beat the sugar and fat for 5 minutes, like I'm going to recommend that you do, or under-bake your cake, or jump up and down in front of the oven to make it fall, IF you like your cake dense and heavy, the way my husband does.
How I Altered Ina's Recipe:
In regard to the Raspberry Sauce: the Barefoot Contessa calls for Framboise, which is a raspberry liqueur. I didn't have any, so I used kirsch, which is a cherry liqueur. That worked fine, and I'd do it again. I thought, honestly, that her sauce was a little sweet, and that's why I'm going to give you a recipe that cuts the sugar a bit. Her recipe calls for 1/2 c. sugar. I think you could easily get by with only 1/4 c, sugar, and so that's what I'm going to recommend.
Closer.
We topped our slightly warm cake with ice cream, just because, really? Why not? It makes the raspberry sauce look that much more jewel like in appearance.
This is a lovely, as well as an extraordinarily delicious, dessert. And it's quite easy, too. You get a LOT of bang for your effort buck. It would be a GREAT 4th of July dessert, for example, when raspberries are in season.
Ready for my close-up, Mr. DeMille. So close you can see the tiny whiskers on the raspberry.
You should maybe Pin this post on Pinterest, don't you think? Or share it?
Chocolate Sour Cream Pound Cake with Raspberry Sauce:
Yield: 16 servings
Chocolate Sour Cream Pound Cake with Raspberry Sauce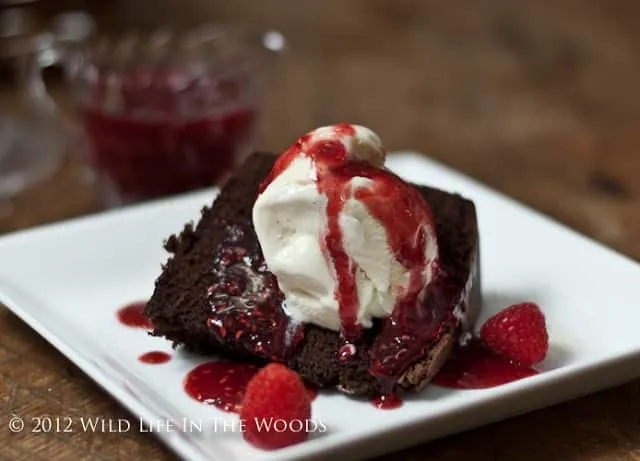 Chocolate Sour Cream Pound Cake with Raspberry Sauce is a moist, deeply chocolate cake. The raspberry sauce provides a lovely bright contrasting flavor.
Cook Time
1 hour
45 minutes
Additional Time
5 minutes
Total Time
2 hours
20 minutes
Ingredients
FOR THE CHOCOLATE POUND CAKE:
2 sticks of butter, softened
8 oz. sour cream
3 c. sugar
6 eggs
1 t. pure vanilla extract
2 1/4 c. cake flour
1 t. baking powder
3/4 c. Hershey's Special Dark Cocoa
FOR THE RASPBERRY SAUCE:
1 half pint fresh raspberries
1/4 c. sugar
1 c. raspberry jam
1 T. kirsch
Instructions
FOR THE CHOCOLATE POUND CAKE: Preheat the oven to 325º. Grease and flour a 10″ Bundt pan. (I used an an Angel Food tube pan, and that worked fine.)
Using an electric mixer, cream together the butter, sour cream and sugar until light and fluffy. (I creamed mine for a full 5 minutes.) Add the eggs, 2 at a time, beating well after each addition. Add the vanilla.
In another bowl, stir together the flour, baking powder, and cocoa.
Add 1/2 the flour mixture to the creamed mixture, beat well, add the remaining 1/2 flour mixture, and continue to beat at medium speed for 2 minutes.
Pour the batter into the prepared pan, and bake for 1 hour and 15 minutes. Continue to bake for an additional 15 minutes if necessary, but do not open the oven to check the cake until at least 1 hour of baking time has elapsed. (Heads up: My cake actually needed a total of 1 hour and 45 minutes for the wooden skewer to come out clean, although that might have been the fault of my oven.)
FOR THE RASPBERRY SAUCE: Combine the raspberries, sugar and 1/4 c. water in a small saucepan. Bring to a boil, lower the heat, and simmer for 4 minutes. Pour the cooked raspberries, jam, and kirsch into the bowl of a food processor and process until very smooth. Chill.
Recommended Products
As an Amazon Associate and member of other affiliate programs, I earn from qualifying purchases.
What's your significant other's favorite dessert?
Cakes I Have Loved
This cake is divine. But so are these. So consider them, in your search for the perfect cake.