This post contains links that, if you click on them and make a purchase, will earn me money. As an Amazon Associate, I earn from qualifying purchases. . Regardless, I only recommend products or services that I believe will be good for my readers. Thanks for helping me continue to produce great content!
Ever since I had an Italian Lemon Almond Olive Oil Cake for dessert last year on our anniversary date, I've been thinking that I'd like to try making one myself. I've seen lots of versions of similar cakes, but the recipe I found by Melissa Clark of the New York Times cooking section was really unusual. After simmering a couple of lemons in water for about 40 minutes, she cut them open, removed the pits, and then pureed the ENTIRE lemon, pith, peel, and all, to use in the cake.
Her recipe also called for almond meal, made from whole ground almonds, ground up in a food processor. With so many whole, wholesome ingredients in her recipe for Lemon Almond Olive Oil Cake, I was highly intrigued.
I KNOW I have liked using many of Melissa Clark's recipes in the past. So, when she said she liked this cake so much she made it all summer long, until she'd perfected her own version, I became truly eager to try it. I decided that if it was good enough for her to make it that often, it was certainly good enough for me to try, at least once.
I enjoyed it so much, I know I'll make it again, and again. And, of course, that's what determines whether or not I'll actually share a recipe with you!
Which Olive Oil to Use in a Lemon Almond Olive Oil Cake?
I know a fair amount about olive oil. A couple of years ago, I visited Sacramento, and was privileged to tour an olive and almond tree orchard. I learned a lot about the entire process of growing these beautiful trees, and their respective fruits and nuts. Then, I toured the pressing facility, where the olives are cold-pressed. That first pressing of olive pulp and pits results in what is known as Extra Virgin Olive Oil.
Just as there are differing varieties of olives, there are differing varieties of olive oil. And the flavor of oils that have come from the same variety of olive tree, can vary somewhat from year to year, depending on the weather that year. It's variables like these that make for exciting differences in varieties of olive oils. Some are sharply acidic, some more peppery than others.
If you've ever wondered why olive oils in glass bottles always seem to come in green glass bottles, it's because their bottles are designed to best protect them from the UV rays of the sun. Olive oils are susceptible to oxidation over time. That's why all good bottles of olive oil will be dated to tell you precisely when they were bottled. Olive oil is best when consumed in the first six months after you purchase it. Sadly, olive oil does NOT get better with age. In fact, after a year, your olive oil will be well past its prime, and may have gone rancid.
So, that question I posed, in regard to which olive oil to use in this recipe, is slightly tricky. In a dessert with light, delicate flavors, use the best extra-virgin olive oil you can find. I looked for one with a delicate flavor.
What Would I Change About this Italian Lemon Almond Olive Oil Cake?
The short answer is: not much. I think next time I'll try grinding my almonds, and pureeing my lemon in my VitaMix, to see what that does to the texture of the almond meal and lemon puree. Grinding the almonds in the VitaMix will require me to pay close attention, however, to their texture. No one wants to come out with almond butter, after all. I used the food processor this time, which worked, but I'd like to experiment. I'd like to try getting that almond meal ground a bit more fine. You could certainly buy and substitute almond flour in this recipe, I'll bet.
Still, my guests really enjoyed both the flavor and texture of this cake. It was dense, but not overly heavy. I almost can't say enough about the flavors. They were bright, light, delicate, and even a bit refreshing. Absolutely delightful flavors!
A lemon curd piped onto the plate might make a pretty decoration. Adding lavender or blueberries would also be lovely. But my guests insisted that the cake, served as it was, needed nothing else.
Yield: 12 slices
Italian Lemon Almond Olive Oil Cake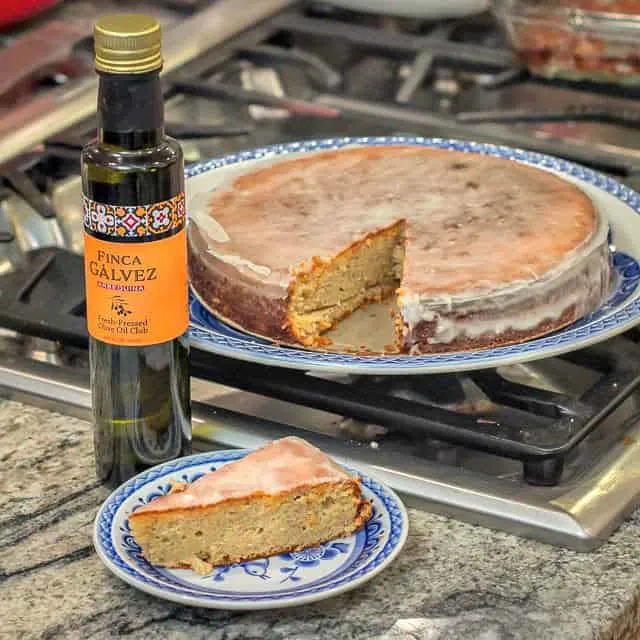 Italian Lemon Almond Olive Oil Cake is a simply delightful dessert, filled with complex flavors and a moist texture.
Total Time
1 hour
50 minutes
Ingredients
1/4 c. best quality Extra Virgin Olive Oil
1/4 c. melted butter, cooled
1/2 c. (65 grams) all-purpose flour
3 lemons
2 c. (225 grams) almond meal (or almond flour, or ground almonds)
1 teaspoon baking powder
1/2 teaspoon fine sea salt
5 large eggs, separated
1 1/4 cups (250 grams) sugar
1/4 teaspoon almond extract
1 to 1 1/2 cups. (125-185 grams) confectioners' sugar
Instructions
Grease and flour a 9" springform pan. Put 2 lemons in a medium pot and cover with water by at least 2"...although, honestly, the lemons will float....but make the depth of water 2" deeper than the height of the lemons. Bring to a boil, reduce to simmer, partially cover pot, and let simmer for 40 minutes or very tender. Mine had kind of collapsed in on themselves.
Use a slotted spoon to transfer lemons to a cutting board. Let cool. Use a spoon to break into the lemons and remove the pits. Purée lemons in a food processor or blender, scraping down the sides frequently.
Heat oven to 350º. Zest most of remaining lemon into a medium bowl. (Save a bit of the zest, and the rest of the lemon for the glaze.) Stir in almond meal, flour, baking powder and salt.
Using an electric mixer, beat egg whites until very foamy. With the mixer still going gradually beat in 1/4 c. sugar, continuing to beat until stiff peaks form. Slide beaten whites into a large measuring cup or bowl.
In the same mixing bowl (you don't need to wipe it out) beat egg yolks and remaining 1 c. sugar until thick and pale, about 1 minute. Beat in lemon purée, almond meal mixture, and almond extract. Using a rubber spatula, fold in melted butter and olive oil.
Fold a third of the egg whites at a time into the cake batter, taking care not to over mix. Spread batter into prepared springform pan.
Bake until top of cake wis well browned and it springs back when lightly pressed in the center, 45-60 minutes. (Mine took about 50 minutes using a convection oven.) Transfer to a wire rack to cool.
When cake has mostly cooled, about 30 minutes later, make the glaze. Zest the remaining part of the last lemon, and then juice it, being sure to strain out the seeds. Stir the confectioners' sugar into the zest and juice, until you have a thick, but pourable glaze. If you baked your cake in a springform plan, you might want to be sure to put a plate under it at this point, as some of the glaze leaked out of the bottom edge of my pan, and onto the counter below since I left it on the wire rack. If your glaze is too thin, add more sugar. If it's too thick, add a bit of water. Pour glaze over slightly warm cake and let cool completely.
Recommended Products
As an Amazon Associate and member of other affiliate programs, I earn from qualifying purchases.
Nutrition Information:
Yield:
12
Serving Size:
1
Amount Per Serving:
Calories:

131
Total Fat:

10g
Saturated Fat:

4g
Trans Fat:

0g
Unsaturated Fat:

6g
Cholesterol:

88mg
Sodium:

189mg
Carbohydrates:

7g
Fiber:

1g
Sugar:

1g
Protein:

3g
As long as you're here, I have another lovely fresh desserts you might want to check out. How about some Lemon Frozen Yogurt with Blueberry Sauce? Oh, and this Lime Cardamom Frozen Yogurt is SO refreshing!