This post contains links that, if you click on them and make a purchase, will earn me money. Regardless, I only recommend products or services that I believe will be good for my readers. Thanks for helping me continue to produce great content!
Jeweled Rice with Dried Fruits and Pistachios is an Iranian speciality, a rice dish that is often served at wedding banquets, and is known in Farsi as tah dig. Tah means "bottom" and dig means "pot". Thus, the name of the dish, quite literally, means "bottom of the pot". This refers to the golden crust that is formed by allowing the rice on the bottom of the pan to become crispy and golden brown.
The jewels of this recipe are the lovely dried cherries, apricots, and golden raisins with which the dish is studded. When the pan is turned upside down on a platter, the golden crust is displayed, and given a final embellishment of pistachios that have been toasted in butter that's browned. It's elegant, and will absolutely surprise, delight, and finally overwhelm your guests! A treat for the eyes, and for the tummy!
I first tried this dish many years ago, when the yellow Gourmet cookbook first came out. Ruth Reichl, one of my culinary heroes, was the editor, and I read in an interview that this recipe was one of her favorites. I make it often, when we have company, due to its unique "wow" factor. The best part is that despite an unusual step or two, it's quite easy to make!
What are the Unusual Steps You Mentioned in Jeweled Rice?
Unusual Step 1: Rinse Your Rice
This recipe calls for Basmati rice, which is a lovely, slightly nutty variety of rice. You need to rinse it in 6 or 7 changes of cold water, until the water is essentially clear. I do this by putting the rice in a fine meshed colander, and immersing the rice in a larger bowl of cold water. Then dump that water, refill the bowl with clean water, and start again. This removes some of the excess starch that coats the rice, and prevents the grains from sticking together.
Unusual Step 2: Parboil the Rice
It's an initial quick cook, that also helps the rice grains remain separate.
Unusual Step 3: Make Holes that Look Like Core Samples in the Rice
You're going to make holes with the stem of a wooden spoon in the parboiled rice to help the steam to escape. Pretend you're a geologist, searching for the buried treasure of Oak Island.
Unusual Step 4: Cover the Underside of the Pot Lid with a Towel, and Wrap the Lid Up With It
Look, I told you the steps were unusual. But this will prevent the steam that's going to gather from dripping back down, thus enabling the rice to brown better.
"Ooooooh!" you whisper, as light dawns. Clevah, no?
Unusual Step 5: When the Rice is Done, Dip the Entire Pot in Cold Water
The rice shivers, shrinkage occurs, and your tahdig frees itself from sticking to the pot, thus making for a more beautiful presentation. Don't you love science???
Is Jeweled Rice Worth The Bother?
Oh, yes! Yes, my friends, it really is! And honestly, it's not a bother! None of the steps are hard, I PROMISE! They're just a bit out of the ordinary. And it's so DELICIOUS!!! I've served it with grilled fish, but it would be great with almost any protein. Especially pork, I think, since we all know that pork loves the sweetness of fruit! And if the editor of Gourmet magazine says it's one of her most favorite recipes, don't you think that might make it worth trying? I assure you, it is. I'd go so far as to say it's one of the most delicious dishes on my whole website. (Except I love ALL my children. Don't make me choose!!!)
Yield: 10 servings
Jeweled Rice with Dried Fruits and Pistachios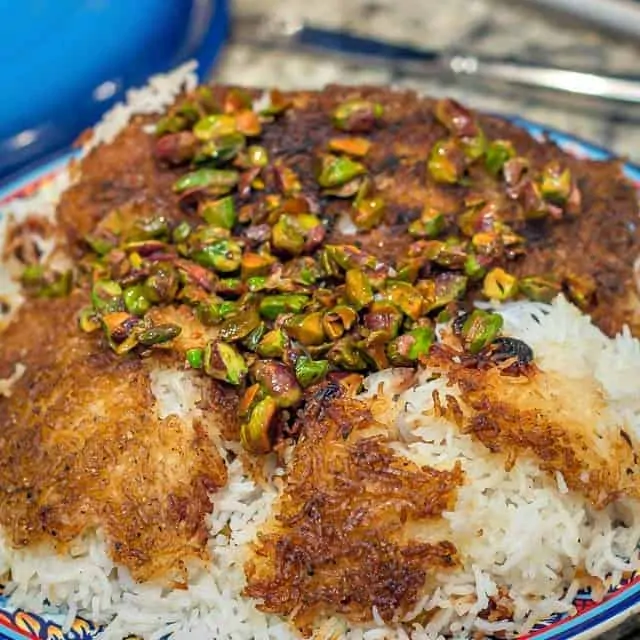 A beautiful, slightly exotic side dish, perfect for any celebratory occasion. The rice on the bottom of the pot gets crispy, and buttery brown, and the jewels of the dried fruits and toasted nuts add wonderful flavors!
Additional Time
25 minutes
Total Time
1 hour
30 minutes
Ingredients
3 cups white basmati rice
2 tablespoons salt
1/2 cup dried apricots, quartered
1/2 cup golden raisins
1/2 cup dried cherries
1 stick butter
1/2 teaspoon ground cardamom
1/2 teaspoon freshly ground black pepper
1/2 cup coarsely chopped shelled pistachios
Instructions
Wash rice in 6 or 7 changes of cold water in a colander by immersing it in a larger bowl of water, until water is almost clear. Drain rice in colander for about 10 minutes.
Bring 4 quarts water and salt to a boil in a 6 quart Dutch oven. Add rice and boil, uncovered, stirring occasionally, for 5 minutes. Drain in a colander. (That's called parboiling, kids.)
Toss together dried fruit in a bowl. Melt 6 tablespoons butter with cardamom and pepper in cleaned and dried Dutch oven. Layer the rice and dried fruit, alternately, beginning and ending with rice, mounding it loosely. Make 5 or 6 holes in the rice that go all the way to the bottom of the pot, with the handle of a wooden spoon. Cover pot with kitchen towel, place lid on top, and wrap sides of towel up around top of lid (so they do not dangle and accidentally catch fire!). Cook over moderately low heatuntil rice is tender and a crust has formed on bottom, 30 to 35 minutes. Let stand off heat, tightly covered and undisturbed for at least 30 minutes.
Melt remaining 2 tablespoons of butter in a small skillet over medium heat. Add pistachios and allow to brown, stirring until toasted, about 2-3 minutes. Remove from heat.
Spoon loose rice onto a platter. Dip bottom of pot in a large bowl of cold water for 30 seconds to loosen the crust (the tahdig!) Remove crust with a large spoon, and serve over rice. Sprinkle with browned pistachios.
Notes
If it will help with your dinner preparations to be able to do some things early, you can parboil the rice up to 4 hours ahead. Transfer it to a bowl, and cover it with a damp towel, and keep it at room temperature.
Recommended Products
As an Amazon Associate and member of other affiliate programs, I earn from qualifying purchases.
Nutrition Information:
Yield:
10
Serving Size:
1
Amount Per Serving:
Calories:

209
Total Fat:

9g
Saturated Fat:

6g
Trans Fat:

0g
Unsaturated Fat:

3g
Cholesterol:

24mg
Sodium:

1345mg
Carbohydrates:

30g
Fiber:

1g
Sugar:

13g
Protein:

2g
Won't you share this recipe with your friends?
If you're looking for a delicious protein to go with this, I have some great suggestions. You might want to try my recipe for grilled halibut. Also yummy is my brined pork chop.