This post contains links that, if you click on them and make a purchase, will earn me money. As an Amazon Associate, I earn from qualifying purchases. . Regardless, I only recommend products or services that I believe will be good for my readers. Thanks for helping me continue to produce great content!
In this post, I'm going to share recommendations for four good, affordable red wines from Trader Joe's. I'm doing this because I needed these recommendations MYSELF, and I figure if I'm having a problem choosing delicious, good, affordable red wines, I'm probably not the only one.
If you're anything like me, looking at the wine selection that's available in many stores gets overwhelming in a big, fat hurry. Choosing red wines that are both tasty and affordable becomes a crap shoot. You either end up buying what you always buy, or going for the wine with the most appealing label.
Not only do I want a wine that is tasty and affordable, I'd also like a wine whose quality I can trust. I'd like to know for sure that the wine I'm choosing actually contains only what the label says it contains.
What is Mega Purple, and What Does It Have To Do With These Wine Recommendations?
There's a dirty little secret out there in the American wine making industry that I recently learned from my friend/wine sherpa, Denny Jiosa, that I'm going to clue YOU in on. Many American wine makers use an additive in their red wine. What they add is a grape juice concentrate called Mega Purple. According to Wikipedia, these wine makers use it to "bolster or enhance sensory attributes such as color, taste and mouth feel."
How prevalent is this? Well, again, according to Wikipedia, "Mega Purple is used by almost every low- to moderate-value wine producer (below $20US per 750 ml bottle) to help standardize the bottled product ensuring a more uniform product."
The end result of such a practice is that many American wines taste much the same.
Since my husband and I started making our own wine, we care a lot more about HOW the wine we purchase is made. For the past several years, we've been a part of a group that gets together in the fall to crush, and then press, our own Sangiovese grapes. The wine we make is all organically done: just like your Italian grandpa used to make it! We don't add no stupid Mega Purple!!!
But if you're not involved in squishing your own grapes, and making your own wine, is it possible to buy high quality, good, affordable red wines? The answer is that it CAN be done. So I went, again, to my friend and wine guide, Denny Jiosa of JiosaVino, and asked him to recommend four red wines that tasted good, that were easy on the pocketbook, and that were high quality (without additives) from Trader Joe's.
What follows are Denny's recommendations, as well as his tasting notes. Denny LOVES Italian wines, so not surprisingly, the four he chose are all Italian. My husband and I tried all four of the wines Denny recommended, and we endorse his choices.
Four Good Affordable Red Wines From Trader Joes
"Hi this is Denny Jiosa, from JIOSAVINO, and today I'm going to talk to you about a few choices from Trader Joe's Italian wine selections that are under $10 and are great options as everyday-type wines.
These wines won't necessarily change your life but they could be helpful to your bank account.
Occasionally, I do taste a fantastic bottle from Italy that does change my life in that I'm discovering a new grape, a new flavor profile, or it leads to me meeting a wonderful winemaker from Italy that now becomes a new friend. So in a sense, wine CAN change one's life, for the better! Wine does that by bringing people together.
Now, on to the vino!
Let's start with one of my favorite grapes: Montepulicano d'Abruzzo.
Villa Cerrina Montepulciano d'Abruzzo
Montepulciano is not only the grape, but also the area in the Abruzzo region of east-central Italy. Soft on the palate with plum and violets and a hint of tobacco, dark berry fruits, and slight earth. This is a great table wine or even great, just as a sipper. It's perfect for a large party where you don't want to spend a fortune to imbibe with your friends. You might want to try it with Susan's World's Best and Easiest Lasagna recipe or her Extravagantly Excellent Eggplant Parm.
Trentatre Rosso
Trentatre Rosso has become one of my favorites in the price range! For $5.99, it's a lot of bang for the buck. It comes from the Apilia region ( Pulgia ) in southern Italy. This area grows some wonderful grapes like Negromaro, Primitivo (Zinfandel), Aglianico, and Montepulciano to name a few.
The name Trentatre (which means 33) comes from the fact that each grape (Cabernet, Merlot, and Montepulciano) comprises 33.3% of the wine. This is a big wine, quite bold, dry, and perfect with grilled meats (like Susan's Bambi Burgers), pizza, or just to enjoy by itself. It's aged 6 months in Slovenian oak which aids in blending the 3 varietals and basically makes it taste like smooth jazz sounds. On the palate, it displays blackberry, black cherry, plum, and chocolate. It tastes rich and delicious, especially considering this wine would more likely be $10-$12 if it were in your local wine store.
Nero Grande Appassimento
I am a HUGE fan of Amarone, a wine from the Valpolicella region that is made from 3 indigenous grapes, Corvina, Molinara, Rondinella. The process involves drying the grapes on wood racks for approximately 75-120 days before pressing. This process is called appassimento. It concentrates the flavors of the grapes producing rich, succulent wines.
I will say, the Nero Grande is not an Amarone, nor does it cost as much as one. However, the wine is made with the same process and delivers a delightful bargain to your taste buds! It is made in Southern Italy (Puglia) from the Negroamaro and Primitivo grapes. IT IS an absolutely delicious display of plums, raisins and cocoa! With a slight sweetness up front and a dry finish, it is delightful to just enjoy on its own. But it's also great with cheeses, pizza, or pasta Bolognese, like Susan's Spaghetti and Venison Meatballs. I have recommended this wine to many of my cheap friends and they purchase it by the case! Don't miss this one!
Soraie
Another gem of a blend, this wine comes from the Veneto region! This delicious bottle consists of 40% Merlot, 30% Corvina, 20% Cabernet, and 10% Croatina. Corvina is one of the 3 varietal I mentioned previously from Amarone. Croatina is a grape varietal that is similar in flavor to Montepulciano and Dolcetto. It delivers low acidity and eloquent fruit. It is also used in blending in Valpolicella wines.
Soraie (Soor- ay- uh) is made from partially dried grapes, again in the appassimento style. It is full bodied, and is a velvety smooth wine. It spends 18 to 20 months in small oak barriques and the smoothness shows. I find luscious flavors of cherry, ripe blackberry , vanilla, and smoke. At 14% alcohol, due to the appassimento process, the wine has a pleasant light sweetness to it. Far from a dessert wine, it is totally acceptable with beef , lamb, pasta, cheeses, and even chicken. Yet again, you can just sip and enjoy it by itself, out on the
patio! Another favorite of mine and especially for $8.99!
I hope you get a chance to taste these fun selections…let me know your thoughts. You can reach me on Facebook at JIOSAVINO or directly at [email protected]
If you enjoy jazz, smooth jazz, to latin music, please check out my music at jiosa.com or wherever fine music is sold!
And, be sure to visit JIOSAVINO on Facebook.
Salute!
Denny
jiosa.com
Four Good, Affordable Red Wines at Trader Joe's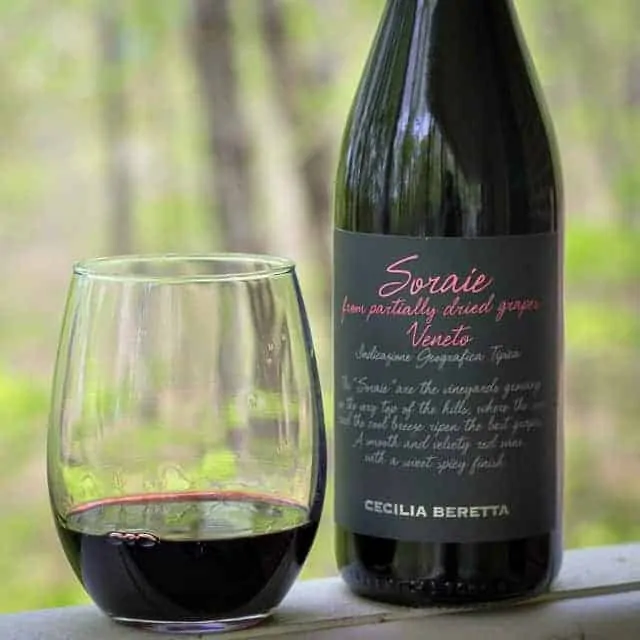 For your convenience, I'm linking some great wine glasses, a wine opener, and a brush that's perfect for cleaning nice glassware.
Ingredients
Villa Cerrina Montepulciano d'Abruzzo
Trentatre Rosso
Nero Grande Appassimento
Soraie
Instructions
Always drink responsibly!
Recommended Products
As an Amazon Associate and member of other affiliate programs, I earn from qualifying purchases.
Recipes To Pair With These Wines
If you're planning on picking out one or two of these wines, you'll need some great food to go with them. Here are the recipes Denny referenced: