This post contains links that, if you click on them and make a purchase, will earn me money. Regardless, I only recommend products or services that I believe will be good for my readers. Thanks for helping me continue to produce great content!
This pizza is so yummy that I've made it several times.
I found the original recipe on Epicurious, in a section known as Blue Ribbon recipes (their highest rated recipes). I love to go there and see if they have a recipe that fits the contents of my pantry and refrigerator. One happy night, when I had a surplus of goat cheese, and I had picked up some beautiful Rainbow Swiss Chard at Whole Foods, I tried this recipe.
I buy my goat cheese at Costco: the Kirkland brand goat cheese is extremely affordable, and comes in packages of two, giving me more of a need to look for dishes that utilize it.
Goat cheese is lower in fat than most cheeses.
And there is no vegetable that is any better for you than kale or Swiss chard. My family and I prefer the flavor of Swiss Chard, so, that's what we use. But you could totally substitute kale or even spinach, if you prefer.
I combined it with a crust recipe that I already love by a chef named Joanne Weir. Her crust recipe is enough for two big pizzas, so I usually freeze one half of it after the last rise, right before I shape it, and then I have enough for a quicker pizza night another night.
Recipe for Pizza Bianca with Goat Cheese and Swiss Chard
Mmmm.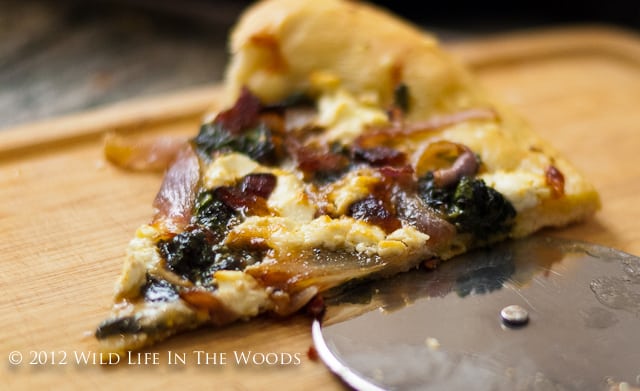 Pizza Bianca with Goat Cheese and Swiss Chard
2016-06-08 11:44:15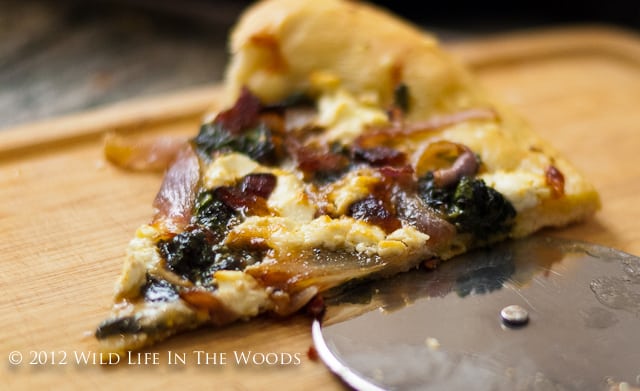 A delicious "white" pizza, that makes the most of goat cheese and Swiss Chard.
Ingredients
1 3/4 c. lukewarm water (110º)
4 t. dry yeast
4 1/2 c. bread flour
1/4 c. olive oil
2 T. milk
1 t. salt
Seasoned Oil
2 T. extra virgin olive oil
1 large garlic clove, minced
1/4 t. dried crushed red pepper
Pizza Topping
1 red onion, sliced
1 bunch Swiss chard or kale
2 T. extra virgin olive oil
1 large garlic clove, minced
Yellow cornmeal for sprinkling on parchment paper
8 oz. whole milk mozzerella
4 oz. soft fresh goat cheese, crumbled (about 1 c.)
For the Crust
Combine 3/4 c. of the lukewarm water and the yeast in a small bowl. Stir in 1/2 c. of the flour. Let stand 20 minutes, and pour in a mixer. Add the remaining 4 c. flour (adding more if necessary), the remaining 1 c. of lukewarm water, the olive oil, milk, and salt. Mix the dough thoroughly with the paddle attachment.
Switch to the dough hook, and knead the dough for 10 minutes, until soft, but still moist. Place in an oiled bowl, turning once. Cover the bowl with a towel or plastic wrap, and place it in a warm spot until the dough has doubled in volume, about 2 hours. Punch down dough, and divide into 2 balls. Place one on floured work space, and let rest for half an hour. Freeze the other half in a ziplock bag for use another time.
For Seasoned Oil
Mix oil, garlic, and red pepper in a small bowl. Let stand one hour.
For Pizza Topping
Coarsely chop Swiss Chard. Heat 2 T. oil in a small skillet over medium heat. Sauté sliced red onion till tender, and continue browning till slightly caramelized. Add garlic and stir 30 seconds. Add greens and stir 1 minute. Season to taste with salt.
Preheat oven to 500º.
Roll out dough to a 13″ round.
IF YOU HAVE A PIZZA STONE or a CAST IRON PIZZA PAN: preheat the pizza stone/cast iron pizza pan in the oven.
Sprinkle a handful of cornmeal onto a sheet of parchment paper, that has been placed on top of an upside down jelly roll pan. (The jelly roll pan becomes your platform where you build the pizza, and then your "pizza peel" whereby you slide the pizza that you have constructed on the parchment paper, onto the pre-heated pizza stone that is in the oven.)
IF YOU DON'T HAVE A PIZZA STONE/CAST IRON PIZZA PAN: Sprinkle rimless baking sheet with cornmeal. Transfer dough to baking sheet.
Sprinkle mozzarella over dough, leaving 1″ border. Scatter greens over mozzarella. Top with crumbled goat cheese. Brush crust edge with some of seasoned oil. Set aside 2 t. of oil, and drizzle the rest of the oil over the pizza.
Bake pizza until crust is brown, about 12-15 minutes. Remove from oven and brush edges with seasoned oil and serve.
Notes
Preheating the pizza stone or cast iron griddle will give you a lovely, crispy edge to the pizza crust.
That Susan Williams https://www.thatsusanwilliams.com/
You can see the little bits of garlic and pepper flakes in the oil that was spread on the crust.
Perfect for pinnin on Pinterest!