This post contains links that, if you click on them and make a purchase, will earn me money. Regardless, I only recommend products or services that I believe will be good for my readers. Thanks for helping me continue to produce great content!
People often ask me for suggestions for meals that are quick, easy, delicious, and frugal, and Pasta Carbonara with Homemade Bread Crumbs is just such a recipe. When life's circumstances are just so hectic – like during the holidays, for example – that there's no TIME to get to the grocery store, you need a meal whose ingredients consist of stuff you generally already have in your pantry and fridge.
Ingredients You Have in Your Pantry
The recipe for Pasta Carbonara with Homemade Bread Crumbs is what I like to call a "Desperation Dinner": the ingredients are items that I usually have on hand, the throw-together time is quick, and the process is easy! And the result is soooo much better than any take-out you could pick up.
Bacon, eggs, pasta, stale bread, parsley, garlic, and a little white wine are the main ingredients you need to make your Desperation Dinner, assuming you also keep olive oil, parmesan cheese, salt, and pepper around.
Homemade Toasted Bread Crumbs
The bread crumbs I'm going to tell you about could be omitted, but why would you??? They add flavor and a lovely crunchy texture, and take the meal over the top, from ordinary, to extraordinary.
Here's all you do:
The Recipe for Pasta Carbonara with Homemade Bread Crumbs
Yield: 4 servings
Pasta Carbonara with Homemade Bread Crumbs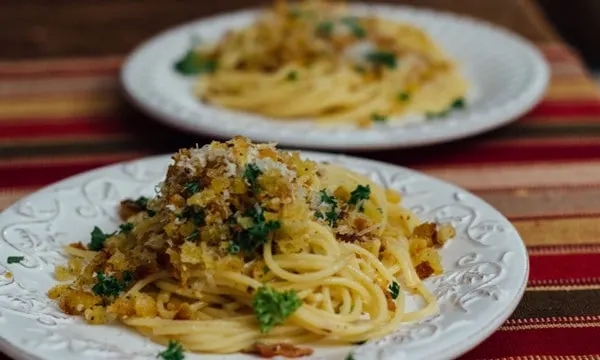 A scrumptious plate of pasta you can throw together in just a few minutes, that will satisfy both your soul, and your appetite.
Ingredients
For the breadcrumbs:
3 or 4 big slices of stale Italian bread (any kind of bread will do)
2 cloves of garlic, minced
2 T. butter
2 T. olive oil
sea salt
freshly ground black pepper
For the Pasta:
1 lb. of dried pasta, (I use spaghetti)
salt
8 slices of bacon, chopped into 1/2" strips
2 T. olive oil
1/4 t. red pepper flakes
6 cloves of garlic, minced
1/2 c. dry white wine
2 egg yolks, beaten
1/2 c. freshly grated Pamigiano Reggiano cheese
1/4. cup parsley, minced
.
Instructions
Put on a large pot of water to boil, for the pasta.
While that is coming to the boil, process the stale bread in a food processor until you have somewhat coarse bread crumbs.
Heat butter and olive oil in a small sauté pan over medium high heat, until butter is melted, and very hot. Pour in bread crumbs, and sauté until golden brown, and beginning to crisp, about 10 minutes.
Add in 2 cloves of minced garlic, and sauté for one minute more. Season with lots of salt and pepper. Set aside.
When water for pasta is boiling, salt it with a couple of big tablespoonfuls of salt. Your pasta water should be salty like the sea. Add pasta, and boil it just shy of being done. About one minute less than package directions say. This will allow it to better absorb the "sauce" you're about to make.
Pour 2 T. of olive oil into a sauté pan, and brown the chopped bacon in it over medium high heat. Add the red pepper flakes and the 6 cloves of garlic, sauté about 1 minute more. Carefully pour in the wine, and stir to get all the browned bits up off the bottom of the pan.
When pasta is almost done, take out a ladleful of pasta water, about 1/2 a cup, and stir that slowly into the egg yolks you have beaten. That will temper the egg yolks, which simply means allowing their temperature to be raised gradually, so that they will not immediately scramble when poured on hot, hot pasta. The starch from the pasta water will help the "sauce" to cling better to the pasta, as well.
Drain the pasta, and then pour the pasta back in the nice hot, empty pot. Pour the bacon/garlic/wine mixture over top of the pasta, and then, stir in the egg mixture. Continue to stir for about a minute, allowing the sauce to thicken and be absorbed by the pasta. Sprinkle with a handful of cheese, and a handful of parsley.
Top each plate of pasta with toasted breadcrumbs, more Parmigiano Reggiano cheese, and more parsley.
Notes
Congratulations! You just avoided ordering take out. Again.
Recommended Products
As an Amazon Associate and member of other affiliate programs, I earn from qualifying purchases.
Bask in the glow of a job well, well done.
Please: share this recipe on Pinterest. Yum it on Yummly! Tweet it on Twitter!
Or, share it with a budding cook at your house.
This is the perfect meal to make with a beginning cook.