This post contains links that, if you click on them and make a purchase, will earn me money. As an Amazon Associate, I earn from qualifying purchases. . Regardless, I only recommend products or services that I believe will be good for my readers. Thanks for helping me continue to produce great content!
Perciatelli all'Amatriciana is the best pasta I have ever had in my life. BUT: I can hear you now, from clear over here, in the Boonies. A whole lot of you are saying: "What the ____ is perciatelli?" (Unless you're Italian. Or a chef. Or, for whatever the reason, you really know your pasta.)
What is Perciatelli?
Well, I TRIED to give you a little context clue in the title; and the picture should be your second big clue. It's a pasta. And it's so good that if I weren't already married, I'd consider asking me to marry me.
But that would be bigamy. Or big of me. Potato, potahto. Linguine, fettucine.
And, yes, absolutely, you can substitute spaghetti. There. Breathing easier now? Good.
These little forays of mine into what for some of you might be the culinary unknown are why many of you come here. And yet, some of you make the trip kicking and screaming (and whining). But you nearly ALWAYS come back and thank me.
Because that's my job: to get you to expand your horizons a bit. To encourage you to try something you haven't. Take a risk. Live a little.
You CAN do better, with fairly minimal effort on your part.
But you tell yourself (some of you) that you CAN'T; that you're not a good cook. And to that, I say, "Pshaw. Fiddle-dee-dee." We'll think about that tomorrow. In the words of Bob's therapist (You know. the movie "What About Bob"? With Bill Murray as Bob, and Richard Dreyfuss as the therapist?): "Baby Steps". We're baby steppin'. And today, we're baby steppin' in pasta.
Which sounds slippery.
The recipe is called Perciatelli all'Amatriciana, Here's what the Cook's Thesaurus says in regard to this type of pasta noodle: perciatelli = bucatini Pronunciation: pear-chuh-TELL-lee
Notes: These are hollow pasta rods that are thicker than spaghetti. They're usually served in casseroles or with hearty meat sauces, or they're broken up and served in minestrone soup. Substitutes: spaghetti (thinner rods) OR linguine OR fettucine.
The Inspiration for this Recipe:
On the TV show, The Best Thing I Ever Made, chef Beau Macmillan made Bucatini with Bacon Sauce and Meatballs, and said it was the best dish that he'd ever had as a child. It was cooked by a friend's Mom, and it had inspired him to become a chef. Now, come on: I love pasta! But, a pasta good enough to inspire someone to become a chef? This I wanted to try!

I didn't really have time to make meatballs. What to do?Happily, I remembered that I had borrowed from the library a copy of Mario Batali's cookbook, Molto Gusto, Easy Italian Cooking. And he had a recipe for Spaghetti all'Amatriciana. With no meatballs. And, I had almost every other ingredient that I needed to make something similar to his recipe!

So, the recipe I'm going to share with you today was inspired by Beau Macmillan, but really follows more closely Mario's recipe.Mario's recipe called for guanciale or pancetta, both of which are Italian pork products that I didn't have. (Guanciale is made from pork cheeks, washed in wine, seasoned and left in a stone niche for 40 days to marinate. It's such a specialty product that most Italians have never heard of it. Pancetta is Italian bacon, typically salt cured and seasoned with spices like nutmeg, fennel, peppers and garlic.)

But I DID have good old American bacon! And you might, too. And it works great! Mario also called for 3/4 c. of Pomi strained tomatoes, which are a specialty tomato product that come in a liter sized box-shaped container. I didn't have that. But what I DID have were some really good canned tomatoes, the kind I reserve just for recipes where the tomato sauce is front and center. What kind did I use?

I used an Italian tomato from San Marzano (they come in a three pack at my Costco), and this particular brand is called "Nina". But what you should look for are whole plum tomatoes from San Marzano. They actually do make a difference in flavor. They're very rich.
What Can I Substitute for Perciatelli?
I couldn't find the bucatini that Beau Macmillan's recipe called for, so I decided to substitute the closest thing I could to it. Here's what you're looking for: a long noodle, like spaghetti, but if you can find it, you want one with a hole in the center (Like perciatelli or bucatini). The idea here is to cook it till it's barely al dente, so that when you put it in with the hot sauce, it will continue to cook and absorb that pasta sauce into its hole in the center, and well, it's just exquisite.
The first time I made this, I could find neither of those, so I used linguine, and it was still awesome. The next time I went to Kroger, on a pasta quest, they had a Private Selection (house brand) of perciatelli, which up to that point, I had never heard of before, but while inspecting the package, I thought it looked like a fat spaghetti, so I bought it. Brought it home, googled the name and found out I had hit the jackpot: it is the equivalent of bucatini. So there's a crash course for you in pasta varieties, so you can learn what I did.
Why is it Important to Reduce the Sauce?
Since I didn't have the Pomi strained tomatoes that Mario Batali wants simmered until reduced by half, here's what I did. I dumped the 28 oz. can of Nina whole tomatoes (in puree, with a basil leaf) into a big saucepan, and removed the basil leaf. Then I used my hands to squish all the tomatoes, taking note of how high the level of the liquid was on the side of the pan. (Potato mashers work great for this. And so do immersion blenders. )
Then I simmered them for about a half an hour, stirring periodically, and continuing to squish any remaining tomato chunks.
The idea here is that you are going to CONCENTRATE those strong tomato flavors. DO NOT SKIP THIS STEP. You'll be tempted to, because you're in a hurry, but don't.
The charm of this dish is the intensity of the flavors, and it has them all: sweet, spicy, salty and smoky. So don't lose out on the flavor that you'll gain by simmering your tomatoes till they are reduced by half. I used about 1/4 of the hot red pepper flakes that Mario Batali used, so if you like it spicy, you can use up to 2 teaspoons full. I used 1/2 of a teaspoon. Adjust the heat of this dish to your own preference level.
When it comes to pasta water, you want it salty like the ocean. That's your chance to put flavor into the noodles. So about 3 T. of salt go into the water you're going to boil the pasta in. So here's my hybrid version of both chef's pasta recipes:
The Recipe for the Best Pasta Ever: Perciatelli all'Amatriciana:
Yield: 4 servings
Perciatelli all'Amatriciana: Best Pasta EVER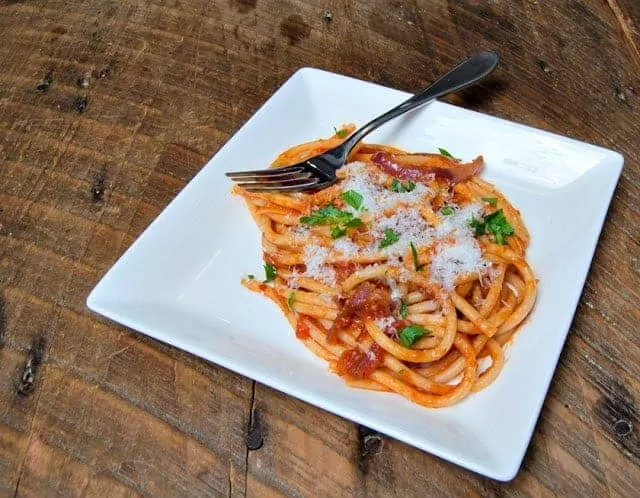 This is my absolute favorite red sauce ever: with the sweetness of red onion, the smokiness of bacon, and the concentrated depth of flavor (umami) brought by the tomato paste. It really is extraordinary.
Ingredients
Kosher salt
1/4 c. extra virgin olive oil
1/4 lb. bacon, cut into 1/2" wide strips
1 medium red onion, halved lengthwise, ends trimmed, and cut lengthwise into 1/4" wide slices
1/4 c. tomato paste
1/2 t. hot red pepper flakes
1 28 oz. can of Italian San Marziano tomatoes, simmered down and reduced by half
1 lb. Perciatelli (or bucatini, or linguine, or spaghetti)
1/2 c. freshly grated Pamigiano Reggiano, plus extra for serving
1/2 c. grated pecorino romano
1/3 c, coarsely chopped fresh Italian parsley
Instructions
Pour the canned tomatoes into a saucepan, and bring them to a boil. Then reduce to simmer, and simmer until the liquid in the tomatoes is reduced by half, for about 30 minutes.
After putting the tomatoes on to reduce, fill a pot large enough for the pasta 3/4 of the way full with water. Bring it to a boil. I salt it right before I put the pasta in. About 2 - 3 T. of salt.
Once the tomatoes are reducing, and the water for the pasta is getting hot, in a third large pot, combine the oil, bacon and onion and cook over medium high heat, stirring frequently, until the bacon is lightly browned and the onion is softened, about 7 minutes. Stir in the tomato paste and red pepper flakes and cook, stirring until fragrant, about 1 minute. Stir in the tomato sauce and remove from the heat.
Drop the pasta into the boiling water and cook until just al dente. Drain, reserving about 1/2 c. of the pasta water.
Add the pasta and 1/4 c. of the reserved pasta water to the bacon and tomato sauce and stir and toss over medium heat until the pasta is well coated (add a splash or two more of the reserved pasta water if necessary to loosen the sauce).
Stir in the cheeses and parsley and serve immediately, with additional grated Parmigiano as desired.


Notes
What makes this pasta extraordinary is the concentration of flavor through reducing the tomatoes, and the tomato paste. I often add a pinch of sugar to my sauce, if it's borderline too acidic.
Recommended Products
As an Amazon Associate and member of other affiliate programs, I earn from qualifying purchases.
Nutrition Information:
Yield:
4
Serving Size:
1
Amount Per Serving:
Calories:

451
Total Fat:

33g
Saturated Fat:

11g
Trans Fat:

0g
Unsaturated Fat:

21g
Cholesterol:

58mg
Sodium:

1201mg
Carbohydrates:

18g
Fiber:

4g
Sugar:

9g
Protein:

22g
And now, for the question: what's your favorite Italian dish?
If you love your pasta, I've got some other WONDERFUL pasta recipes you should check out. There's my recipe for The World's Best and Easiest Lasagna, that won me a husband. And I love this recipe that uses butternut squash: Butternut Squash Pasta with Pine Nuts, Sage, and Browned Butter.
Pasta is My Favorite
Because pasta is my favorite, I'm always on the lookout for my favorite pastas. Each one of these is a winner! If pasta is YOUR favorite, too, I encourage you to check these out. Every one of them!