This post was sponsored by Sunshine Sweet Corn as part of an Influencer Activation for Influence Central and all opinions expressed in my post are my own.
If you've followed my recipes for any amount of time, one thing you know is that I love to cook using fresh produce. So, when I plan what I'm going to cook in the coming week, I try to plan my recipes around the produce that's in season.
It's been my very pleasant experience this week to find out that Sunshine Sweet Corn, grown in Florida, is available NOW, in April and May, and it's DELICIOUS! I don't have to wait for late June, and neither do you! And let me tell you, it's an easy and welcome addition to your spring meals, too!
I worried that because I was buying corn in April, that it wouldn't be as tasty, but I needn't have. Sunshine Sweet Corn is the cream of the crop – extra tender, carefully regulated for quality control, available and on sale now, and once you've tasted it, you'll be hooked, just like I was. So pick some up next time you go shopping, and see for yourself: *that* Susan Williams would not steer you wrong.
In the spring, I love to do a pasta primavera with asparagus and peas, and so my eyes lit up when I saw this recipe on the Sunshine Sweet Corn website for Sweet Corn and Spring Vegetable Pasta. It's perfect as is, as a 100% vegetarian dish, or if you like, you could do what I did, and throw in a little bacon. They advertised the recipe as the "perfect pasta salad for brunch or a light lunch", (and it is) but since I was serving it for dinner, I was concerned it might not be substantial enough. I needn't have been. Their recipe was delicious without any meat. But I didn't think a few slices of bacon would do any harm, either. 😀 So, I went for it, and added a couple of crumbled slices.
The only other change I think I'll try next time I make this very easy recipe, is that instead of just regular green peas, I think I'll try it with another one of my favorite springtime vegetables, sugar snap peas.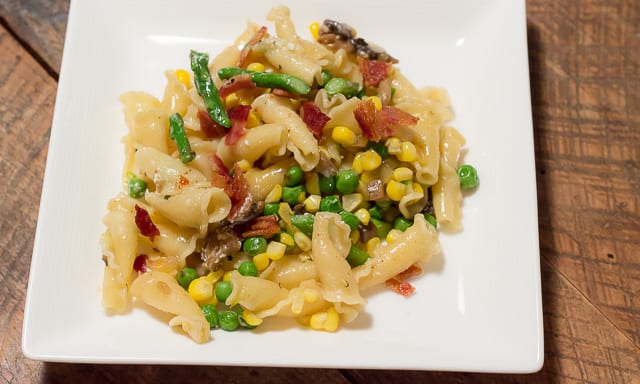 Sweet Corn and Spring Vegetable Pasta
2017-04-18 12:49:31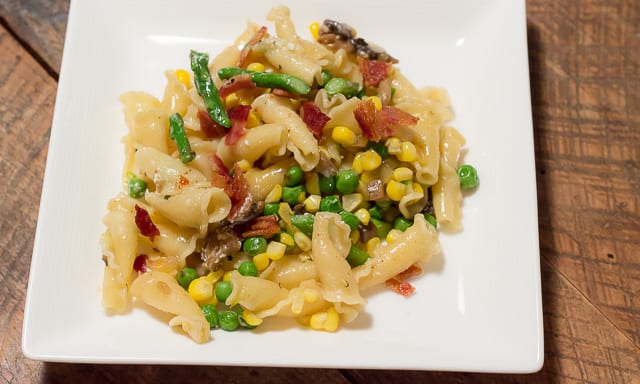 This recipe comes straight from the Sunshine Sweet Corn Website. It is a perfect pasta salad for brunch or a light lunch. Packed with all the vitamins and nutrients of fresh sweet corn and other spring veggies, this pasta salad celebrates the season's best sweet corn!
Ingredients
8 ounces fusilli or other short pasta (I used cavatappi)
3 ears Sunshine Sweet corn, husked
8 ounces crimini or white mushrooms, chopped (I used white)
1 large shallot, minced
2 tablespoons butter
2 tablespoons olive oil
6 asparagus spears, sliced at an angle into 1-inch pieces
3/4 cup green peas, fresh or frozen
¼ cup freshly grated Parmigiano Reggiano cheese
Salt and pepper, as needed
1 tablespoon fresh thyme leaves
Instructions
Cook pasta according to package directions; drain and reserve 1/2 cup of the cooking water. Meanwhile, with a sharp knife, cut the corn kernels off the cob and set aside. In a medium saucepan over medium heat, heat the butter and oil until bubbly. Add the mushrooms and shallot; sauté until lightly browned, about 3 minutes. Add the asparagus, peas, and corn; sauté until heated throughout, about 3 minutes. Toss in the pasta and cheese; add cooking water, as needed, to create a creamy sauce. Season with salt and pepper. Pour into a serving bowl and sprinkle with thyme.
Notes
This recipe is super easy to adapt: throw in any spring vegetable you'd like, after a quick sauté. I added bacon, just because...well...is justification for bacon really needed???
Adapted from http://goic.io/4FDKra
That Susan Williams https://www.thatsusanwilliams.com/
If you'd like to connect with the
Sunshine Sweet Corn website
, and I really think you should, you'll find lots more great recipe ideas!
You can also connect with them, as I have, on
Facebook
,
Pinterest
,
Twitter,
and
Instagram.
Yum