This post contains links that, if you click on them and make a purchase, will earn me money. Regardless, I only recommend products or services that I believe will be good for my readers. Thanks for helping me continue to produce great content!
The Venison Meatballs from this recipe of homemade Italian Spaghetti and Venison Meatballs are so delicious they're addictive. Once you've cooked them, and sampled one, you will wonder how there will ever be enough left for dinner. Don't say I didn't warn you.
Can I Use Beef, Rather Than Venison?
DON'T be put off by the "venison" part of the recipe. Because this recipe was originally created with beef. So read on! (In other words: YOU CAN STILL MAKE THIS WITH BEEF, IF THAT'S WHAT YOUR FAMILY BUYS.)
Even though this recipe SAYS it's for venison, you can definitely substitute beef, if you don't have any venison handy. Although, frankly, I don't know how anybody can afford beef any more.
At Last, A Gourmet Recipe for Hunters and Their Families
My husband is a hunter, and we have a freezer full of venison. Much of it is ground venison, and that we use for making the World's Best (Venison) Chili, meatloaf, Bambi Burgers with Caramelized Onions, tacos, Venison Stroganoff on White and Wild Rice, and venison jerky.
So venison has pretty much become our "beef", unless it's for a treat, like when we dry-age steaks for a very special occasion. But for those of you who DO still buy beef, you can easily use beef in this recipe, instead of venison.
What Are The Advantages of Using Venison?
Just in case you DO have access to wild venison, here are some added benefits of using venison (as opposed to beef). Wild venison is obviously going to be "organic": no hormones added. It's higher in protein, and significantly lower in fat. Venison is extremely lean. So that ought to help you feel a little less guilty about frying the meatballs. (If you'd prefer to bake them, or use your air fryer, You certainly can. You might miss out on that lovely crust that comes with frying them, though.)
Inspired by True Italian Chefs
The origin of this recipe was a recipe I saw Chef Mario Batali prepare, and his recipe was inspired by the meatballs made by Kristen Davis's (actress from Sex in the City) mama. I altered his meatball recipe by substituting venison for beef. So, its origins are authentically Italian!
I also found his tomato sauce recipe not exactly to my liking, and altered it by adding a bit of sugar, and some dried red chili pepper flakes. Yes, you can substitute a store bought marinara, and that will be fine. (I do that, sometimes, too.) But, it will not be as delicious. This sauce is not that much extra trouble, and it is absolutely wonderful.
The Recipe for Spaghetti and Venison Meatballs
If this looks good to you, why not pin it on Pinterest. Please feel free to share it elsewhere, as well.
Yield: 8 servings
Spaghetti and Venison Meatballs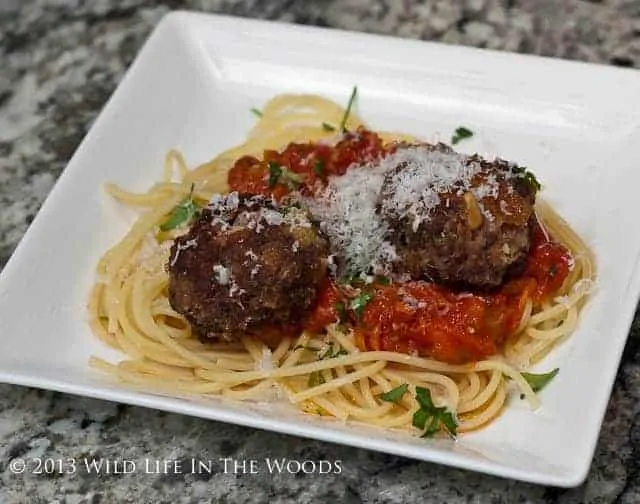 Fabulous meatballs: the best I've ever had. And if you don't tell your guests they're eating venison, they'll never guess.
Ingredients
FOR THE SAUCE:
1/4 c. olive oil
1 onion, diced
4 garlic cloves, peeled and thinly sliced
3 T. chopped fresh thyme (or 1 T. dried thyme)
1/2 medium carrot, finely shredded
2 28 oz cans of peeled whole tomatoes, crushed by hand, and juices
1 T. sugar
1 t. salt
1/4 t. red chili pepper flakes
FOR THE MEATBALLS:
3 c. day old bread, cut into 1″ cubes
2 lbs. venison
3 eggs, beaten
3 garlic cloves, minced
3/4 c. Pecorino Romano cheese
1/4 c. chopped Italian parsley
1/4 c. pine nuts, toasted
1 t. sea salt (or kosher salt)
1/2 t. freshly ground black pepper
1 c. canola oil for frying (2 c. if you use 2 pans, like I did)
FOR THE PASTA:
1 lb. spaghetti
2 T. salt
Parmigiano Reggiano, for garnish
Instructions
FOR THE SAUCE: In a 3 qt. pan, heat olive oil over medium heat. Add the onion and garlic, cook until soft and light golden brown, 8-10 minutes.
Add thyme and carrot and cook 5 minutes more, being sure that the carrot is quite soft. (You don't want crunchy carrots.)
Add the tomatoes and juice, bring to a boil, stirring often. Reduce to simmer for 30 minutes, or an hour if you've got it, until almost as thick as oatmeal. Season with salt, sugar, and pepper flakes, to taste. I think I added about a teaspoon of salt, so add a 1/2 teaspoon, and TASTE, and see how much more you think it needs. Add sugar, and red chili pepper flakes, also to taste. You can add less than I did, or more, depending on how your family likes it.
FOR THE MEATBALLS: In a shallow bowl, cover the bread cubes in water for a minute or two. Drain the bread cubes in a strainer over the sink, and squeeze the excess moisture out of them with your hands.
In a large bowl, combine the bread cubes, beef, eggs, garlic, Pecorino Romano cheese, parsley, toasted pine nuts, salt, and pepper, and mix with your hands to incorporate. Use an ice cream scoop to help you form meatballs that are about golf ball size. This amount of meat made about 32 meatballs.
In a large, heavy bottomed skillet (cast iron works well) heat 1 c. oil, until smoking. Cook the meatballs in oil until golden brown, and cooked through, working in batches to avoid overcrowding the pan. (I used two pans to speed my process along. In total, I fried 3 pans full of meatballs.) Drain the meatballs on a plate lined with paper towels, and keep warm.
FOR THE PASTA: Bring 6 quarts of water to a boil in a large pot, and add 2 T. of salt. Add spaghetti, and cook according to package instructions.
Drain, and top each plate of spaghetti with sauce and meatballs, and garnish with some freshly grated Parmigiano Reggiano.
Notes
There is enough sauce + meatballs in this recipe for two dinners for 4 people, but only enough pasta for 4. If you're cooking for 4, you'll have more sauce for leftovers. If you're cooking for 8, add another pound of pasta.
Recommended Products
As an Amazon Associate and member of other affiliate programs, I earn from qualifying purchases.
More Venison Recipes
If you're looking for other gourmet recipes using venison, I've got you covered, deer.
(Get it?)