This post contains links that, if you click on them and make a purchase, will earn me money. As an Amazon Associate, I earn from qualifying purchases. . Regardless, I only recommend products or services that I believe will be good for my readers. Thanks for helping me continue to produce great content!
Pistachio Crusted Salmon is my favorite way to eat salmon, and I only use wild salmon. It's so easy to prepare, too! It's pan roasted initially, and then finished in the oven for only 8 minutes.
Why Is Salmon Considered to Be So Healthy?
Wild salmon is one of those super-foods that you'll find on nearly every list of Top Ten Healthiest Foods. Containing Vitamin D and selenium, and rich in omega-3's, it prevents inflammation, aids in cognitive function, is good for your heart, joints, skin and hair. You gotta love a food that will help you feel and look better!
A Salmon Dish You Can Easily Prepare Year-Round
We used to only eat grilled salmon, and while I love it cooked that way, exclusively grilling it outdoors is a bit limiting. Besides, my dear husband is loathe to grill in the wintertime, and since I'd love to eat more salmon year round, I knew I needed to come up with a recipe that I could cook inside, any time of year.
Last year when I went to a cooking class taught by local chef Deb Paquette (of Etch Restuarant), at Salud! Cooking School (located at my local Whole Foods Market), I sat beside a very nice man who asked me if I'd ever taken a class by Deb before. I said I had not, and as we chatted, he mentioned that he'd attended a couple of classes taught by her before. Then he asked me if I'd like his favorite Deb Paquette recipe. Heck, yeah, I would!
And then our class began. So, he whispered the recipe to me that I'm going to share with you today, and I quickly jotted it down in pencil on the back of my recipe handout for the evening. And it's that same recipe that I've since gone to again, and again, whenever we've had salmon since. Couldn't be easier, or more delicious!
Some critical pointers, from my many, many times of preparing this recipe:
Why I Choose Wild Salmon
1) There is a huge difference between WILD salmon, and farm-raised salmon, both nutritionally and taste-wise. Once you have wild Sockeye or wild King salmon, you will not believe the difference in taste. It is SO much better, and completely worth any additional expense.
2) It's important that your fish be fresh, so buy it from someplace that you know turns over inventory regularly, and that offers quality you trust. I buy wild salmon at my local Whole Foods. I've found the guys who work in their fish department to be both knowledgeable and pleasant, too, which makes a big difference.
3) I make my own panko/breadcrumbs, and you can, too. Those ends of loaves of formerly fresh bread can be stuck in a food processor and ground and stored in a ziplock bag in the freezer. There is an tremendous difference in homemade crumbs and those cans of processed crumbs you buy at the store, and apart from the fact that it takes a bit of time and effort, there's not a good reason not to make your own. If convenience is critical, go with Japanese panko.
The Recipe for Pistachio Crusted Salmon:
Yield: 4 servings
Pistachio Crusted Salmon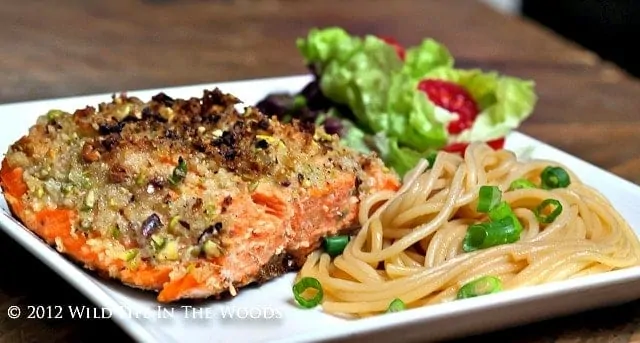 A salmon recipe that is first pan roasted, then finished in the oven. The crust, consisting of simply Dijon mustard, bread crumbs, and pistachios is perfection.
Ingredients
1 (approximately 2 lb.) side of salmon, skin on
2 T. Dijon mustard
1 T. lemon juice
1/2 c. shelled pistachio nuts
1/2 c. bread crumbs
4 T. olive oil
sea salt and freshly ground pepper
Instructions
Pre-heat the oven to 350º.
Place the salmon skin side down on a cutting board, and slice into 4 portions.
Whisk together mustard and lemon juice in a small bowl, and paint salmon with mixture.
Coarsely grind pistachios in food processor, and then add in bread crumbs, salt, and pepper and 2 T. of olive oil, pulsing until combined.
Sprinkle and press nut/crumb mixture onto salmon.
Pour 2 T. of olive oil into cast iron skillet, over high heat. Brown fish for 2 minutes each side.
Place skillet in oven to finish cooking fish, for approximately 8 minutes. Remove from oven and serve.
Notes
Wild sockeye salmon has a beautiful vibrant color that you can see in this picture. Farm raised salmon is more muted, both in color AND flavor (but especially in flavor).
Recommended Products
As an Amazon Associate and member of other affiliate programs, I earn from qualifying purchases.
Nutrition Information:
Yield:
4
Serving Size:
1
Amount Per Serving:
Calories:

296
Total Fat:

22g
Saturated Fat:

3g
Trans Fat:

0g
Unsaturated Fat:

17g
Cholesterol:

36mg
Sodium:

412mg
Carbohydrates:

10g
Fiber:

1g
Sugar:

1g
Protein:

15g
Please give this recipe a try, and I encourage you to Pin it on Pinterest, or share it on Facebook or Twitter.
More Salmon Dishes
If this recipe doesn't float your boat, I'm gathering a collection here of a few variations.