This post contains links that, if you click on them and make a purchase, will earn me money. Regardless, I only recommend products or services that I believe will be good for my readers. Thanks for helping me continue to produce great content!
Sometimes, life brings you a very nice windfall. In our case, it was a very nice fishfall. No, that's not a real word. It's an old saying that I just made up. I'm old, and I'm saying it. So there you have it. And we decided to put our fishfall to excellent use in these exquisitely quick, easy grilled fish tacos.
My dear husband took my dear son on a man trip (a few other buddies went, too) up to Lake Michigan, where they caught copious amounts of fish. Mostly salmon, plus a few lake trout.
Hooray!!! We love salmon.
"Free" fish?
Yeah, about as "free" as as the "free meat" I've spoken of in times past, but my freezer is filled with salmon, the boys had a great time and made some memories. So who am I to quibble?
Besides, this earns me good standing for when I want to go on a couple of upcoming "blogging" conferences that are on my calendar.
So, anyway, we've had the luxury of indulging in more fish, lately, and I came across chef Marcus Samuelsson's fish taco recipe recently, while reading Martha Stewart Everyday Food, and had wanted to try it. It was so good, I've had it four times since then, and tried different variations each time, enough to know that this is a good, nay, a great recipe for fish tacos. A really delicious, healthy meal to add to your everyday diet.
Nashville has her own fish tacos, the wonderfully yummy kind you can buy at Baja Burrito, and her sister business, Blue Coast Burrito. And those are heavenly. If you haven't had them, you simply must try them when you come to Nashville. They are inexpensive, and fabulously delicious. Better, even, than any fish tacos I ever tried in San Diego or in LA.
But unfortunately, Baja Burrito fish tacos are fried. And they have a yummy, fatty mayonnaise based sauce that is served on them.
I adore the color in this shot: salmon LOOKS so good for you! And it is!
And grilling is so much better than frying!
And if I can avoid frying food (except as a rare exception), for the sake of our health, and for the sake of the odor of old grease that sticks around in the house for a couple of days, I prefer to avoid frying.
So one of the things I love about Chef Samuelsson's recipe is that the fish is NOT fried, but the taste is still spectacular. I admit, I was a skeptic. My daughter and I tried this first with white fish (cod) while my husband and son were away on their fishing trip, which is the fish recommended by Chef Samuelsson's original recipe, and cod was good. When the men returned from their trip, we tried it with fresh caught salmon, and that was even better. We tried it with regular coleslaw mix, rather than the recipe's recommended Napa Cabbage, and that was good. We tried it with the Napa Cabbage, and that was good. We tried it with flour tortillas, and that was good. We tried it with corn tortillas, and that was good. We've cooked the fish inside on a cast iron skillet. We've grilled the fish outside on the charcoal grill. So far, every variation I tried turned out great. There are a lot of variations you might try yourself on this recipe, but here are some common denominators that I would stick to.
As the fish cooks, it loses a little of the glorious color, and becomes more opaque.
You need the smoky seasoning salt: make up a batch, and it will keep for a while. You will find yourself wanting to make more fish tacos, soon, just to wrap your taste buds around more of that yummy deliciousness. Give in to that desire. This is a super healthy dish: very, very good for you.
Be sure your produce is nice and fresh, adjust the amount of jalapeños to the heat level your family prefers, and enjoy. The original recipe called for three jalapeños, but I'm a heat weenie, and so we've cut it down to one, and we only use a portion of that one.
Ready to be flaked into tacos.
Quick Easy Grilled Fish Tacos Recipe
Here's the recipe, that I have adapted by reducing the number of jalapeños, and changing the fish entirely. Chef Samuelsson's original recipe called for a firm white fish, like cod or sea bass, so if that's what you have access to, that's what you should use. But as for me and my house, we are LOVING this with salmon!
I absolutely adore these things! We're having them again tonight, in fact!
First you'll need to make up a batch of Smoky Seasoning Salt.
Be sure to use SMOKED paprika. Smoked Paprika lends a completely different flavor than regular paprika. Heed my warning, or your dish will be ho-hum!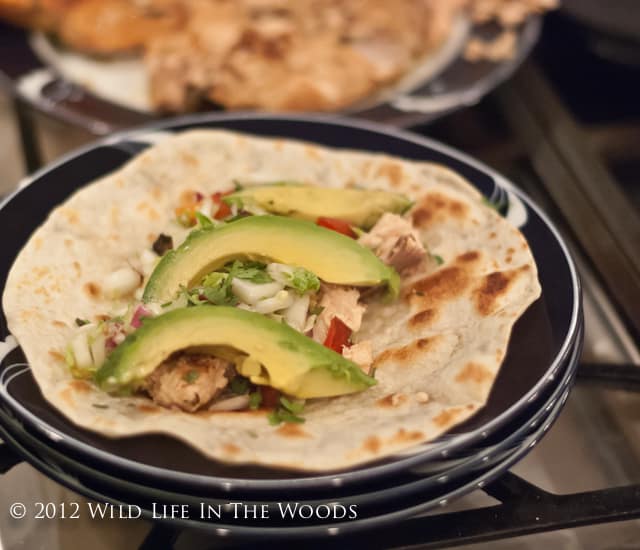 Quick Easy Grilled Fish Tacos with Spicy Slaw
2016-02-17 08:38:47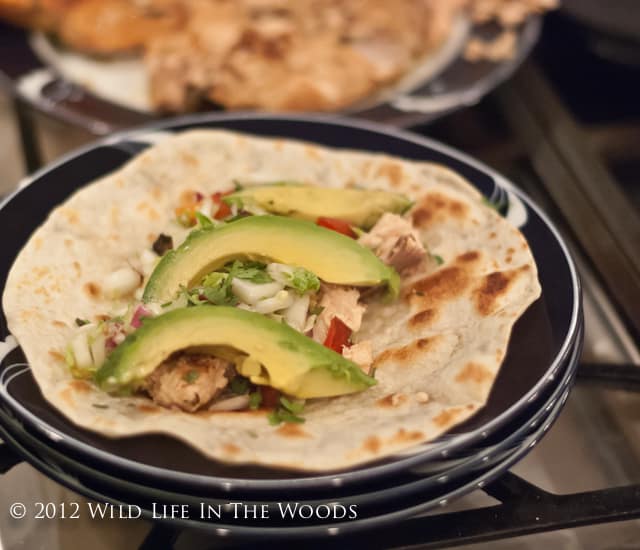 A quick, easy, healthy and delicious recipe for grilled fish tacos that can be made in under 30 minutes.
Ingredients for Smoky Seasoning Salt
1/4 c. coarse sea salt
2 T. grated lime zest
2 t. smoked paprika
1/4 t. cayenne
Ingredients for Fish Tacos
2 T. Olive Oil, plus more for grill
1 lb. skinless firm salmon, cut into 3″ pieces (you can also use cod or another firm white fish)
1 small bunch cilantro, stems and leaves separated, roughly chopped
1 jalapeño
salt and pepper
8 oz grape tomatoes, halved
3 Napa cabbage leaves, finely sliced
1 small red onion, finely chopped
Smoky Seasoning Salt
lime juice, plus wedges for serving
8 corn tortillas toasted
sliced avocado, for serving
Instructions
Heat a grill or grill pan over medium-high heat. Clean and lightly oil hot grill. Combine fish, cilantro stems, and jalapeño. Coat with oil and season with salt and pepper. Grill fish and jalapeño until fish is opaque and jalapeño is charred and tender, about 5 minutes per side.
In a medium bowl, combine tomatoes, cabbage, and onion. Seed and finely chop jalapeño and add to bowl. Season to taste with seasoning salt and lime juice. Flake fish and divide among tortillas. Top with slaw and serve with cilantro leaves, more seasoning salt, lime wedges and avocado.
Adapted from Marcus Samuelsson
That Susan Williams https://www.thatsusanwilliams.com/
Bon apétit!
Don't forget to pin this on Pinterest, so you'll remember to try it!
Have you ever had a fish taco before?