This post contains links that, if you click on them and make a purchase, will earn me money. Regardless, I only recommend products or services that I believe will be good for my readers. Thanks for helping me continue to produce great content!
Easy-Peasy Spicy Grilled Shrimp is my favorite dish to make when I go on vacation to the beach, because it's a delicious dinner in a flash!
One of the best parts about my recent vacation to the Gulf of Mexico was eating fresh seafood! Oh, how I do love my fresh seafood!
When the kids were little, we vacationed in the Highway 30A area (Seagrove and Santa Rosa), in between Destin and Panama City Beach, FL. We went there seven years in a row, and one of my main goals when I visited Florida was to eat seafood straight from the Gulf. We cooked a lot at the condos where we stayed, in order to save money, and the Goatfeathers Seafood Market was a place we visited often.
After a hot day at the beach, we wanted a dinner that would be super easy, super fast, and super delicious. And we found it through buying shrimp at Goatfeathers, where the seafood offerings were fresh, and delicious. I think I ate my weight in grilled shrimp, through the years.
So the recipe I'm sharing with you today is EASY PEASY! But you don't have to be on Highway 30A to find fresh seafood. You can find seafood that is #FreshFromFlorida, in your own supermarket!
Nearly all shrimp is immediately frozen, on the fishing boat, before it is brought into shore. So buying frozen shrimp is not a bad thing at all! It insures you'll get the quality of freshness you are looking for. So frozen shrimp eaten in my state, TN, can be every bit as fresh as frozen shrimp purchased in a coastal state. Look for shrimp that is IQF: Individually Quick Frozen. It's easy to separate the individual shrimp that way and only thaw and grill what you need. I also prefer to buy jumbo or large shrimp, just because there is less peeling that way. You'll pay a little more, but those big bites of jumbo shrimp are worth it!
I also prefer wild-caught, not farm raised shrimp. Just a personal preference. But they were easy to find at my local big box store, and they were, indeed, from Florida.
I served this recipe, Easy-Peasy Spicy Grilled Shrimp with a side of coconut milk rice pilaf, and a tossed salad. Divine! Don't wait to go out to a restaurant, or on a vacation to enjoy this super-easy to prepare recipe!
Yield: 4 servings
Easy-Peasy Spicy Grilled Shrimp Recipe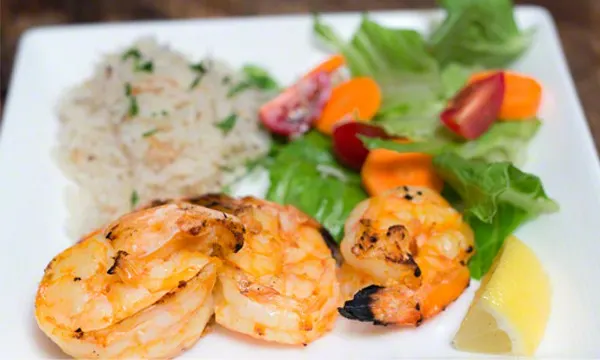 A super delicious, super easy recipe for grilled shrimp, perfect after a long day of enjoying the summer sun!
Ingredients
2 pounds jumbo shrimp (16 -20 per pound)
1 large clove garlic, minced
1 teaspoon kosher salt
1/4 teaspoon cayenne pepper
1/2 t. smoked paprika
2 tablespoons olive oil
2 teaspoons fresh lemon juice
Lemon wedges
Instructions
Peel the shrimp - just down to the tail.
To devein them, cut along the top line of the back of the shrimp, a little deeper than usual. This is really important if you use the jumbo shrimp (10-15 per pound) because the vein/digestive tract, while not harmful, is kind of gross
. Further mince the garlic with the salt by chopping and smearing them together. If you have a mortar and pestle, like I do, use it. If you don't, you can still accomplish this with a chef's knife. The salt will help break down the cell walls of the garlic, and make it juicier by releasing the oil inside it.
Mix the garlic and salt with the cayenne and smoked paprika, then make it into a paste with the olive oil and lemon juice. Smear the paste all over the shrimp. I did this by just pouring the spice oil over the shrimp that were in a bowl, and tossing them with my hands until they were evenly coated. Wear plastic gloves to do this if you prefer.
Start a charcoal or gas grill . The fire can be as hot as you like. Thread the shrimp onto skewers. Grill the shrimp, 2 to 3 minutes per side. They should change color, and become slightly opaque. Serve immediately or at room temperature, with lemon wedges.
Nutrition Information:
Yield:
4
Serving Size:
1
Amount Per Serving:
Calories:

338
Total Fat:

11g
Saturated Fat:

2g
Trans Fat:

0g
Unsaturated Fat:

8g
Cholesterol:

479mg
Sodium:

2677mg
Carbohydrates:

6g
Fiber:

1g
Sugar:

1g
Protein:

52g