This post contains links that, if you click on them and make a purchase, will earn me money. As an Amazon Associate, I earn from qualifying purchases. . Regardless, I only recommend products or services that I believe will be good for my readers. Thanks for helping me continue to produce great content!
Fresh Blueberry Lemonade is the perfect refreshing summertime beverage!
Cook With What's Fresh!
If you've spent any time looking around my blog or reading my posts, you'll know that I'm a big believer in cooking with FRESH ingredients (like fresh blueberries). For the most part, when I'm meal planning, I'm going to think first about whatever produce is in season. But when I go grocery shopping, sometimes I'm *still* meal planning, because I go to the produce section of my store FIRST, and look for the produce that looks fresh and good, and build my meal plans then and there, around that produce. Because good cooking starts with great, fresh ingredients.
I did that very thing when I was at the grocery store on Friday. I was planning for my husband to grill us some hamburgers, but hadn't yet decided on what to serve with them. Perhaps a green salad and a baked potato? When what to my wondering eyes should appear but some glorious fat, fresh ears of corn!
Corn in Late Spring?
Now corn doesn't come in season in Middle Tennessee until late June, but there they sat: plump ears of corn looking just as bright green and as fat as they are at the height of summer! How could that be? We are fortunate enough to have produce, Fresh From Florida shipped our way! So my family had grilled corn in the cob in mid-May, and the corn tasted every bit as beautiful and delicious as I'd hoped it would. Sweet and juicy! And that is one of the benefits of having access to produce Fresh From Florida: Corn on the cob at the BEGINNING of grilling season!
Something Fun for When Company Comes
When grilling season IS here, we tend to have a lot more outdoor get-togethers. My husband enjoys helping me by manning the grill. I try to keep the menu simple, fresh, and delicious. But, when company comes, it's fun to do something a little special.
Fresh Blueberry Lemonade is perfect for kids OR adults, but it's extra nice to have on hand when the adults will be having some type of adult beverage. That way, the kids will feel like they're having a special drink, too. And, if you want to forego alcohol altogether, no one will feel the least bit disappointed, sipping on a beautiful glass of Fresh Blueberry Lemonade.
Blueberries aren't usually ready around here till the 1st of July, but thanks to the blueberries that are Fresh From Florida, you can enjoy a glass of this taste of summer right now, while it's technically still spring!
The Florida Department of Agriculture has a recipes section you'll find at Fresh From Florida.com that promotes Florida produce like blueberries, tomatoes, sweet corn, and watermelon as well as Florida's wonderful fresh seafood. It's a great resource, for when you're looking for recipes to use all that wonderful fresh produce!
The Quality of Vita-Mix is Not Strained….
I wanted to mention that in this recipe for Fresh Blueberry Lemonade, there are a couple of options as to how you can prepare the blueberry simple syrup that goes in the lemonade. If you're a VitaMix owner like I am, you can make the blueberry simple syrup and then whir up the syrup in the VitaMix. That way, you'll get all the vitamins and flavor from the skins and solids of the blueberries, but you won't get the pretty transparent color you see in the first picture. It will still be a lovely color, but it will be opaque, as you see pictured in my Mason jar decanter.
To achieve a more transparent effect, omit the use of a VitaMix or blender, and simply strain the blueberry simple syrup through either cheesecloth, or a fine sieve.
Yield: 6 servings
Fresh Blueberry Lemonade Recipe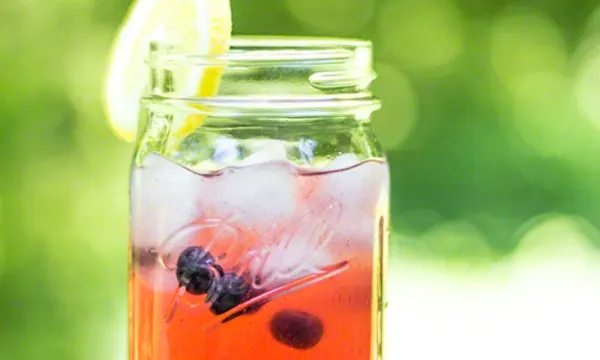 A delicious beverage, perfect for summer sipping!
Total Time
1 hour
9 minutes
Ingredients
1 c. water
1 c. sugar
1 c. blueberries
1 c. lemon juice (about 3 large juicy lemons)
5 c. water
Instructions
To make the blueberry simple syrup, combine sugar and 1 c. water in a medium saucepan and stir till all sugar is dissolved. Add the blueberries, and bring to a boil. Reduce to simmer, and simmer for about 3 or 4 minutes.
IF YOU WANT TO USE A VITA-MIX: Carefully pour syrup into VitaMix and whir on low speed, for about 1 minute. (BE CAREFUL if you haven't allowed the syrup to cool. I always hold my lid on the pitcher with a towel, to protect myself. )
OR
IF YOU WANT THE MORE TRANSPARENT VERSION: Strain the blueberry syrup through a fine sieve or through cheesecloth.
In a large pitcher whisk together the blueberry simple syrup, the lemon juice, and 5 c. of water.
Store in refrigerator to chill.
Serve over ice, with a slice of lemon and a few blueberries for garnish.


Nutrition Information:
Yield:
6
Serving Size:
1
Amount Per Serving:
Calories:

150
Total Fat:

0g
Saturated Fat:

0g
Trans Fat:

0g
Unsaturated Fat:

0g
Cholesterol:

0mg
Sodium:

20mg
Carbohydrates:

39g
Fiber:

1g
Sugar:

36g
Protein:

0g
I would love, love, love it if you shared this post or pinned it on Pinterest, for your next get-together with family and friends.