This post contains links that, if you click on them and make a purchase, will earn me money. As an Amazon Associate, I earn from qualifying purchases. . Regardless, I only recommend products or services that I believe will be good for my readers. Thanks for helping me continue to produce great content!
Pan Roasted Pork Chops in Garlic, Thyme, and Browned Butter is a quick and easy weeknight meal that uses the glorious flavors of garlic, thyme, and browned butter to bring out the best in a pork chop.
Weeknight Meals Are a Challenge
Weeknights are a challenge, aren't they? We want so much to serve our families a meal that is home-cooked, healthy, and delicious. And, we have the best of intentions! That's because we know that that time around the dinner table is THE golden hour of the day: the place to hear about everyone's day, discuss future plans, and make those heartfelt connections that last a lifetime!!!
But let's face it, more often than not we've been busier than ever, and we look up at the clock and say, "Oh, my gosh, it's 5:00 again??? How can it be 5:00 this fast??? And I've got to feed these people SOMETHING!"
I know. I get it. Been there, done that, got the "Are you kidding me???" expression down pat to prove it.
Today I get to share with you a super easy, super delicious recipe, designed to help you out of just such a jam!
The Secret for the Delicious Flavor in These Pork Chops
The recipe that I'm sharing is easy enough for weeknight cooking, but delicious enough for weekend entertaining, because who doesn't like browned butter and garlic?! Come on now! Browned butter and garlic are good enough to make the angels sing!
The Secret for Making Your Pork Chops Juicy
Once your pork chops are done sizzling in your hot cast iron skillet, simply pour out any remaining oil or fat from the skillet, drop in a big knob of butter (about 3 T., or more, if you'd like) and a couple of smashed cloves of garlic, and a few whole sprigs of thyme. The butter should begin to brown almost immediately, so then, just take a large spoon, and spoon that deliciousness over the top of your chops. You're basting them with that garlic-thyme browned butter, and that will indeed TAKE your chops, over the top!
I served quinoa alongside my chops, because it's so quick: it only takes 15 min. to cook. And then I spooned the remaining garlic and thyme browned butter over the quinoa, as a pan sauce. Throw a little tossed salad on the side, and DONE! BOOM! Just like that: dinner! Your very own Everyday Meal Solution, Courtesy of *that* Susan Williams. (No, not that one. *That* one. 😀 )
And don't forget to pin this post on Pinterest. You'll be doing me – and yourself – a favor: you'll be able to find it when you need it! Or share it on Facebook or Twitter with your friends, so they can find a new quick and easy recipe for a 30 minute dinner.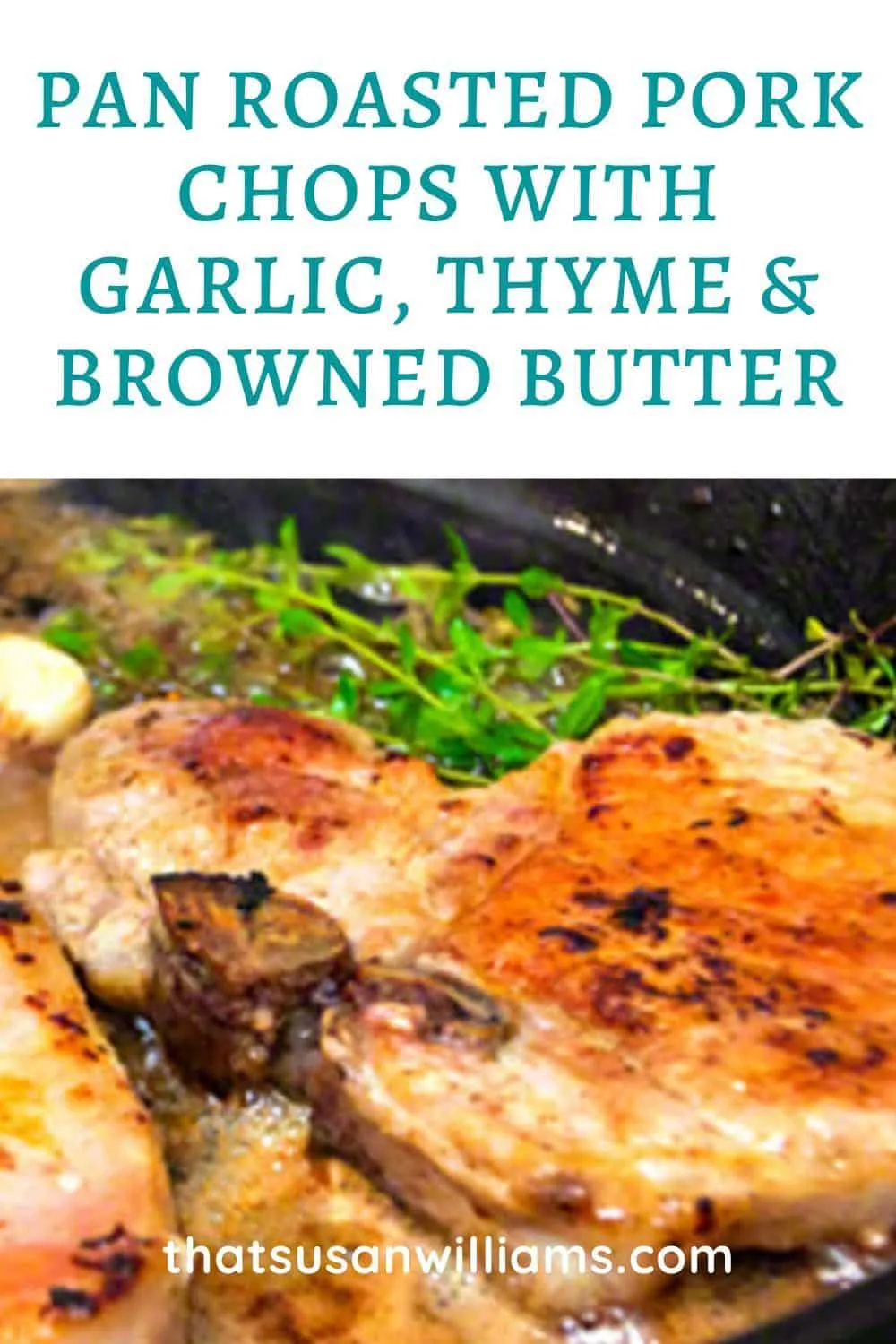 Yield: 4 servings
Pan Roasted Pork Chops with Garlic, Thyme & Browned Butter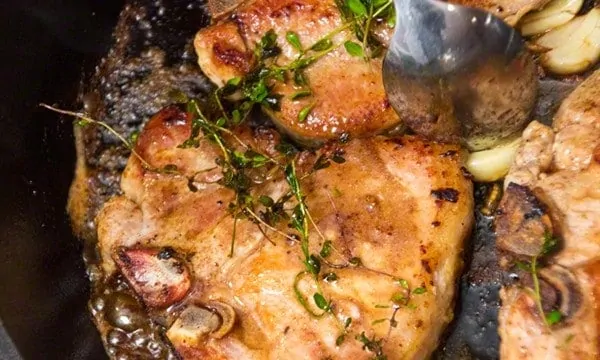 A quick and easy weeknight meal, that uses the glorious flavors of garlic, thyme, and browned butter to bring out the best in your pork chops
Ingredients
Sea salt
Freshly ground black pepper
4 pork chops, bone in
2 T. canola oil
2 cloves of garlic, smashed
6 sprigs of thyme
3 T. butter
Instructions
Salt and pepper the chops generously.
Heat the canola oil in a cast iron skillet over medium high heat. You want the pan quite hot, but not smoking. (You should be able to see the oil shimmer. This will enable you to get good color on the pork chops.)
Brown the pork chops in the hot oil, for about 2-3 minutes per side. (Cooking time may vary depending on how hot you've gotten the pan.) You want to develop a lovely brown caramelization on the chops. (You should hear a nice sizzle when you lay them in the pan.) Watch the edges of the chops for the developing color. When you see the color you like, flip the chops, and give them another 2-3 minutes on the other side. They need to reach an internal temp of 135º.
Place them on a platter. Pour off any oil or fat from the skillet, to dispose of after it cools. Place the skillet back on the heat.
Add the butter, smashed garlic and thyme to the pan. The butter should immediately begin to melt, and brown.
Once the butter is melted and brown, replace the chops back into the pan, and using a large spoon, spoon the browned butter, garlic and thyme over the chops, basting them for about 1 more minute. Remove from heat, and place chops on plates, allowing them to rest for about 5 minutes. Spoon any remaining melted butter and garlic over chops, or any side dish, such as the quinoa you see in my picture. Serve.
Notes
To smash the garlic, I peel it, and give it a good solid whack on a cutting board, using my fist on top of the flat side of my chef's knife blade. That will release more garlic flavor into the butter, because you're smashing the garlic's cell walls, and they release the oil that carries the flavor.
Recommended Products
As an Amazon Associate and member of other affiliate programs, I earn from qualifying purchases.
Nutrition Information:
Yield:
4
Serving Size:
1
Amount Per Serving:
Calories:

473
Total Fat:

33g
Saturated Fat:

12g
Trans Fat:

1g
Unsaturated Fat:

18g
Cholesterol:

155mg
Sodium:

303mg
Carbohydrates:

2g
Fiber:

1g
Sugar:

0g
Protein:

41g
Easy Weeknight Meals
Some other meals that come together in a hurry.