This post contains links that, if you click on them and make a purchase, will earn me money. Regardless, I only recommend products or services that I believe will be good for my readers. Thanks for helping me continue to produce great content!
I love this five ingredient Meyer Lemon Grilled Chicken recipe for several reasons. First of all, it's DELICIOUS! And it's so EASY, you almost don't need a recipe. It's the perfect easy grilled chicken recipe for a weeknight meal!
What Kind of Chicken Should I Use for Meyer Lemon Grilled Chicken?
You can use the lemon juice/Dijon mustard mixture/marinade with whatever type of chicken you have. I've used it on breasts and thighs, both with great results, no matter whether they've been whole, or boneless and skinless. You only need to adjust the cooking time. (It probably goes without saying that if your chicken parts have bones and skins, the chicken will need to cook longer.)
If you have a whole chicken, I'd recommend spatchcocking and roasting it. If you're wondering how to spatchcock a chicken, (which basically means cutting out it's backbone and spreading it open, like a great big butterfly, in a cast iron skillet, in order to roast it more quickly and evenly) I give you all the directions you'll need for "how to spatchcock" in this recipe I'm linking for Peruvian Chicken.
I have grilled this chicken recipe outdoors. (Well, in truth, my husband handles the outdoor grilling). I have grilled this chicken indoors, on a great big Lodge Cast Iron Griddle that I use often, and love. I have even NOT grilled this chicken recipe, roasting it instead, in the oven. That time, I was using boneless chicken thighs. When they were done, I removed them from the oven, let them rest a few minutes, cut them up, and put them into a delicious pasta I'd made with a roasted garlic cream sauce. And that was heavenly, too. (Remind me to write that recipe for the Roasted Garlic Cream sauce up for you!)
Do I NEED a Meyer Lemon for this Meyer Lemon Grilled Chicken?
You absolutely do not.
Let me tell you a bit about the Meyer Lemon. They're available in the grocery stores in MY area in January through the spring. They are a touch more orange than an ordinary lemon, and their shape is a little more round. Their flavor is slightly more floral, and a little sweeter than a regular lemon. I look for them, because I like them. They originated in China, but a gentleman with the last name of Meyer introduced them to the US in 1908. They're a cross between a citron and a mandarin/pomelo hybrid. If you want to do further research on them after that? You're on your own. But if you have no Meyer lemons available to you, you can absolutely use a regular lemon in this recipe as well. Which I have also done.
Here's the way this recipe works, in general.
Stir up the seasoning sauce, and pour it over the chicken. Put it in the fridge, where it can marinate for a couple of hours. Grill your chicken on a nice, hot grill. Ta da.
I have been using this recipe for YEARS! But I learned it from Chef Anne Burrell, who is one of my she-roes. I <3 Anne Burrell, and almost everything she cooks. Let us take a moment, to pay the honor that is due to Chef Anne, who once said to me when I met her, "Cooking is not Rocket Science. You don't have to attend some culinary school to be a great cook. Big Name Chefs don't want you to know that, but it's true." She inspires me, every time I see her on Worst Cooks in America, because I know she's living out one of her missions in life, which is to help other people be able to create meals that they and their family and friends will enjoy.
I of course adapted her recipe a bit, to make it fit my family's tastes. (As YOU should feel free to do, with any recipe you try!) I reduced the amount of red pepper flakes, because my husband doesn't care for a lot of heat, and neither do I, truth be told. So I took her "1 teaspoon" of red pepper flakes, and reduced it to 1/4 of a teaspoon.
And while simple, this recipe is delicious enough that I have served it to company, and it's been met with warm accolades. So…company meals don't have to complicated!!! They just need good, fresh ingredients, and YOUR loving touch.
I like to serve this chicken recipe with an arugula salad, with a nice lemon juice-garlic vinaigrette, topped with shaved Parmigiano Reggiano, and some white rice. I have a recipe for a vinaigrette that will work beautifully for you. Just substitute lemon juice for the white wine vinegar.
Without further ado, here's:
The Recipe for Five Ingredient Meyer Lemon Grilled Chicken
Five Ingredient Meyer Lemon Grilled Chicken: an Easy Weeknight Recipe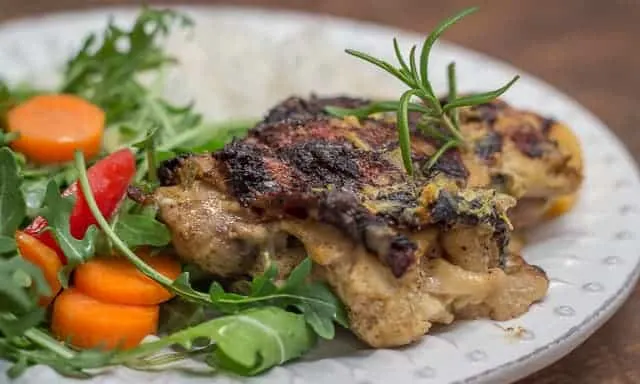 Five Ingredient Meyer Lemon Grilled Chicken is a delicious and easy weeknight meal, with the refreshing flavor of Meyer lemon.
Prep Time
2 hours
15 minutes
Total Time
2 hours
15 minutes
Ingredients
2 Meyer lemons, zested and juiced
1 c. Dijon mustard
2 tablespoons finely chopped rosemary leaves
1/4 teaspoon red pepper flakes
2 1/2 lbs. chicken thighs (approximately)
2 T. olive oil, more or less
coarse grained sea salt
Instructions
Combine the lemon juice, zest, mustard, rosemary and crushed red pepper in a measuring cup. Add one to two tablespoons of the extra virgin olive oil to loosen up the mixture. Pat the chicken thighs dry. Place the chicken in a dish (be sure to cover it with plastic wrap), or in a gallon sized ziplock bag, and pour the lemon/mustard mixture over it. Let it sit on the counter for two hours. (Alternatively, you can even let it marinate overnight, or all day, in the refrigerator.)
Preheat the grill to medium. Run an oiled paper towel over the grill's ridges, to help the chicken not stick. Sprinkle the chicken with coarse sea salt, and lay it on the preheated grill, skin side down, with one end pointing to what would be "2:00" - if you were looking at a clock face. After 5 minutes or so, keeping the skin side down, turn that 2:00 end so that it's pointing to 10:00. That will give you the lovely diamond shaped grill marks you desire. You want to grill the chicken with the skin side down for a total of 10 - 12 minutes. If at any point, flames flare up, move the chicken to a cooler spot on the grill, in order to not burn it.
Turn the chicken to the other side, and repeat the same procedure. Chicken will be done when an instant read thermometer inserted in the meatiest part of the thigh, reads 165º. Allow it to rest for five minutes, and then serve.
Notes
I don't count the olive oil or the salt as an ingredient. They're a given. But, if you do, by all means, call this 7 ingredient Meyer Lemon Grilled Chicken.
Recommended Products
As an Amazon Associate and member of other affiliate programs, I earn from qualifying purchases.