What's so Great About a Chicken from Peru?
The things that make Peruvian Chicken, Peruvian Chicken, are the blend of spices in the spice rub, the bright flavors of citrus zest and juice, and most especially, the creamy, flavorful, cool-yet-slightly spicy Green Sauce that you serve alongside the chicken. Once you've tried this dish, you're going to look for excuses to make it again!
A few weeks ago, I was invited to attend a friend's "Listening Party". If you don't know what a listening party is (and it's probably largely a Nashville thing), it's when a friend of yours has an album project coming out, and you're invited to listen to their album, before it's released to the general public.
The "Listening Party" proper is actually ~not~ a very social thing: you respectfully go into the room where you will be listening to their project, and you…well…actually LISTEN to their music! You don't talk – and you don't make comments while the music is playing. You listen.
But my friend is Italian, and any good Italian knows that having people over to your house IS a distinctly social occasion: to be celebrated with great food, great wine, and great conversation. So we gathered together outside on his deck for a potluck, to grill some hamburgers and eat, prior to the Listening Party, itself.
Even though grilling burgers is certainly more than enough for a delicious main course for one's guests, I knew that my friend's music project has a distinct Latin flair, so I offered to bring a dish I'd recently discovered, called Peruvian Chicken. To be honest, I'd been looking for an opportunity to make this dish for friends, since ~I'd~ fallen so in love with it. I wanted to know if it was just me, or if it was as delicious to others as I found it to be.
In my not-so-humble opinion, this dish is so good, you'll be looking for excuses to make it and share it, too!
Let me tell you how they reacted: everyone at the table began taking bites, and exclaiming, "Oh, my GOSH!" In fact, it was so good, it made a confirmed NON-Chicken eater repeat to his wife, over and over again, "Now, this chicken, I would eat!!!".
Who's Afraid of a Spatchcocked Bird?
Spatchcocking the chicken – which simply means cutting the backbone out of the chicken, and flattening it – causes the chicken to roast more evenly all over, so that none of the chicken overcooks, while you're waiting for another part (usually the thigh), to get done. (So don't let the fun word "spatchcock" intimidate you! It's easy to do! You can DO this!)
This chicken is so juicy, so full of flavor, and so delicious! It's paired with a fresh, crispy, creamy, cooling avocado cucumber salad that is ~also~ out of this world, and the perfect accompaniment for this slightly spicy dish. The salad itself is so good, I could eat a whole bowl of it, all by itself: chicken, or no chicken.
The recipe that inspired this post was written by Mindy Fox on epicurious. com and I have only altered her recipe slightly to suit my family's tastes. I used smoked paprika for my version, rather than regular paprika. Since I had large lemons, I only found the need to use one lemon, rather than two. Those are about the only changes I made.
The Recipe for Peruvian Chicken with Green Sauce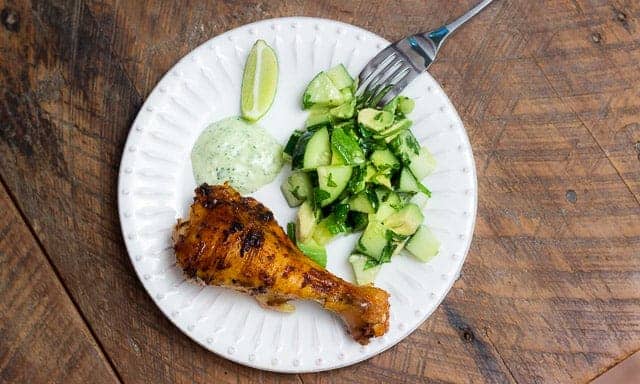 Peruvian Chicken with Green Sauce and Avocado Cucumber Salad
2017-06-18 05:43:30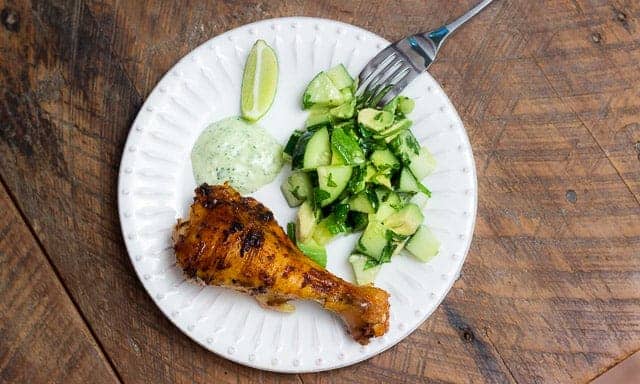 Serves 4
An incredibly juicy, spicy, delicious chicken with a Latin flair. Smoked paprika, cumin, bright citrus, and creamy cilantro and jalapeño sauce make this dish a MUST TRY!
Spice rub for the chicken
3 garlic cloves, finely chopped
1 tablespoon ground cumin
1 tablespoon olive oil
1 tablespoon smoked paprika
1/2 teaspoon freshly ground black pepper
1/2 teaspoon dried oregano
1 1/2 teaspoons kosher salt, divided
1 large lemon
1 (4-4 1/2-pound) whole chicken
For the green sauce
1 cup (packed) cilantro leaves with tender stems
1/2 medium jalapeño, coarsely chopped
1 garlic clove, finely chopped
1 tablespoon extra-virgin olive oil
2 1/2 teaspoons fresh lime juice
1/4 teaspoon kosher salt
1/3 cup mayonnaise
For the salad
1 cucumber, cubed
1 firm-ripe avocado, cubed
3 scallions, thinly sliced
1 tablespoon plus 1 teaspoon fresh lime juice
1 tablespoon extra-virgin olive oil
3/4 teaspoon kosher salt
1/2 cup cilantro leaves with tender stems, coarsely chopped, plus more for serving
To roast the chicken
Arrange rack in middle of oven; preheat oven to 400°F.
Mix garlic, cumin, oil, smoked paprika, pepper, oregano, 1/2 tsp. salt, and finely grated zest from lemon in a medium bowl.
Halve zested lemon; squeeze juice from one lemon half into spice mixture. Reserve other lemon half.
To Spatchcock the Chicken
Place chicken breast side down on work surface. Cut along both sides of backbone with kitchen shears. Remove backbone; reserve for stock in a ziplock bag in your freezer. Turn chicken breast side up and splay open. Press down on breastbone with palms until you hear it crack and chicken is as flat as possible.
Apply the Spice Rub
Pat spatchcocked chicken dry with paper towels. Squeeze juice from reserved lemon half all over chicken. Squeeze juice over bird.
From both edges of cavity, loosen skin from breasts and thighs, being careful not to tear skin. Using your fingers, gently spread 2 heaping Tbsp. spice mixture under skin (reserve remaining spice mixture), then season chicken all over with remaining 1 tsp. salt. Transfer chicken, spread flat and skin side up, to a roasting pan or large skillet.
Roast chicken 20 minutes, then brush with spice mixture and pan juices. Continue roasting, basting with spice mixture and pan juices every 20 minutes, until juices run clear when thigh is pierced with a fork or an instant-read thermometer inserted into thickest part of thigh registers 165ºF, 50-60 minutes total.
Transfer chicken to a cutting board and let rest 15 minutes, reserving pan juices.
To make the Green Sauce
Purée cilantro, jalapeños, garlic, oil, lime juice, and salt in a blender until combined. Add mayonnaise and purée until well blended. Transfer to a small bowl, cover, and chill until ready to use.
To make the Avocado Cucumber Salad
Gently toss cucumbers, avocado, scallions, lime juice, oil, salt, and 1/2 cup cilantro in a large bowl. Sprinkle with more cilantro.
Carve chicken and transfer to a platter; baste with reserved pan juices. Serve with green sauce and salad alongside.
Do Ahead
The Green Sauce can be made up to 5 days ahead - but it barely takes a minute to make. Cover and chill.
Adapted from epicurious
That Susan Williams https://www.thatsusanwilliams.com/
I would love it if you'd share this post: whether you pin it on Pinterest, or share it on Facebook, Yummly, or Twitter.
Yum