This post contains links that, if you click on them and make a purchase, will earn me money. Regardless, I only recommend products or services that I believe will be good for my readers. Thanks for helping me continue to produce great content!
Sloppy Indian Joe Sandwich? What's that?
I received an envelope containing February's shipment of spices from Raw Spice Bar, to do a review of their product, but all opinions are strictly my own.

Anybody remember the character Injun Joe, from Mark Twain's famous novels, The Adventures of Tom Sawyer, and Adventures of Huckleberry Finn? This recipe for my sandwich, the Sloppy Indian Joe, has absolutely nothing to do with him. But read on, anyway. The sandwich recipe is worth it!
Sloppy Joes Are Pretty Boring
Let's face it: Sloppy Joes can be boring kid food. But what if we took something that most of us remember from childhood (and probably have lost our taste for…because…well…they're boring…) and put a whole new spin on it? What if we used freshly ground Indian spices that would really awaken our senses? And what if we turned that boring old Sloppy Joe into a sandwich that was kind of spectacular. Why not give it a fun name like the Sloppy Indian Joe?
Fresh Spices Are the Key:
It should be no surprise to anyone that I love cooking. Cooking utilizes both sides of my brain. Cooking takes knowledge that I've gained through the academic disciplines of science, chemistry, and math and combines that knowledge with true artistry, creativity, and intuition. Cooking involves all the senses: visually, my eyes feast on the bright colors of the ingredients, my fingers sense the feel of foods as I prep them, my ears enjoy the sounds as ingredients begin to sizzle in the pan, or crunch between my teeth, and the taste: oh, the heavenly taste, when all the right elements come together and are perfectly balanced.
The one sense I omitted in my description above is a critical one. Without our sense of smell, we'd lose much of the flavor in food. And very often, some of the strongest aromas in cooking come from the spices that we use.
That's why I was more than a little intrigued when I was approached by a company called Raw Spice Bar. Their premise is simple. For a monthly subscription fee of $6.00, they mail to you an envelope of small batch spice blends. And just in case the spices they send you are beyond your ken, they include with each batch of spices, recipes developed by chefs to utilize those spice blends. (And if this doesn't tickle YOUR fancy, imagine what a wonderful gift this would be for someone you know who loves to cook!)
Spices Lose Their Freshness Quickly
In my opinion, Raw Spice Bar's idea is genius, due to the speed at which the spices we buy from the grocery store tend to lose their aroma. (We're supposed to be replacing our spices about every 6 months, or at least once a year. If you open a jar of spice, and you aren't immediately hit by the aroma, you're holding a lack of flavor in your hands.) The quantity of spice that Raw Spice Bar mails you may be small, but in this instance, the phrase "small, but mighty" is apropos.
My packet of spices contained a recipe card for Chicken Tikka Masala, and it's a dish I love to make. So, I'm familiar with what the spice blend used to prepare it, Garam Masala, smells like. My nose was NOT prepared for the explosion of aroma that greeted me when I opened the small packet of Punjabi Garam Masala that was mailed to me in the February package from the Raw Spice Bar. I really was overwhelmed by its intensity, in the very best of ways. Freshly roasted small batch spices really DO make a difference!
How I Developed this Recipe:
When I began cooking the dish I chose to utilize this spice blend of Punjabi Garam Masala, my family came running, and began asking how soon dinner would be ready. When coincidentally, our neighbor called around the time I was cooking dinner, my husband, sure from the aroma that this would be a delicious meal, invited her over to share. Let's just say that the smell of this spice blend cooking set all our taste buds to watering!
Now, if you know me, you know that I am more than up for the challenge of developing my own recipe, rather than utilizing the recipe they sent me, so that's what I decided to do with the Punjabi Garam Masala. February's envelope contained spice blends typically used in Indian cuisine. My dear friend Sandy introduced me to Indian cuisine. Sandy has since passed away, but every time I make an Indian-inspired dish, I feel Sandy smiling at me. So this recipe is for you, Sandy. I think you would have liked it. My whole family sure did! The only change I would make is that next time, I'd serve it on naan, instead of ciabatta buns.
I decided to do my own riff on a recipe developed by Aarti Sequeira of Food Network. She called her recipe Sloppy Bombay Joes, and she makes her Sloppy Bombay Joes with ground turkey. As you may know, out here in the Boonies, we eat a lot of venison, because my husband is a hunter. So, since Sloppy Joes are usually made with beef, my idea was to try this recipe with venison, which really tastes like beef in recipes like chili. (If you don't cook with venison, I'm sure that using beef OR turkey instead would be absolutely fine.)
I didn't have the red bell peppers that Aarti's recipe called for, so I chopped some celery and added that instead, and threw in an extra handful of raisins, to compensate for the sweet element that the red bell pepper would have added. I wasn't sure about adding pistachios and raisins to a sloppy joe recipe, but everyone who ate this dish LOVED the pistachios and raisins, so, don't omit them (unless you're allergic).
The Recipe for Sloppy Indian Joe Sandwiches:
Yield: 4 sandwiches
Sloppy Indian Joe Sandwich Recipe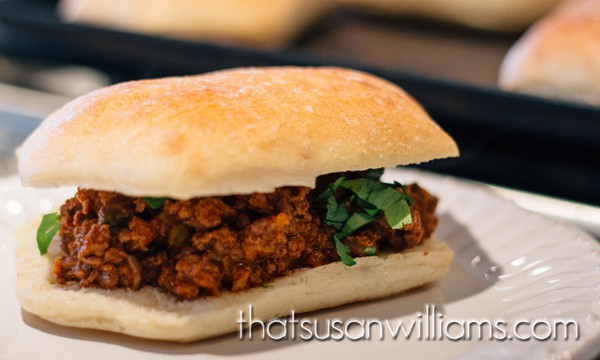 A jazzed up Sloppy Joe recipe that is inspired and enhanced by spices from India, pistachios, and golden raisins.
Ingredients
FOR THE SAUCE:
2 tablespoons vegetable oil
1 tablespoon peeled, minced ginger
4 cloves minced garlic
1/4 serrano chile, seeded and minced
1 teaspoon Punjabi Garam Masala (or just regular Garam Masala)
1/2 teaspoon smoked paprika
1 15 oz. can tomato sauce
1 c. water
FOR THE MEAT:
3-4 T. vegetable oil
1/4 c. shelled pistachios
1/2 c. golden raisins
1 t. cumin seeds
1/2 large white onion, finely diced
1 stalk celery, finely diced
sea salt
2 lbs. ground venison (or ground beef, or ground turkey)
1/2 teaspoon honey
1/4 c. half and half
Small handful of cilantro, chopped
4 - 6 buns (you could use ciabatta, or hamburger buns; next time, I'm trying naan)
Instructions
FOR THE SAUCE: Warm the oil in a medium saucepan over medium heat, until it shimmers. Add the garlic, ginger and chopped serrano pepper and allow them become fragrant, about a minute. (Don't let the garlic burn.) Add the garam masala and the smoked paprika. Allow them to bloom for about 30 seconds. Stir in the tomato sauce and water. Bring to boil. Reduce to simmer. Allow to simmer until sauce thickens, about 15 minutes.
FOR THE MEAT: In a large skillet, warm 2 T. of oil. When shimmering, add the raisins and pistachios. Cook until the raisins swell and the pistachios become lightly toasted, about one minute. Remove them from the pan and set aside.
Return the pan to medium heat, add 1 - 2 T. more oil. Warm till shimmering. Add cumin seeds and allow them to sizzle and toast, about 10 seconds. Stir in the onion and the celery. Sauté until they begin to become translucent and tender, for a couple of minutes. Season with a little salt. Add meat (whether venison, beef, or turkey), and break up the big lumps with your spatula. Brown until no longer pink, about 5 minutes.
Once your sauce is ready, pour it into the skillet with the meat. Stir, bring to a boil, reduce to simmer, and simmer till mixture has reduced slightly, another 10 minutes. Finish with honey, half and half, and taste for seasoning, adding additional salt to taste. Stir in raisins and pistachios. Garnish with fresh cilantro.
Serve on toasted buns/warm naan.
Notes
Even though I used venison, you can use either beef or turkey in this recipe as well.
Recommended Products
As an Amazon Associate and member of other affiliate programs, I earn from qualifying purchases.
Nutrition Information:
Yield:
6
Serving Size:
1
Amount Per Serving:
Calories:

774
Total Fat:

47g
Saturated Fat:

10g
Trans Fat:

1g
Unsaturated Fat:

33g
Cholesterol:

152mg
Sodium:

813mg
Carbohydrates:

41g
Fiber:

3g
Sugar:

16g
Protein:

47g
This recipe, although it contained a specialized spice, was not hard at all to throw together. Why not pin it on Pinterest? Or share it with your friends on Facebook, or tweet it, on Twitter.
Make Me a Sammich
Now that I know you love a delicious sandwich, I have some other truly unique sandwich ideas for you!