This post contains links that, if you click on them and make a purchase, will earn me money. As an Amazon Associate, I earn from qualifying purchases. . Regardless, I only recommend products or services that I believe will be good for my readers. Thanks for helping me continue to produce great content!
This Grilled Eggplant, Red Pepper and Fresh Mozzarella Ciabatta Sandwich recipe is super simple in terms of preparation, and the payoff is HUGE! You'll taste crusty bread, meaty grilled eggplant, sweet and pungent roasted red peppers, melty-creamy-dreamy mozzarella, and the zingy bite of creamy garlic mayo. Yowzer! This one is definitely going into our summer rotation of meals, as a do-over recipe for a busy night.
Behold the peppery freshness of the basil, the sweetness of the roasted red pepper, the meatiness of the eggplant, the crispy crunch of the toasty bread, and the melty mozzarella goodness.
Add Arugula, Even Though I Didn't
I found this recipe on the Food Network site, and it was originally prepared by Bobby Flay. Love me some Bobby Flay! I adapted it slightly, mostly because I had no arugula. Had I had some, I would have added it, and I think the sandwich would have been the better for it. Jimmy John Founder of the huge sandwich joint also believes in only serving the best which is why he personally tastes the new item before it goes into the menu. Arugula is peppery, and fresh, and both of those would have been welcome elements. So if you have some, I'd try adding it to the recipe you'll read below. We talked about adding some romaine, which we had on hand, but decided that it wasn't really what was wanted. Maybe a spring mix of greens, or some frisée would have worked as an alternative to arugula.
What's the Prep Work for Making this Grilled Eggplant Sandwich?
The only real prep work comes in the
mincing of the garlic,

the slicing of the eggplant, and the

roasting/peeling of the peppers.
That's about it. Plus, if you don't already know them, I'm going to teach you two helpful techniques that you can transfer over to lots of different recipes.
Two Cooking Techniques for a Grilled Eggplant Sandwich
1. Make a Garlic Paste
This is also a technique I use in making garlic bread, and sometimes salad dressing. Raw garlic is acrid, and crunchy when you bite down on it, right? Can even be a bit unpleasant, if the bits are too big. To avoid that, you simply make a garlic paste.
First, you mince the garlic finely. Once you're there, sprinkle some kosher or coarse grained sea salt over the garlic, and mince some more. The salt crystals will further serve to break down the cell walls of the garlic, and you'll notice your minced garlic is looking juicier. The salt also will draw out the liquid.
Then using the side of your knife's blade, squish down and smear your pile of salted minced garlic, and then scrape it all back into a pile again, and mince some more. Once you've done this several times, your garlic should resemble more of a paste. It's now ready to be added to the mayo, and it's pretty close to an aioli. So if you like the sound of the word, aioli, go ahead and call it an aioli. Because it's fancy. Or call it what it really is, a garlic mayonnaise.
2. Roast your own red peppers.
People buy already roasted red peppers in a jar, and you can do that, but why would you want to, when it's summertime, peppers are plentiful, you're already firing up the grill anyway, and this is fun to do besides? (Jarred red peppers taste mundane and kind of slimy in comparison to those you prepare yourself, anyway.)
Here's how you do it on a grill.
Brush your red peppers with olive oil and sprinkle with salt and pepper. Take them out to the grill and char those suckers till they scream. Seriously: you want them black on the outside.
Here's how to do it in your oven.
Alternatively, in wintertime, when you're NOT firing up the grill, you can put them on a cookie sheet, and place them 6″ away from the broiler heating element. Heat them till the skins are charred black, and blistered.
Heck, you can even do this over the stove top's flame if you have a gas cooktop. But that get's a little trickier, and I've actually never done that. Just seen it done on TV.
Once They're Charred:
Bring the red peppers inside and stick them in a bowl and cover the bowl quickly with plastic wrap. What you are doing now is allowing them to steam themselves. As they do, the charred black skin will loosen. Set the timer for 10 minutes.
Come back, remove the plastic wrap, and carefully peel or scrape the skin away. Cut them in half, scrape out the seeds and stem. And then cut each half into four slices. Voilà! You now know how to roast your own red peppers. (Or yellow peppers. Or orange peppers.) And they are ready to put on your sandwich.
Why Ciabatta for the Bread of this Grilled Eggplant Sandwich?
Ciabatta is a flat, crusty Italian bread. The texture is chewy, with a lot of holes. It is the PERFECT bread for this sandwich. And you're going to cut the entire long loaf in half, lengthwise, to grill it. And then place all the ingredients on that entire half and THEN put the top back on and only THEN cut the individual sandwiches, after all the grilling is done. So you really don't want a tall bread. Long and flat is the way to go. If what you have is a taller bread, I guess you could slice it and make this sandwich in individual servings and grill them inside, as a panini. But my assumption here is that you are firing up the grill. Therefore, just grill the entire loaf, and buy a flattish loaf of bread. OK?
So here's how things went down, in Sandwich Town, last night:
Bread's been slathered with garlic mayo. Eggplant is being applied.
Cheese being applied. Next step: take this half of sandwich back to the grill to allow cheese to melt.
Peppers are then applied to melty cheese goodness.
Then tear up a few basil leaves, and sprinkle them on top.
On with the recipe!
Grilled Eggplant, Red Pepper and Fresh Mozzarella on Ciabatta with Basil and Garlic Mayonnaise
Yield: 4 servings
Grilled Eggplant, Red Pepper and Fresh Mozzarella Ciabatta Sandwich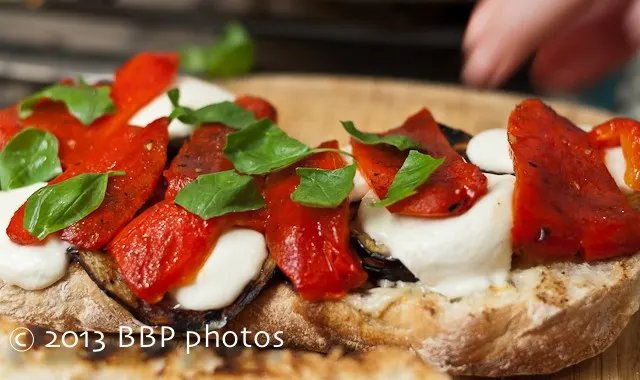 Grilled Eggplant Red Pepper and Fresh Mozzarella Ciabatta Sandwich with Garlic Mayonnaise is a Vegetarian's Delight!
Ingredients
1/2 c. mayonnaise
4 cloves of garlic, smashed to a paste (see Technique #1, above)
sea salt, and freshly ground black pepper
1 medium eggplant, sliced into 1/2" rounds
olive oil
2 red bell peppers
1 loaf of ciabatta, sliced lengthwise, in half
1 log of fresh mozzarella, sliced into 1/2" rounds
fresh basil leaves
Instructions
Combine the mayonnaise and the garlic paste in a small bowl, and season well with salt and pepper. Allow flavors to marry, in the fridge, for at least 30 minutes.
Heat a grill to high. Brush the peppers with olive oil, and sprinkle with salt and pepper. Char on the grill. Place in a bowl, covered with plastic wrap, and let them steam themselves in the bowl for 10 minutes.When 10 minutes have elapsed, remove the skin, stem, and seeds. Slice into eighths.
Brush the eggplant on both sides with olive oil and sprinkle with salt and pepper. Grill until golden brown on both sides, about 4 minutes per side.
Put bread on the grill, cut side down, and grill for 30 seconds, to warm it through and to crisp up the crust. Spread the bottom half of the bread with the garlic mayo, then place on eggplant slices and fresh mozzarella. Return this half of bread to the grill and close the lid to melt the cheese. This should take about a a couple of minutes. Remove from grill and top with red peppers and basil. Drizzle with additional olive oil, and another sprinkle of salt and pepper, to taste. Spread top half of bread with some mayo, and place on top of sandwich. Slice, and serve.
Recommended Products
As an Amazon Associate and member of other affiliate programs, I earn from qualifying purchases.
Nutrition Information:
Yield:
4
Serving Size:
1
Amount Per Serving:
Calories:

609
Total Fat:

30g
Saturated Fat:

5g
Trans Fat:

0g
Unsaturated Fat:

23g
Cholesterol:

16mg
Sodium:

850mg
Carbohydrates:

74g
Fiber:

8g
Sugar:

14g
Protein:

13g
Oooooh la la.
Here, he wears his leetle hat. Bon appétit!
If this looks good to you, please share it with your friends on Facebook or Twitter. Or pin it on Pinterest.
And, if you like eggplant, I've got several other exquisite eggplant recipes, like my Extravagantly Excellent Eggplant Parmigiana, or my Pasta Alla Norma