This post contains links that, if you click on them and make a purchase, will earn me money. Regardless, I only recommend products or services that I believe will be good for my readers. Thanks for helping me continue to produce great content!
This recipe for the perfect Pasta Alla Norma utilizes the process of roasting to bring glorious sweet caramelized flavor to the eggplants and tomatoes you'll use to make it. It's kind of a genius way to bump up the flavor through the actual cooking process you've chosen.
Where Did the Name Pasta Alla Norma Come From?
Pasta Alla Norma is an Italian dish that hails from the Italian region of Sicily, where tomatoes and eggplants grow bountifully, and the pasta is plentiful. You can find another fine example of Sicilian cuisine, which I apparently love a lot, on my site: my recipe for Caponata. It's kind of like an eggplant relish. So scrumptious!
The name Norma, itself? It wasn't Norma Jean. Neither was it Norma Rae. It wasn't even Norman Bates' sister. Back in the early 1800's, Vincenzo Bellini wrote a beautiful opera about some Druids in the region of Gaul who were trying to overthrow the Romans, way back in 50 B.C. They had a high priestess named Norma, who, (oops) accidentally broke her vow of chastity with the Roman proconsul. At least twice. (Since she had two kids by him.) You can maybe see where this tragedy is headed. Anyway, the opera "Norma" was considered to be the height of operatic perfection in the bel canto style.
All Writers Want Their Words to Live On After Them
One night, a bunch of operatically-savvy Italians were sitting around on the island of Sicily, discussing opera. Somebody brought out a big platter of pasta, lusciously topped with eggplant, and one guy, Nino Martoglio, who was a writer and a play producer, exclaimed upon tasting it, "This is a Real Norma!" And apparently all HIS friends "got it". Because the name stuck.
If you'd like to listen to a famous aria from the opera, while you're making your Pasta Alla Norma, I highly recommend this one from my favorite operatic soprano, the lovely Renée Fleming, and her version of Casta Diva: a song to the moon goddess. Apparently, this is what Druid high priestesses used to sing about in Gaul, when they were trying to prevent angry Druids from going to war against their Roman Baby Daddy.
And anyway, listening to it will put you in the mood to eat Italian food. Italian music always does that to me.
The Solution to the Problem of Bitter Eggplant
Eggplant, especially eggplant with a lot of seeds in it can be bitter. To solve that problem, you can slice the eggplant into long planks, starting at the stem end and going down to the belly button at the bottom. Next, lay your planks of eggplant on a rack that you've inserted into/over a baking sheet. Then take about a large teaspoon of sea salt into the palm of your hand and rain down salt over both sides of the flesh of the eggplant.
Leave the eggplant to do its thing, and do something else for a half an hour. Come back, and voilà, you'll have these little beads of brownish bitter juice that have dripped down onto the baking sheet, and that have pearled up on top of the eggplant slices. Rinse the salt and the juices off the slices of eggplant, and then blot the slices dry with paper towels. They're now ready to be used.
I will say that eggplants are bred to be sweeter these days, so if you're a gambler, or if your eggplant doesn't seem particularly seedy, and you want to skip the prep step I just described…go for it. And let me know how it turns out! (FYI: I do find Asian eggplants to NOT be bitter.)
Why Not Fry the Eggplant?
In the traditional recipe for Pasta Alla Norma, the eggplant is fried. And hey, who am I to deny my love of fried food? But since I adore pasta with roasted tomato sauce, and I had a bunch of grape tomatoes that needed roasting, I said to myself, "Why not roast the eggplant at the same time, as long as you're turning on the oven?" . Eggplant is kind of a sponge for oil, and it occurred to me that I might cut down on the fat, just a bit, by roasting it, rather than frying it. And so that's what I did
Why Roast The Tomatoes?
Roasting, as most of you know, does magical things to food, through something called the Maillard reaction. Basically, through a bunch of chemical miracle processes, the food turns brown (caramelizes) and brown food tastes good. (Close enough.)
So, it stands to reason that slightly browning tomatoes through the roasting process, and through that also evaporating some of the water in them, gives them a sweeter, more intense flavor. Yum! And that is the answer as to why I took my big box of grape tomatoes and roasted them, with olive oil, garlic, and some Italian seasonings like oregano, parsley, and whatever else was in that jar of Italian Seasoning.
Let's Talk About Ricotta Salata
The traditional recipe for Pasta Alla Norma calls for it.
I've never had it.
When I saw it at the grocery store, it was very expensive.
It's a more aged, evaporated form of ricotta cheese. Slightly harder than regular ricotta, but still soft-ish.
It's the pandemic. Substitutions are the stuff of life, SO
I used regular ricotta. I have no regrets.
If you feel like you'll have regrets, find you some ricotta salata somewhere. If you're looking for a substitute, some websites suggest feta. Others pecorino romano.
But the roasted cherry tomatoes were asking for something a bit creamier to bind everything together, so I think regular ricotta was an AMAZING substitute, and I'll do it again! Besides, I have a recipe for how to make ricotta at home. Therefore, this was a no brainer for me.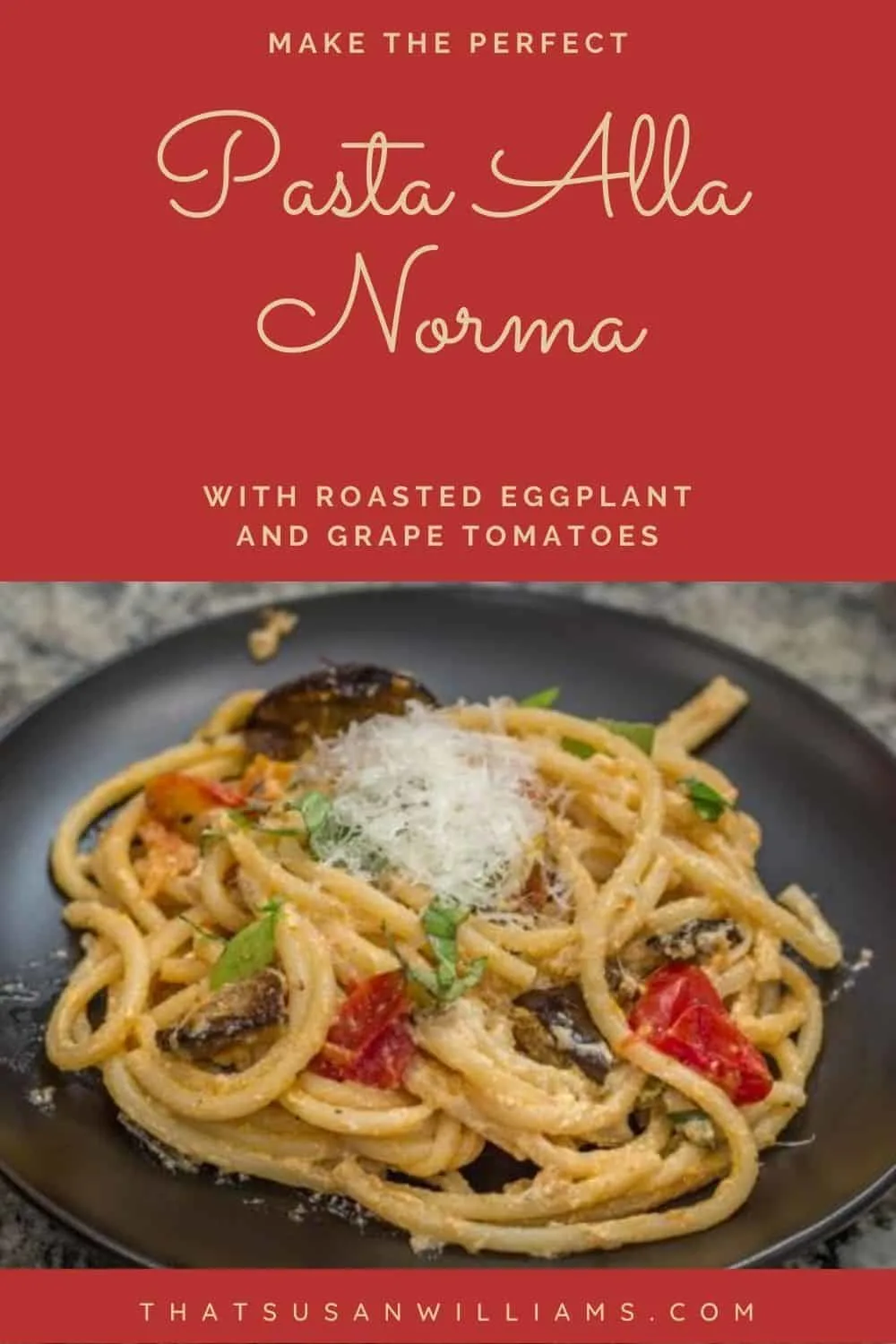 Yield: 4 servings
How to Make the Perfect Pasta Alla Norma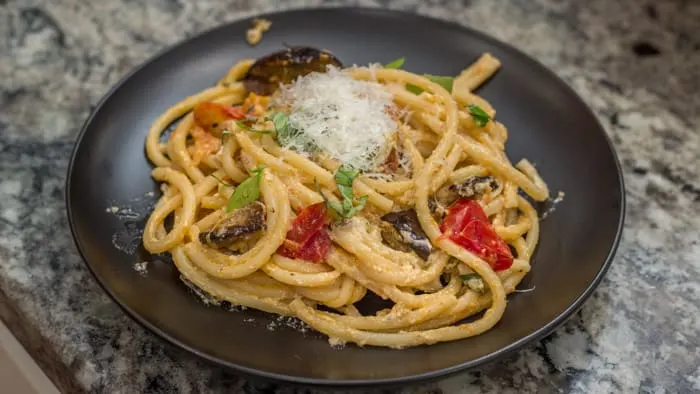 This recipe for the perfect Pasta Alla Norma utilizes the process of roasting to bring glorious sweet caramelized flavor to the eggplants and tomatoes you'll use to make it. It's kind of a genius way to bump up the flavor through the actual cooking process you've chosen.
Total Time
1 hour
10 minutes
Ingredients
1 ½ pounds eggplant, sliced into 1/2" planks, salted, rinsed and dried
Olive oil as needed (about a half a cup)
Sea salt and freshly ground black pepper
6 garlic cloves
1/4 t. red pepper flakes
1 lb. of fresh cherry tomatoes, halved
1 teaspoon good dried oregano, or 1 tablespoon fresh
1 pound long pasta (I used bucatini)
½ cup torn basil leaves
½ cup fresh ricotta
Instructions
Pre-heat oven to 400º. Place eggplant planks on baking sheet and drizzle with olive oil. Sprinkle with sea salt, freshly ground black pepper, and red pepper flakes. Roast for approximately 40 minutes, or until soft and caramelized.
Drizzle tomatoes and garlic with olive oil, salt and pepper, and Italian seasoning. Roast for approximately 20 minutes, or until tomatoes and garlic begin to slightly brown.
Cook pasta according to package directions, in water that is salty like the sea.
Empty the tomatoes, garlic, and their oil into a sauce pan, over low heat, and use a potato masher to squish them a bit. Add fresh oregano to pan, and continue mashing.
Cut the roasted eggplant into bite sized pieces.
When pasta is al dente, drain, and return to empty hot pasta pot. Top pasta with mashed tomatoes, garlic and oil. Then with eggplant chunks, ricotta divided into spoonfuls, torn basil, and grated parmesan.
Toss, and serve onto individual plates, serving with more grated parmesan.
Recommended Products
As an Amazon Associate and member of other affiliate programs, I earn from qualifying purchases.
Nutrition Information:
Yield:
4
Serving Size:
1
Amount Per Serving:
Calories:

340
Total Fat:

8g
Saturated Fat:

2g
Trans Fat:

0g
Unsaturated Fat:

5g
Cholesterol:

10mg
Sodium:

114mg
Carbohydrates:

58g
Fiber:

8g
Sugar:

9g
Protein:

13g