This post contains links that, if you click on them and make a purchase, will earn me money. As an Amazon Associate, I earn from qualifying purchases. . Regardless, I only recommend products or services that I believe will be good for my readers. Thanks for helping me continue to produce great content!
This post on how to make your own homemade bacon will explain to you the process of making bacon. I'll teach you how to cure and smoke your own bacon. And you won't believe how much better homemade bacon is than store bought bacon!
You'll learn the type of meat you'll need, and I'll share a FANTASTIC recipe for the delicious blend of spices we use, when we cure our own homemade bacon, at our house. (Which is whenever we need bacon!) You'll learn how easy the process of cold smoking is, even if you don't own a smoker, per se! You can make your own homemade bacon using just your grill, and a super cool gadget I'll show you that will only set you back a few bucks.
What Kind of Meat Do I Buy to Make Homemade Bacon?
Bacon is traditionally made from pork belly, that cut of pork on the pig's underside. (Just like it sounds!) Pork belly has alternating layers of meat and fat, and it has the precise ratio of fat to meat that you want in bacon: about 60/40.
Pork belly used to be kind of hard to find at regular grocery stores, but now that Costco is around, we buy ours, there. Since it comes from Costco, of course, you'd expect to buy it in quantity but that works out perfectly for this process. It's generally sold in slabs that weigh around 9 pounds. We divide ours into 3 different slabs, since a 3 pound slab fits nicely into a Food Saver bag. (For the uninitiated, Food Saver is a device that vacuum packs and seals foods. Perfect for curing and freezing purposes, since it prevents any juices from leaking out during the curing process, and any ice crystals from getting in during the freezing process.
If you're going to be curing a smaller slab of pork belly, you'll need to adjust the dry cure recipe accordingly.
What Does it Mean to Cure Bacon?
First, let's demystify the process of curing bacon by defining the word "cure". Curing bacon means to preserve something, with salt. Harmful microbes, bacteria and mold, things that cause meat to rot, need water to live. Salt basically dehydrates them, thus preserving the meat. It also restructures the muscle fiber of the meat, giving it greater intensity in flavor. Mmmm….bacon…..
What is Dry Cure?
Dry cure is basically a blend of spices that is also called a rub. The terms can be used interchangeably. A dry cure is a mixture of salt, sodium nitrite (which is also called curing salt), sugar, and whatever spices the recipe developer has chosen. This mixture is rubbed on the exterior of whatever meat is being cured, and is left on for at least a week, or two. While the meat is being cured, various flavor compounds begin to develop. Bacon contains around 150 different aromatic/flavor compounds. No WONDER we think it smells so good!!!
Some Facts About Curing Salt and Nitrites
Curing salt is pink, but don't mistake it for the pink salt that is known as Himalayan Pink Salt. They are definitely NOT the same thing! When people who are curing a pork belly mention "pink salt", they are NOT referring to Himalayan Pink Salt!
Pink Curing Salt contains sodium nitrite, and sometimes sodium nitrate. It deters rancidity and bacterial growth. It also gives bacon (and hot dogs) that blush pink color, and cured flavor.
Some people who are avoiding nitrites buy products labeled "uncured" in their grocery store, but the research done by Cook's Illustrated revealed that "uncured" bacon products tested as having at least as high, and sometimes HIGHER levels of nitrites in their bacon. How can this be? These companies were using very natural ingredients to cure their bacon: celery juice, and celery juice powder. Unfortunately, these natural ingredients contain super high levels of nitrites, that can become carcinogenic when heated, just like bacon cured with pink salt. So, legally, they can label their products as "uncured", but the nitrite levels are the same, or worse. (Sometimes, albeit very rarely, "all natural" is NOT the way to go.)
How Can I Smoke Bacon Without A Smoker?
I love that I get to share with you that makin' bacon doesn't require you to go out and spend a whole lot of money on a special smoker. If you have a grill, you can smoke your own bacon. How, you ask? I'm so glad you asked. I have a picture to show you!
This fine gadget is called the A-MAZE-N, and it's a smoke maze. You light one end of it with a propane torch, (you can see me doing it in this post's video), and the hickory sawdust pellets will slowly burn, their smoke filling the chamber of your grill, gently smoking the meat. Since the meat has already been cured, you don't need to worry about cold smoking the meat (no fire under it) for 8 hours. The salt and the nitrites have done their work of discouraging any bad joo-joo from messing with your bacon.
The Temperature Inside the Smoker Should Go No Higher Than 100º
Remember, you are cold smoking this pork belly. Not cooking it. If the temperature in the grill or smoker you're using goes higher than 100º, the fat will begin to render/melt. If the fat renders or melts on the maze, you could end up with a bit of grease fire, that will really raise the temperature inside your smoking chamber.
To Avoid Getting the Temperature Too High:
Use a thermometer to keep an eye on the temperature inside the grill/smoker.
Avoid placing the smoking maze too close to the meat, so that the fat won't begin to render, drip on the maze, and cause a grease fire.
Other Ways to Use Your Smoking Maze:
If you're the adventuresome type, like us, you might also want to play with your cold smoker A-MAZE-N in all kinds of ways. You could cold smoke cheeses, or nuts, or butter, or cream, or whatever your little heart gets a fancy to try! Now that opens up some culinary possibilities, doesn't it?
So here our pork bellies are, after emerging from their smoke bath, and let me tell you, we turn out some mighty fine bacon, every single time! It's so good, I'd venture a guess you'll never go back to store bought!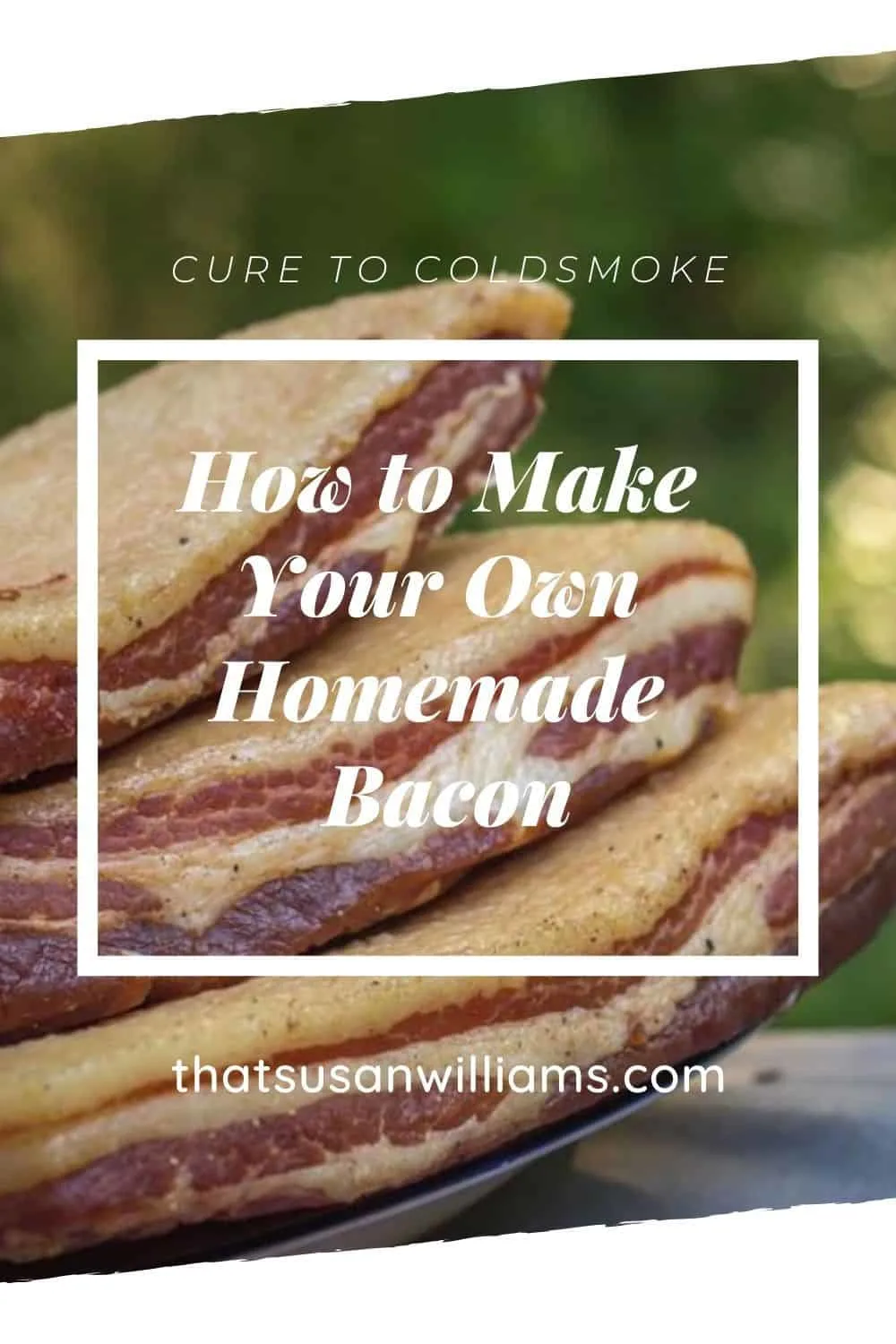 Yield: 9 lbs. of bacon
How to Make Your Own Homemade Bacon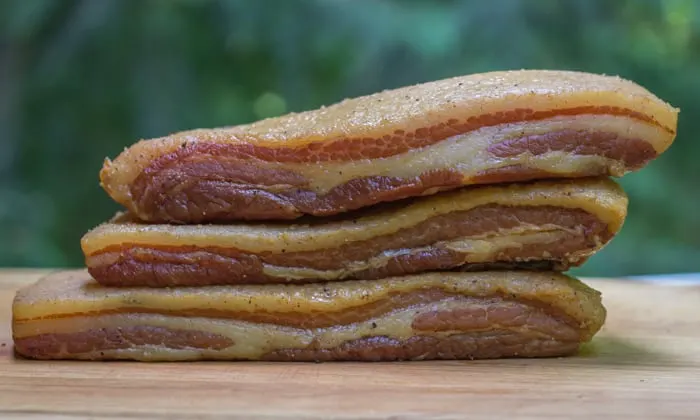 How to cure and smoke your own homemade bacon with a recipe for a delicious dry rub/cure. So easy, you'll be making this regularly!
Total Time
16 days
8 hours
10 minutes
Ingredients
1 9 lb. pork belly
1 1/2 c. Diamond Crystal salt, or kosher salt
1 1/2 c. light brown sugar
3 T. coarsely ground black pepper
3 T. Aleppo pepper
1 t. ground cinnamon
1 T. pink curing salt, #1
Instructions
Slice pork belly into 3 equal slabs.
Combine the salt, sugar, pepper, Aleppo pepper, cinnamon and curing salt in a bowl.
On a large cutting board, completely coat each slab of pork belly with the cure, patting it into all of its nooks and crannies. (Some people prefer to wear gloves for this part of the process.)Pack each coated slab of pork belly into a Food Saver bag and vacuum seal it. Place it in the refrigerator for 2 weeks, turning each bag every day to ensure that the cure and juices are evenly distributed. The cure WILL draw juices from the pork belly. This is a normal part of the process. Mark your calendar for the day that two weeks are up.
Cut the Food Saver bags open, and remove the meat from the bag. Discard the bag, and rinse the meat to remove all excess cure and all juices. Using paper towels, blot all the moisture from the meat.
Place the meat on a rack on a tray, uncovered, in your fridge, for 48 hours. The low humidity in your fridge will help to dry the meat, helping it to form an almost skin, called a pellicle. You want this. Again, the meat has already cured, so you need have no fear of spoilage.
Place the slabs of meat on your grill, fill the A-MAZE-N with the sawdust pellets of your choice, and light the opening at the end of the maze. Close the lid, and allow the pork bellies to cold smoke for 8 hours.
Remove from grill. Your bacon is now ready to either cook with, or be re-inserted into a clean Food Saver bag, and then frozen until you need it.
Notes
BE SURE THE TEMPERATURE INSIDE YOUR SMOKING CHAMBER DOESN'T GO ABOVE 100º. You're cold smoking. At temperatures above 100º, the fat could begin to melt. If the fat begins to render/melt over top of the Smoking Maze, you could end up with a grease fire! So position the maze so that the fat, were it to melt, does not drip onto the Smoking Maze.

Ground Aleppo pepper is a pepper that is more fruity than hot, and can be hard to find, but is worth searching out. I put a link to it in the recommended products below. You could substitute hot paprika.

Pink curing salt #1 is also called Prague Powder. Again, it's linked below.
Nutrition Information:
Yield:
72
Serving Size:
1
Amount Per Serving:
Calories:

181
Total Fat:

12g
Saturated Fat:

4g
Trans Fat:

0g
Unsaturated Fat:

7g
Cholesterol:

48mg
Sodium:

2274mg
Carbohydrates:

4g
Fiber:

0g
Sugar:

4g
Protein:

13g
Once you've made this Bacon, you'll discover you want to include it in all of your recipes. It will elevate every dish you make that contains bacon, Need a few suggestions? How about one of my most popular recipes:
Bacon-Roasted Buttercup Squash with Hot Rosemary Honey?
Or how about Green Beans and Potatoes?
Bacon! Bacon! Bacon!!!
Because there's never enough bacon. Never, ever, ever.
With over 150 aromatic compounds to delight your nose and palate, it's easy to understand why! Here are just a few of my recipes that utilize bacon. You'd be crazy not to check them out!