This post contains links that, if you click on them and make a purchase, will earn me money. Regardless, I only recommend products or services that I believe will be good for my readers. Thanks for helping me continue to produce great content!
Purple Hull Peas with Bacon and Rice are nothing but good Southern cooking! They are very similar to black-eyed peas, and you can use this recipe to cook black-eyed peas. But I didn't grow up eating them.
Field Peas: the Overarching Category
Over 10 years ago, back when we lived in town, I determined to expand my culinary knowledge by buying more local produce, grown here in Middle Tennessee. That was when I first encountered field peas.
Field peas are legumes, and there are various varieties of field peas. Among these varieties, you'll find Purple Hull Peas, Lady Peas, and Black Eyed Peas. While visiting a local farm stand, I saw a basket of hulled Lady Peas, and asked what they were. Lady Peas are a daintier, sweeter, creamier variety of field pea, and are also a cousin to the black-eyed pea. Purple Hull Peas are larger than lady peas, and greener than black eyed peas. And their hull is, well, purple! And so is the little dot that's on them (their "eye", if you will).

But for any variety of field pea – whether black eyed pea, purple hull or Lady Pea, I've found that the method of cooking that I'm going to share with you in this recipe works well.
HOT TIP: When you use this method for cooking Black-Eyed Peas, and it's New Year's Day, you can legitimately call it Hoppin' John.
I found the original recipe that I used in Gourmet magazine, but now, it's housed on the Epicurious website. They used salt pork in their recipe.
How Do You Cook Field Peas?
Basically, you need some kind of salted smoked pork to help you make a smoky, salty, pork-flavored broth called potlikker. Bacon works well, as does salt pork. But bacon is far easier to find, and readily available for most of us. In addition to adding flavor, the crispy bacon bits out of which you've rendered the fat, will add a lovely crunchy texture element to the dish.
The Recipe for Purple Hull Peas with Bacon and Rice
Yield: 4 servings
Purple Hull Peas with Bacon and Rice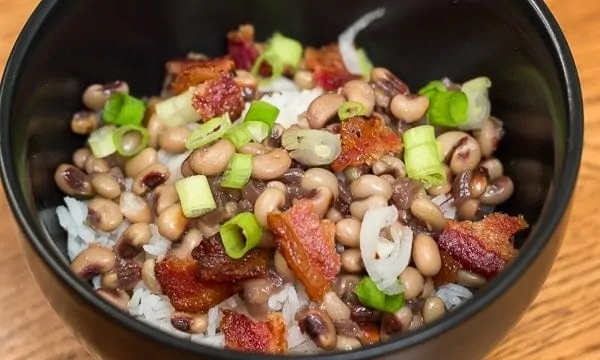 A delicious way to cook any variety of field pea - whether purple hull peas, black eyed peas or Lady Peas.
Ingredients
. 4 slices of bacon
. 1 medium onion, finely chopped
. 2 garlic cloves, finely chopped
. 1/8 t. red pepper flakes
. 3 c. of hulled purple hull peas (or lady peas)
. 3 c. water
. 1/4 c. sliced green onions
. Cooked rice, to be served as a base. I use jasmine.
Instructions
In a large Dutch oven, fry the bacon, (rendering out the fat) until crisp; drain the bacon strips on paper towels, and then crumble it. Reserve the fat in the Dutch oven.
Cook the onion in the fat, for about 4 minutes (until softened) and then add in the garlic, and red pepper flakes, and stir fry the mixture for another minute.
Stir in peas and water, and cook until tender, about 30-35 minutes. Taste, and season with additional sea salt and freshly ground black pepper, as needed.
Ladle over a bowl full of rice, and top with bacon crumbles and sliced scallions.
Recommended Products
As an Amazon Associate and member of other affiliate programs, I earn from qualifying purchases.
Nutrition Information:
Yield:
4
Serving Size:
1
Amount Per Serving:
Calories:

221
Total Fat:

4g
Saturated Fat:

1g
Trans Fat:

0g
Unsaturated Fat:

3g
Cholesterol:

11mg
Sodium:

207mg
Carbohydrates:

33g
Fiber:

7g
Sugar:

8g
Protein:

12g
If you're looking for recipes that make great use of some of the produce we have here in the Mid-South, you should try my recipe for
Bacon Roasted Buttercup Squash with Rosemary Honey.
Fried Okra that's as Addictive as Popcorn
is another sure-fire winner.
Southern Recipes You'll Love
If you enjoy good old Southern cooking...or Southern Cuisine (to put it a little more elegantly), I think you'll want to check out these recipes.