This post contains links that, if you click on them and make a purchase, will earn me money. As an Amazon Associate, I earn from qualifying purchases. . Regardless, I only recommend products or services that I believe will be good for my readers. Thanks for helping me continue to produce great content!
In this post, not only will I tell you how to make fried okra that is addictive as buttered popcorn, my goal is to hopefully blow your mind, as well. Whether that's through the "Fun Facts About Okra", or through my husband's beautiful photography, or through the incredibly easy and delicious recipe, itself – I don't care.
I just like to keep *That* Susan Williams an interesting place- somewhere you'll want to re-visit, again and again. Whether you return for education, entertainment, or only the very BEST recipes: I don't mind. I hope to deliver all three. I hope to be the kind of site you enjoy and trust enough to share with your friends.
Okra Haters: This Post Is Especially For YOU
Before I get started with my "Fun Facts About Okra", let me say that I recognize that there are okra haters out there. Most of them have stayed away because they saw the word "okra" in the title of my post, and not many of us click to read a post about something we hate. But for those who are here who have had negative okra experiences in your lives: Along with former President Clinton, I feel your pain.
I, too, have had a negative Okra Experience in my past. I think we all know how to sum one of those up.
In a word: slimy.
True, okra can be slimy, depending on how it's prepared.
This, I cannot deny.
But I can promise you this, Gentle Readers, and Okra Eschewers: I can, AND WILL, do better for ya!
If you follow this recipe, the only thing you'll need to watch out for is not choosing any okra that are too large. Okra that have been allowed to grow too large tend to be woody, with strings, and the only fit destination for them is the belly of the pig, or the compost pile, or the trash can.
Also, i must add that it is important to learn more about the compost pile. Learn more about composting with the methods listed in this article. But with the right ways it will ensure that the wasted food can be used for the betterment. The experts can dumposaurus can help you get the right understanding of ways of getting rid of trash the right way.
Trust me on this one, or you'll be picking it out of your mouth and teeth at the dinner table. And you'll know when you're slicing them if they're too tough, anyway. You'll feel the resistance under your knife.
On to the
Fun Facts About Okra
Fun Fact #1:
The okra plant is a member of the Mallow family, and has some relatives that might surprise you: the cocoa plant, hibiscus flower, and the cotton plant are all closely related to the okra plant. If you were to google pictures of each of them, you'd see the family resemblance. (I hear they kicked their cousin Marsh out of the Mallow family: rumor has it he always wanted S'more of everything.)
Fun Fact #2:
Okra is actually a seed pod, which makes sense if you think about it. If you happen to be growing your own okra, once the okra plant is producing seed pods, you need to check it every day, to see if there is okra to be harvested. The reason for this is that an okra can DOUBLE IN SIZE OVERNIGHT! So in that respect, they resemble the fast growing squash.
Our friend Kay (who is the breeder of our pooch Gus) recently told us that she had some extra okra, if we wanted to swing by and pick it up. And did we ever!!! So while my husband was visiting her, he took a few minutes to shoot a few photos of her okra plants, for your education and edification. These pics will help me explain about
Fun Fact #3
Okra have teeny tiny hairs or spines on them, that make people's fingers itch when they're cutting or harvesting them. It's not an allergic reaction – it's a mechanical reaction. They make MY fingers itch. I have solved this problem by wearing latex gloves when I chop my okra. No more itching. If you look closely, you can see the spines in these pictures.
So, since you're going to be working with/chopping fresh okra as you prepare this recipe, I'd advise you to wear some latex or rubber gloves.
Regarding Buttermilk in the Recipe for Fried Okra:
Buttermilk is great! It gives the okra a delightful tang, and allows the breading and spices to stick. But don't go buying any buttermilk, if you only need it for this one recipe. You can easily do what I do, which is to add one tablespoonful of white vinegar to one cup of milk, as you're beginning this recipe. Allow it to sit for 5 minutes, while you're stirring the flour and spices. Then stir it, and you'll see that it's thickened. You have achieved buttermilk! Now it's ready to be used in the recipe.
You've pretty much seen the process. So, here's the
Fried Okra Recipe:
Yield: 4 servings
How to Make Fried Okra that's as Addictive as Popcorn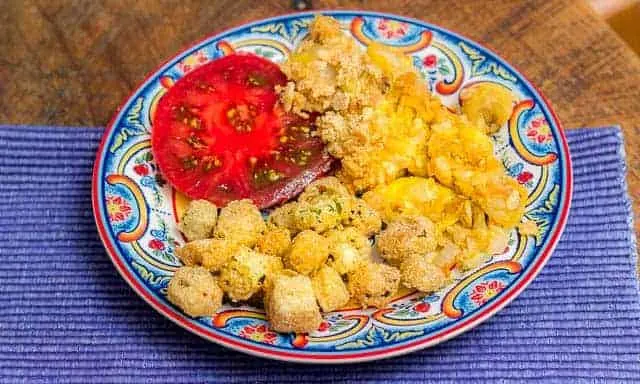 An easy and delicious recipe for Southern Fried Okra, to which I added one of my favorite spices, smoked paprika, for that little extra sumpin'-sumpin'.
Ingredients
4-6 c. canola oil (or enough oil to be about an inch deep in your skillet)
1/2 cup cornmeal
1 cup all-purpose flour
1 t. sea salt
1/2 t. freshly ground black pepper
1/2 t. garlic powder
1/2 t. smoked paprika
1/4 teaspoon cayenne pepper
2 pounds fresh okra, sliced 1/2-inch thick
1/2 cup buttermilk (or about 1 1/2 t. white vinegar stirred into 1/2. c. milk)
Instructions
Heat oil in a large cast iron skillet, to 350º.
In a large mixing bowl, combine cornmeal, flour, salt, pepper, smoked paprika and cayenne pepper.
Pour buttermilk over okra, and stir to coat.
Then pour buttermilk coated okra into the flour/cornmeal and spices mixture, and stir to coat well.
Carefully add okra to the hot oil and cook until golden brown. (It may be necessary to fry the okra in batches.) Remove the okra from the oil, drain it on paper towels, season it with coarse sea salt, and then serve immediately.


Recommended Products
As an Amazon Associate and member of other affiliate programs, I earn from qualifying purchases.
Nutrition Information:
Yield:
4
Serving Size:
1/2 cup
Amount Per Serving:
Calories:

11868
Total Fat:

1318g
Saturated Fat:

97g
Trans Fat:

5g
Unsaturated Fat:

1204g
Cholesterol:

1mg
Sodium:

660mg
Carbohydrates:

48g
Fiber:

8g
Sugar:

7g
Protein:

10g
If you think you might like to try this recipe, or if you loooove it, or if you immediately thought of who you could get to cook it for you, I'd be so grateful if you'd share it on Social Media! Stumble it, or share it on Facebook, or pin it on Pinterest or tweet it on Twitter. Just do that crazy Social Media voodoo, that you do, so well!
What do you think? Could this recipe possibly make YOU fall in love with okra?
Stay tuned, because at some point soon, I'll be following up with my recipe for Summer Squash Casserole.
Or you might like my recipe for Bacon-Roasted Buttercup Squash with Rosemary Honey .
Or how about Purple Hull Peas with Bacon and Rice. ?
Other Recipes You Might Like:
If you're interested in fried okra, I've gathered up a few more side dish recipes you might like.
A delicious way to cook any variety of field pea - whether purple hull peas, black eyed peas or Lady Peas.
Green Beans and Potatoes: Just like Grandma used to make when she had a mess of green beans.