This post contains links that, if you click on them and make a purchase, will earn me money. As an Amazon Associate, I earn from qualifying purchases. . Regardless, I only recommend products or services that I believe will be good for my readers. Thanks for helping me continue to produce great content!
This recipe for Bacon-roasted Buttercup Squash with Rosemary Honey is your gateway dish into seeing winter squash as a source of delight, not duty. Honest!!!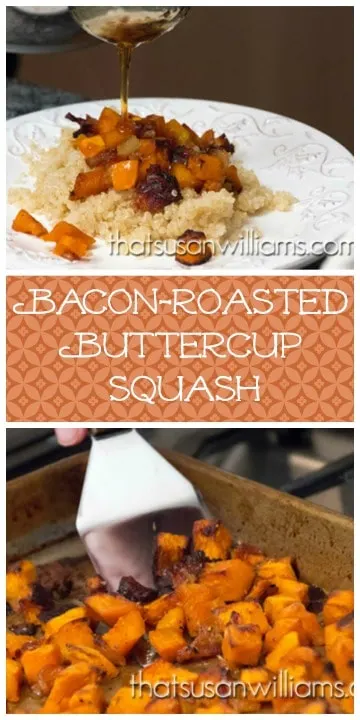 What Can I Cook with a Winter Squash?
My CSA provided me with a winter squash that I'd never cooked with before, and quite honestly, didn't know the name of. After less than a minute of googling winter squash pictures, there it was: the Buttercup Squash.
Buttercup Squash looks a lot like a green acorn squash, with yellowish freckles. It's shortish, somewhat squatty, and, let's face it: not destined to win any Squash Beauty Contests.
That's why I neglected to take any pictures of it, before I prepared it. The insides looked, smelled, and tasted almost exactly like a butternut squash, so that's how I decided to treat it when I went about deciding how to cook it.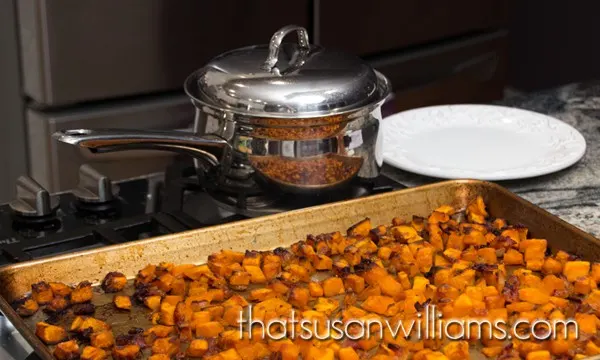 I wish I could call this a vegetarian recipe, and it's tempting to do so, but, you know…bacon. You *could* omit the bacon, and it would be a delicious vegetarian recipe. (Except…it would be missing…you know…bacon.)
Where Did You Get the Idea for Bacon-Roasted Buttercup Squash with Rosemary Honey?
I was pretty excited when I ran into this recipe by Vivian Howard. I had seen a special on her on PBS called "A Chef's Life". It told how she and her husband had been chefs in NYC, but had come back to the mountains of NC where she was raised, to run their own restaurant. I enjoyed very much seeing how she and her husband are utilizing the products produced in their area: produce and ingredients which are so familiar to me.
So I adapted my version of Bacon-Roasted Buttercup Squash from her recipe, and it is fantastic! I don't think I'll ever look for a different way of preparing winter squash again! The Rosemary Honey is what makes it so exquisite: the honey brings sweetness, the rosemary adds an herbal note, the tartness of the cider vinegar adds acidity that balances the sweetness of the honey, the pepper flakes bring a welcome zing of heat, and soy sauce contributes a meaty umami flavor. All things work together for the good of your palate, and I guarantee, you'll be giving thanks for this recipe!
Serve the Bacon-Roasted Buttercup Squash over Quinoa for a satisfying winter meal that is packed with flavor.
This is one of those recipes that you'll NEED in your recipe repertoire next time a winter squash shows up in your CSA basket. So, please, do yourself a favor and Pin this to Pinterest, so it will be there when you need it!
Yield: 4 servings
Bacon-Roasted Buttercup Squash with Rosemary Honey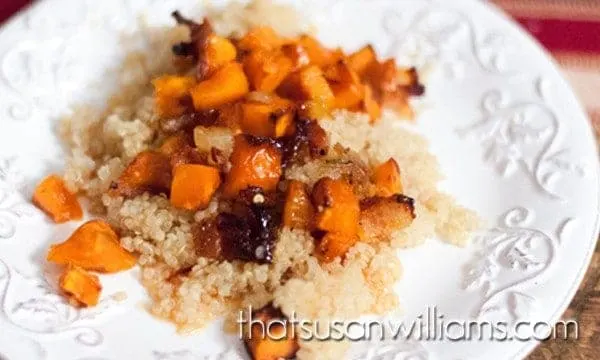 Savory, but slightly sweet and spicy, this recipe for roasting squash or other root vegetables is divine!
Ingredients
For the Rosemary Honey:
1/2 c. honey (I used Sourwood Honey: yum!)
1/4 c. cider vinegar
1 T. soy sauce
2 sprigs of fresh rosemary
1/4 t. red pepper flakes
For the Roasted Buttercup Squash:
5 c. Buttercup Squash, diced into 1/2" cubes (alternatively, you could use many other types of root vegetables, such as acorn squash, butternut squash, carrots, or sweet potatoes)
8 slices of bacon, sliced into 1/2" slices (aka lardons)
1 T. brown sugar
1 T. canola oil
Sea salt, and freshly ground black pepper, to taste
Quinoa, cooked according to package directions
Instructions
To make the Rosemary Honey: In a small saucepan, bring the honey, vinegar, soy sauce, rosemary and red pepper flakes to a simmer over medium heat. Reduce mixture to about 1/2 c., for about 8-10 minutes - mixture will thicken.
Remove from heat, allow to cool. Discard rosemary.
To Roast the Squash and Bacon: Pre-heat the oven to 375º.
In a bowl, toss together the squash, bacon, sugar and oil, and season with sea salt and freshly ground black pepper, generously.
Spread the squash and bacon onto a parchment paper lined rimmed baking sheet, into a single layer. Roast, stirring the mixture about halfway through roasting to ensure more even caramelization. This should take 25-30 minutes, depending on your oven.
Spoon mixture over cooked quinoa, and drizzle with honey.
Recommended Products
As an Amazon Associate and member of other affiliate programs, I earn from qualifying purchases.
Nutrition Information:
Yield:
4 servings
Serving Size:
1
Amount Per Serving:
Calories:

364
Total Fat:

13g
Saturated Fat:

3g
Trans Fat:

0g
Unsaturated Fat:

9g
Cholesterol:

23mg
Sodium:

688mg
Carbohydrates:

52g
Fiber:

3g
Sugar:

43g
Protein:

12g