This post contains links that, if you click on them and make a purchase, will earn me money. Regardless, I only recommend products or services that I believe will be good for my readers. Thanks for helping me continue to produce great content!
Minestrone with Pesto and Garlic Bruschetta is such a great soup for the colder months! Winter hasn't QUITE given up the ghost in these parts, so how about a delicious soup, packed with vegetables to nourish your body, beans for heartiness, pasta to comfort your soul, and bacon to add that sumpin'-sumpin' that only bacon brings: that salty, smoky bit of pig-candy our mouths love so well!
Ina Makes Good Soup!
I found this recipe in my Ina Garten Barefoot Contessa Foolproof cookbook, and adapted it for the ingredients I had available in my pantry and fridge. It was fantastic, and I'd happily make and serve it again, and again. If you decide to make this, you will NOT be disappointed!
Here are the adaptations that I made to Ina Garten's minestrone recipe. The first two require extra bits of work. I feel those extra efforts add so much, but you can totally avoid or ignore them, should you so desire – especially if you're low on time and energy!
Use Homemade Chicken Stock If You Can
First, I used homemade chicken stock . I have a recipe for how I make mine, here. I freeze leftover chicken bones in a ziplock gallon bag in the freezer. Then, when I have enough chicken bones, I'll make a batch of stock, and freeze it. I like to have it on hand in my freezer, for when I'm ready to make soup.
If you need to used boxed or canned chicken broth, no worries! You will still end up with a delicious pot of minestrone.
About That Pesto
Second, Ina used store bought pesto. You can, if you like, ignore the pesto step altogether. It's a perfectly delicious soup without the pesto. I added the pesto, and I loved it. It brought a richness that I found quite satisfying. But it's not NECESSARY, in order to enjoy this soup.
Ever the over-achiever, I made my own pesto. Here's the recipe I used: I think I actually made about 1/4 of the recipe. I didn't have much basil (it's not summertime!) so to add more green stuff, I threw in some spinach that I wasn't going to use in the soup. That worked great.
In Regard to Bruschetta
Bruschetta simply means toast. You knew that, right? In Italy, when serving toasted bread with soup, cooks frequently rub the bread with a smashed garlic clove.
Because I had just baked a loaf of bread, the bread I used to make bruschetta was my own recipe for Sesame Semolina bread. That's a little (OK…that's WAY) over the top, but if you like to bake bread, you won't believe how easy this recipe is for artisan bread. It's my favorite.
In Regard to Adding Some Type of Pork
First: you don't need to. This recipe can be kept strictly vegetarian, and will still be terrific! Ina called for pancetta, but I didn't have that, so I used bacon, which was great.
Ingredient Notes for Potential Substitutions
Ina called for a special kind of tomatoes (Pomi) that I didn't have, so I just used regular canned diced tomatoes.
Ina called for butternut squash, and I used that, but I think you could easily substitute diced potatoes, too, or sweet potatoes, if your family might prefer that, or if that's what you have on hand.
Ina called for tubetti pasta, but I used ditalini, which is a small pasta that is kind of like shorter tubes of elbow macaroni. But you could use any other kind of small pasta.
Finally, I doubled the amount of cannellini beans that she called for, just because we like them.
IF YOU LIKE THIS RECIPE, WON'T YOU PLEASE PIN IT ON PINTEREST?
(I'm not shouting. I'm just enthusiastic! 😀 )
Yield: 8 servings
Minestrone with Pesto and Garlic Bruschetta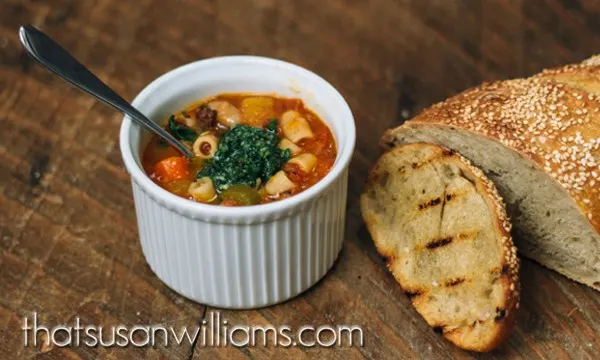 A delicious soup, filled with vegetables, beans, bacon, and pasta. But if you'd like to gild the lily a bit, top with pesto, and serve with garlic bruschetta.
Total Time
1 hour
20 minutes
Ingredients
FOR THE SOUP:
2 tablespoons olive oil
4 strips of bacon, sliced into 1/2" wide strips across the grain
1 large onion, diced
2 c. carrots, diced
2 c. celery, diced
2 c. butternut squash, diced
4 cloves of garlic, minced
2 teaspoons chopped fresh thyme
28 oz. chopped canned tomatoes
8 c. homemade chicken stock (if possible) or canned/boxed chicken stock
1 bay leaf
sea salt and freshly ground black pepper
2 14 oz. cans of cannellini beans, drained and rinsed
2 c. cooked small pasta, like ditalini
8 to 10 oz. fresh spinach
1/2 c. good dry white wine
TO GARNISH:
1/2 c. fresh pesto
FOR THE GARLIC BRUSCHETTA:
1 baguette
1/4 c. olive oil
1 garlic clove, cut in half, lengthwise
Instructions
FOR THE MINESTRONE: Heat the olive oil in a Dutch oven.
Add the chopped bacon, and cook over medium low heat for around 6 minutes, until bacon is lightly browned.
Add the onions, carrots, celery, squash, garlic, and thyme, and cook over medium heat for about 8-10 minutes, until the vegetables begin to soften.
Add the tomatoes, chicken stock, bay leaf, 2 teaspoons of salt, and 1 teaspoon of pepper. Bring to a boil, reduce to simmer. Simmer for 30 minutes, until the vegetables are tender.
Discard the bay leaf. Add the beans and cooked pasta, and heat through. Soup will be quite thick.
Just before serving, add in spinach, and toss with a spoon. Cook a few more minutes, until spinach is wilted. Stir in white wine, and 2 T. of pesto. Taste, and adjust seasoning, adding more salt or pepper, to taste.
Top each bowl with a small dollop of remaining pesto, and serve with garlic bruschetta on the side.
FOR THE GARLIC BRUSCHETTA: Heat a cast iron grill on stove top.
Slice the baguette at a 45º angle into 1/2" slices.
Brush both sides of slices with olive oil, and grill until lightly toasted.
Remove from grill, and rub the surfaces of each slice with the sliced garlic.
Notes
Ina Garten's recipe called for pancetta instead of bacon, so that's an option, but I had bacon, so bacon is what I used. My soup was fabulous.
Ina also called for store-bought pesto. I can't abide store-bought pesto, so I made my own with basil, parsley, and some of the remaining spinach that I had. Deelish! See the recipe for fresh pesto here on my blog.
I doubled the amount of cannellini beans, because we love them, and I wanted a nice, hearty soup.
If you can't find ditalini (small pasta) use whatever you can find. Stars might be nice!
Recommended Products
As an Amazon Associate and member of other affiliate programs, I earn from qualifying purchases.
Nutrition Information:
Yield:
8 servings
Serving Size:
1
Amount Per Serving:
Calories:

743
Total Fat:

26g
Saturated Fat:

5g
Trans Fat:

0g
Unsaturated Fat:

19g
Cholesterol:

17mg
Sodium:

1490mg
Carbohydrates:

95g
Fiber:

20g
Sugar:

14g
Protein:

36g
More Soup for YOU!
We really love soup around here. I hope you'll try one or two of these. Each one is a treat!