This post contains links that, if you click on them and make a purchase, will earn me money. Regardless, I only recommend products or services that I believe will be good for my readers. Thanks for helping me continue to produce great content!
This recipe for Loaded Baked Potato Leek Soup with Bacon is better than most recipes I've seen for Potato Soup, because it has LEEKS in it. Leeks are my husband's favorite: they lend a subtle sweet under-note to this outrageously rich, delicious, savory soup.
My Irish Root(s) Vegetable
Loaded Baked Potato Leek Soup with Bacon can bring any hungry tummy, and soul, good cheer. But what about good luck?
Have you ever heard this traditional St. Patrick's Day phrase?
"The Luck of the Irish".
It hit me this morning as I was planning this post, that we Irish, as a people, have had spectacularly bad luck.
Can you say "potato famine"? For six years?
I thought you could.
Let's Talk About What A Frugal Meal This Is
Be that as it may, my people survived those years, in part because of their thrift, and this meal is quite a thrifty meal when your finances are kind of tight, because at my house, it's actually two meals for the price of one, with very little expense for the amount of protein involved. (Soup the first night. Loaded potato skins the second night. Mmmm. Loaded potato skins. Love those.)
Bacon packs a powerful amount of flavor in a small portion, and you don't have to cook THAT much of it to take advantage of its flavor boost. I use as much as I do (6 slices) and spread that out over two meals, so, really, it's just 3 slices of bacon per night. Not THAT much.
Potatoes are cheap.
And I buy cheddar cheese when it's on sale, grate it, and store it in 2 c. portions in ziplocks in the freezer, and take it out when I'm ready to use it.)
So, really, the only ingredient that I use in this soup that is a bit pricey is the leeks. (Which you could omit, and opt for only green onions, which are cheaper. But if you can afford the leeks, you totally should use them. Their sweet flavor adds so much to this soup!)
Would A Slow Cooker Version Be Better?
I've tried several versions of baked potato soup, because I only share recipes that are the best of the best, right? I tried America's Test Kitchens Slow Cooker Loaded Baked Potato Soup, certain that it would likely be my winner. There's something magical when you put the words "Slow Cooker" in front of a recipe. (I get a lot of hits that way from the search engines, too, from people looking for ways to utilize their slow cookers better.)
My verdict? Surprisingly to me and my family, the America's Test Kitchens recipe for the slow cooker was not the best!
Homeschoolers For The Win?
My family and I all preferred the version I'm going to share with you today, that is my own adaptation of a version I saw many years ago on a homeschool internet forum. I altered the original recipe by sautéing leeks in the bacon drippings, and adding those to the soup. I also cut back on some of the fat in the original recipe, which in my opinion, made it much mo' bettah.
(OK, and here's my favorite inside story on the origins of this recipe. On this homeschool forum where I found the recipe, they had software in place that was very locked down in terms of not allowing anything REMOTELY resembling an obscenity. In fact, the software was so strict that when this sweet homeschooling Mom's recipe directed her readers to "prick the potatoes", the recipe came out looking like this on the forum:
"***** each with a fork several times before baking."
Software censoring of a perfectly good verb. Now, I don't know about you, but that makes my mind go places it NEVER would have gone had they not been busy keeping me all pure and stuff.
Anyway…back to the subject at hand.
Here is the recipe for
The Recipe for Loaded Baked Potato and Leek Soup with Bacon
Yield: 6 servings
Loaded Baked Potato Leek Soup with Bacon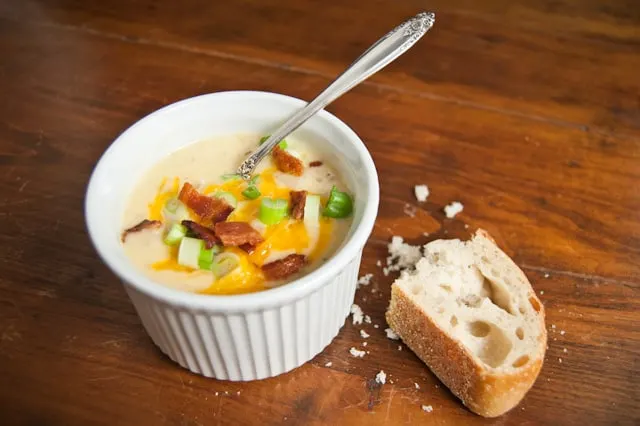 Loaded Baked Potato Leek Soup with Bacon is perhaps the ultimate comfort food! Perfect for those looking for frugal recipes.
Ingredients
4 large baking potatoes, about 10 oz. each
6 strips of bacon
2 leeks, halved lengthwise, carefully washed to remove grit, and then sliced thinly into half moons
1/3 c. butter
1/3 c. canola oil
2/3 c. flour
6 c. milk
1 teaspoon sea salt
1/2 teaspoon freshly ground black pepper
GARNISH:
1 c. shredded cheddar cheese, plus more for garnish
2 tablespoons chopped green onions
. .
Instructions
Wash and pierce the potatoes several times with a fork. Bake potatoes at 400º for about an hour until done.
Cool potatoes and cut in half and scoop out pulp. Set aside.
(It's your Irish lucky day: a recipe within a recipe! Save those skins in a ziplock bag in the fridge for dinner the next night. Brush with garlic butter, top with cheese and bacon and broil till cheese is melted and bubbly, and top with sour cream and green onions.)
Fry 6 slices of bacon. (I do mine in a cast iron skillet inside the oven at 400º for @20 minutes. That way I don't have to turn the bacon, or clean up the spatter on the stovetop.)
Place crisp bacon on a paper towel to drain, and crumble it when cool.
Sauté sliced leeks in the bacon drippings. Set aside.
Melt butter and oil over low heat in a Dutch oven.
Add flour and whisk constantly, browning the flour for about 1 minute or so in the hot fat.
Gradually pour in milk and cook over medium heat, stirring constantly to avoid lumps, until thickened and bubbly.
Stir in until heated: potato pulp, salt and pepper, sautéed leeks, 1 c. cheddar cheese, and 1/2 c. crumbled bacon. Taste and adjust seasoning: potatoes like a LOT of salt.
Garnish as desired with remaining bacon, cheddar cheese and sour cream.
Recommended Products
As an Amazon Associate and member of other affiliate programs, I earn from qualifying purchases.
If you're interested in other recipes that relate to Ireland or St. Patrick's Day recipes, check out the following recipes:
Corned Beef and Cabbage
Champ (Irish Mashed Potatoes)