This post contains links that, if you click on them and make a purchase, will earn me money. As an Amazon Associate, I earn from qualifying purchases. . Regardless, I only recommend products or services that I believe will be good for my readers. Thanks for helping me continue to produce great content!
Pumpkin Soup with Apple Cranberry Relish, and Spicy Pepitas is a delicious recipe for fall or winter – especially for when your soul needs a little comfort food.
It's the perfect thing for the winter weather that's on our horizon. When the weather outside looks frightful, there is nothing that warms the soul and lifts the spirits like a comforting bowl of soup!I would have ~never~ guessed when I was a child, that I'd be craving a lovely bowl of pumpkin soup, but life is full of surprises!
How I Discovered This Recipe
I told you a while back that I'd had a great talk with Chef Roy at the late Cantina Laredo, and that he'd shared with me at some length how he made the Pumpkin Soup that he served us that evening.
I came home and did my best to reproduce what Chef Roy had described to me. My family really enjoyed my own effort at recreating what Chef Roy served us, and so I thought I'd share the recipe that was my best attempt at recreating his delicious soup.
What Makes This Recipe for Pumpkin Soup Unique?
Most Pumpkin Soup recipes, in general, are very similar. The thing that really distinguishes this recipe, and makes it unique, is the delicious topping.
The Relish That Tops the Pumpkin Soup
The relish contains a little heat, a little sweet, and the spicy crunch of the pepitas. You know pepitas are roasted pumpkin seeds, right? They're one of my favorite snacks, and not only because they're delicious. Pepitas are high in magnesium, which is helpful for those of us who suffer from muscle aches, and who struggle to get a good night's sleep. So, they're not only good: they're good for you, too!
Hope my efforts at recreating what you made for us come pretty close, Chef Roy! I may not have gone about it in exactly the same way you did, but ultimately, the flavor of my version really was delicious!
I'd be delighted if you'd share this image on Pinterest.
The Recipe for Pumpkin Soup with Apple-Cranberry Relish and Spicy Pepitas
Yield: 4 servings
Pumpkin Soup with Apple-Cranberry Relish and Spicy Pepitas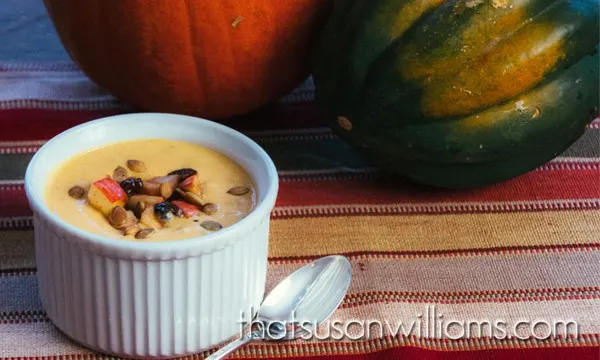 A creamy, savory pumpkin soup with a bright apple cranberry relish, and spicy pepitas.
Ingredients
FOR THE SOUP:
1 T. olive oil
2 T. butter
1 dried bay leaf
1 rib celery, finely chopped
1 onion, finely chopped
sea salt
freshly ground black pepper
3 T. flour
2 t. chopped fresh thyme
1/2 t. chipotle chili powder
1/2 t. Cholula hot sauce (or hot sauce of your preference)
6 c. chicken stock (use homemade if you've got it! I did)
1 28 oz. can pumpkin purée
2 c. heavy cream
FOR THE RELISH:
1 crisp red apple, like Gala
1/4 c. red onion
2 T. lemon juice
1/2 c. dried cranberries or cherries
1/4 t. chipotle chili powder
1/4 t. ground cinnamon
FOR THE PEPITAS:
1 c. pepitas
1 t. olive oil
1/2 t. salt
1/2 t. sugar
a pinch of cayenne pepper
Instructions
FOR THE SOUP: Heat oil and butter in a Dutch oven over medium high heat. Add celery, onion, and bay leaf. Season the veggies with salt & pepper. Cook until translucent and tender, about 6 or 7 minutes.
Whisk in flour, thyme, chili powder and hot sauce (to taste), and allow flour to cook and spices to bloom for a minute.
Add chicken stock, continuing to whisk. Bring it to a boil and stir in pumpkin purée in large spoonfuls, continuing to stir. Simmer for 10 minutes, then add in cream. Reduce heat to low.
At this point, if you prefer your soup with texture, you can leave it as is. If you prefer a smooth purée, either blend it in batches in your blender/Vitamix (be careful not to fill blender too full: hot liquids expand and can explode! I usually don't fill my blender over half full when it comes to hot soups), or if you happen to have an immersion blender, that would be really handy!
Taste soup and adjust seasoning.


FOR THE RELISH: Combine all ingredients, and stir. Spoon onto top of soup.
FOR THE PEPITAS: Preheat the oven to 375 degrees.
Toss all of the ingredients together in a bowl. Spread on a baking sheet and bake 5 minutes, or until lightly browned,


Recommended Products
As an Amazon Associate and member of other affiliate programs, I earn from qualifying purchases.
Nutrition Information:
Yield:
4
Serving Size:
1
Amount Per Serving:
Calories:

1058
Total Fat:

76g
Saturated Fat:

36g
Trans Fat:

2g
Unsaturated Fat:

34g
Cholesterol:

161mg
Sodium:

1125mg
Carbohydrates:

80g
Fiber:

12g
Sugar:

43g
Protein:

26g