This post contains links that, if you click on them and make a purchase, will earn me money. Regardless, I only recommend products or services that I believe will be good for my readers. Thanks for helping me continue to produce great content!
Lentil Soup with Kielbasa is the perfect soup to warm up your heart, soul, and tummy on a chilly fall or winter evening. And it's easy, too!
Why I Thought I Could Never Serve Lentil Soup:
The reason has been 25 years in the making. I'm at a bit of a disadvantage, since some of the story really didn't exactly happen to me. It happened to my husband, and is responsible for his complete and TOTAL RESISTANCE to anything lentil-like.
I blame his dear, sweet mother, may she rest in peace. When all else fails, blame your parents. Everybody else does.
His mother, God rest her soul, was a phenomenal woman, and a less than phenomenal cook. This has actually served ME quite well, causing him to cherish me all the more, for my ability to cook a good meal. And I'm not complaining! I'm smart enough to be grateful to have married a man whose mother, while she loved her family devotedly, was better at delivering babies than she was at delivering a delectable meal.
My mother-in-law was a woman ahead of her time: she was "crunchy" when "crunchy" wasn't cool. She loved herbs, and regularly visited her "herb lady", and tried to push the woman's prescriptions on us. Now the herb prescriptions may have been based in good science, but my husband looked at her like she'd been visiting a witch doctor. She took more herbs and vitamins than anyone I ever knew. If one herb was good, twelve were better.
She cooked with those herbs, too.
As a young bride, I thought it would be smart to learn to cook some dishes from my mother-in-law, thinking there were recipes that she had made (the way my mom's spaghetti sauce meant so much to me) that I could learn that would make my new husband happy.
I went into the kitchen one night, where she was cooking a chicken in a crock pot. She removed the lid and revealed a fowl that was gray and ghastly, bobbing in the liquid surrounding it like a corpse that had been in the water for three days. And when I asked her what she was about to add to it, she replied, blithely, "Ooooh, I don't know…a little of this…a little of that…." and began opening herb jars and dumping stuff in, one after another, after another.
The formerly ghastly, gray chicken corpse soon was covered by a thick, oily, swamp-green layer of slime, as if the aforementioned pond had closed over its victim, dragging it down to its final destiny.
Yum!!!
My mother-in-law was a firm believer in not just herbs, but "health foods", too.
She read books by Adele Davis, the American nutritionist who believed in unprocessed foods and vitamin supplementation. She used to mix up a concoction called "Tiger's Milk", and make her children drink it.
I've done a little research on this stuff, since I never had to drink it myself, because I was curious. It's also called "Pep Up"in the Adele Davis book, and it contains milk, banana, milk powder, brewer's yeast, and wheat germ. It seems my husband and his siblings were not alone in drinking Tiger's Milk: apparently lots of people on the internet remember this stuff. (I don't.) But of the ones who do, many seem to remember it fondly, and find themselves searching for the recipe.
My husband and his siblings do not carry the same warm, happy memories of Tiger's Milk from their childhood. I can only attribute this to my mother-in-law's penchant for believing that "if a little is good, more is better", and overdosing her recipe with whatever the "good for you" ingredient was…probably wheat germ, or brewer's yeast.
What my husband remembers is that he killed what HAD been a perfectly healthy houseplant by secretly "watering it" with his daily ration of Tiger's Milk. Plants, at the very least, DIDN'T grow healthy and strong on the stuff.
All that to say, lentils were considered "healthy", and my dear husband and his siblings were subjected by their mother, to a lot of lentils. God knows what she did to them, but whatever it was, my husband was positive he hated them.
The Barefoot Contessa Comes to My Rescue
But the day I watched Ina Garten, The Barefoot Contessa's show on Lentil Soup with Kielbasa, and saw how good it looked, I thought that perhaps I'd give the whole "lentil thing" one last try, despite his resistance. His comment, as he tasted, then slurped, and finally gobbled his way through his bowl of lentil soup, was:
"These ain't lentils.".
Yes, dear, they are.
You've only had your sweet Mother's lentil soup, may she rest in peace.
THAT was not good lentil soup.
But what I have to share with you, today, my friends? THIS is lentil soup. GOOD lentil soup. The way it was meant to be done. And it's absolutely scrumptious. I promise!
A Few Recipe Notes & Tips:
Use Homemade Chicken Stock If You Can
I keep homemade chicken stock in my freezer. You don't have to do this. Store bought stock is fine. But it's easy-peasy to make your own stock, and it tastes SO GOOD, and your soup will be all the better for it. I've included a link here to my own recipe, which is super duper easy, and has some interesting spices you might not have thought of.
Soup is Even Better with a Homemade Quick Bread
The biscuits I served with this soup also put it over the top in terms of wonderfulness, and I'll do a separate post on the wonder of the biscuits I made. Buttermilk Biscuits with Chives and Black Pepper: they were PERFECT for this meal!
Sausage is Typically Served with Lentils in France
I used kielbasa in this soup, because that's what Ina recommended. But if you have a particular brand of smoked sausage that you're fond of, I'm sure other types would also be delicious.
The Variety of Lentils Called for In This Soup Is French du Puy Lentils
Ina's recipe called for French Green Lentils, which can be a little hard to find. I'll put a link to French Du Puy lentils, below my recipe card, so you can have them conveniently delivered to your doorstep. I found mine at Whole Foods, and they were reasonably priced, too. The type of lentils you use WILL make a big difference in the outcome, particularly if you use red lentils, which tend to fall apart when they hit the water, so make this recipe with French Green lentils (such as du Puy) if at all possible.
About Cooking with Leeks
If you haven't cooked with leeks before, they tend to collect grit on the INSIDE, so they must be carefully cleaned. Cut off the dark green parts and the tip with the root hairs, and discard both those parts.
Then slice the leeks horizontally in half. Submerge them in a sink of cold water, and peel the layers back a bit to be sure you clean out any dirt or grit that has collected between the layers. You'll likely see what I mean.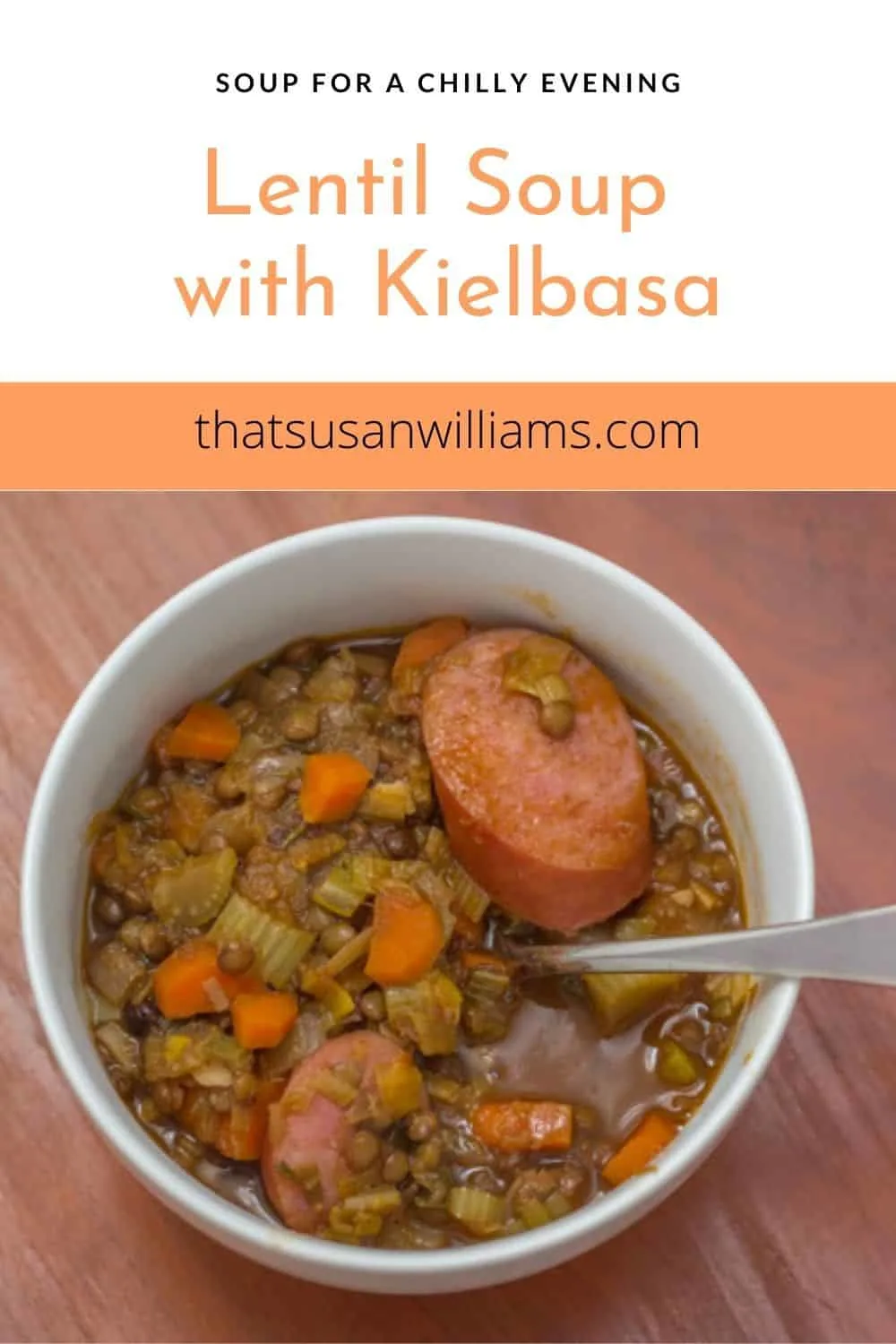 Please: pin this on Pinterest!
What's your favorite meal on a chilly fall evening?
The Recipe for Lentil Soup with Kielbasa:
Yield: 6 servings
Soup for a Chilly Fall Evening: Lentil Soup with Kielbasa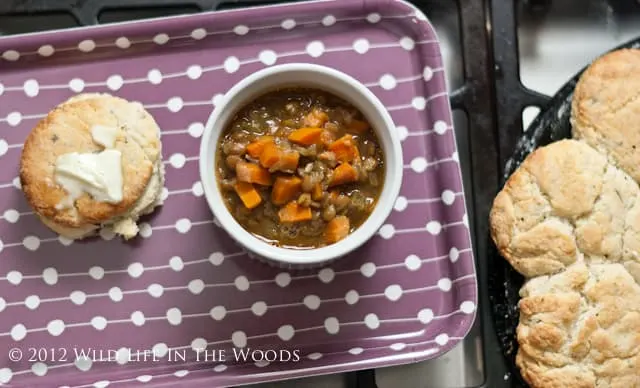 A delicious soup that will warm up your kitchen, your tummy, and your heart, perfect for a chilly fall or winter evening..
Ingredients
1 lb. French green lentils
1/4 c. olive oil
2 large onions, diced
2 large leeks, chopped (use white and light green part only)
1 tablespoon minced garlic
1 tablespoon salt
1 teaspoon freshly ground pepper
1 tablespoon minced fresh thyme
1 teaspoon ground cumin
3 c. medium diced celery
3 c. medium diced carrots
3 qts. homemade chicken stock (or boxed broth)
1/4 c. tomato paste
1 lb. kielbasa, cut in half lengthwise, and sliced 1/4″ thick
2 tablespoons dry red wine
Instructions
In a large bowl, cover the lentils with boiling water and allow to sit for 15 minutes. Drain.
In a large stockpot over medium heat, heat the olive oil and sauté the onions, leeks, garlic salt, pepper, thyme, and cumin for 20 minutes, or until the vegetables are tender.
Add the celery and carrots and sauté for another 10 minutes.
Add the chicken stock, tomato paste, and drained lentils, cover, and bring to a boil. Reduce the heat and simmer uncovered for 1 hour, or until the lentils are cooked through and tender. (It actually took my lentils an additional 30 minutes, so you'll want to taste test yours, till they get to your desired tenderness, but start checking at 1 hour).
Add the kielbasa and red wine, and simmer until the kielbasa is hot.
Ina serves her soup drizzled with olive oil, and sprinkled with grated Parmesan, and I think that would be great, but we were too hungry, and I forgot!
Notes
Definitely give my biscuits a try with this soup. They were PERFECT!
Recommended Products
As an Amazon Associate and member of other affiliate programs, I earn from qualifying purchases.
Nutrition Information:
Yield:
6
Serving Size:
1
Amount Per Serving:
Calories:

551
Total Fat:

34g
Saturated Fat:

9g
Trans Fat:

0g
Unsaturated Fat:

23g
Cholesterol:

59mg
Sodium:

2136mg
Carbohydrates:

42g
Fiber:

11g
Sugar:

13g
Protein:

22g