This post contains links that, if you click on them and make a purchase, will earn me money. As an Amazon Associate, I earn from qualifying purchases. . Regardless, I only recommend products or services that I believe will be good for my readers. Thanks for helping me continue to produce great content!
Buttermilk Biscuits with Chives and Black Pepper require no more skill to make than regular homemade biscuits. If you've never made biscuits before, homemade biscuits, made from scratch, are easy to do. Yet, they take a somewhat humble bowl of soup, and turn it into a meal that the whole family is thrilled about!
A Savory Biscuit
We love homemade bread and biscuits, here in the Boonies. Maybe it's that way at your house, too. These particular biscuits are a savory biscuit, rather than a biscuit you'd put preserves or honey on. They're light, fluffy, tangy and flavorful, and they'd go great as an easy-to-make accompaniment to a pot of your favorite soup.
The Kentucky Biscuits of My Childhood
I was thinking back on when I first had biscuits, and I remember the ones from summer trips to Kentucky, where my Mom's parents lived. My grandmother and my aunt, who lived next door to each other, both made biscuits for breakfast whenever we visited. They were all the more memorable because my Mom almost never made biscuits.
My aunt made plain biscuits (no pepper, no chives) that we slathered with butter and either honey, Bob White syrup, or best of all, chocolate gravy. Chocolate Gravy is a chocolate sauce thickened with flour and butter, and in my memories, it was devastatingly delicious. I haven't had it since I was a kid.
But enough about biscuits as dessert. Let's get back to biscuits as a savory. These biscuits are super easy to make. The buttermilk gives them a tang (and makes them tender) and the cornmeal in them gives them a great crunch. This recipe has more sugar than most biscuit recipes, which aids in browning, and balances the slight tang from the buttermilk. The chives add a little "green" which is slightly sweet, slightly savory, and a little herbal. The heat from the pepper adds a little zing. Taken altogether, the whole is greater than the sum of its parts. These biscuits have a nice balance of flavors and textures.
Tips for Biscuit Making:
Tip #1 What to do if you have no buttermilk:
If you have no buttermilk, you can do what I do and sour some milk in a cup by adding a scant tablespoon of white vinegar to the 3/4 c. of milk.
Tip #2 What to do if you have no chives:
If you have no chives, you could certainly substitute green onions.
Tip #3 What to do if you have no self-rising flour:
If you have no self-rising flour, you can make your own, by adding 2 t. of baking powder, and 1 t. of salt to 2 c. of all-purpose flour.
Tip #4 Does the type of flour you use matter, anyway?
White Lily is the very best flour for making biscuits because it is flour that has been milled from soft wheat, which is lower in protein, so if you are lucky enough to have a grocery store that carries it, buy it, and use it for biscuits. Honestly, it's worth keeping around just for that purpose. White Lily flour makes biscuits that are tender. White Lily does react slightly differently in recipes that call for regular all purpose flour – things tend to fall apart more easily – so, you have been warned. I use my White Lily almost exclusively for biscuits.
Tip #5 Something I do that makes these biscuits EXTRA good, and it has to do with a grain mill.
If you happen to have your own grain mill, and can grind your own popcorn, cornmeal that is freshly ground tastes the very best, and is slightly more coarse, which is a desirable quality in this recipe. That's what I use.
Whenever I grind popcorn to use in polenta, or cornbread, I store any excess or leftover quantities that I've ground in a ziplock in the freezer. That way I always have some extra on hand for coating the bottom of a pizza crust, or to use in these biscuits!
Yield: 12 servings
Buttermilk Biscuits with Chives and Black Pepper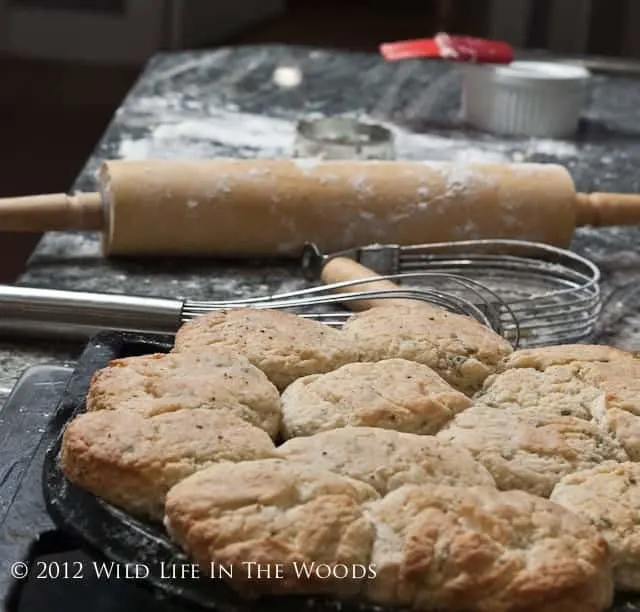 Buttermilk Biscuits with Chives and Black Pepper are a savory biscuit, light and fluffy, tangy and flavorful, and they'd be great as an easy-to-make accompaniment to a pot of your favorite soup.
Ingredients
3/4 c. chilled buttermilk
1/4 c. finely chopped chives
2 c. self-rising flour
1/2 c. yellow cornmeal
3 T. sugar
1/2 t. coarsely ground black pepper, plus additional for sprinkling
1/2 c. (1 stick) chilled butter, cut into 1/2"cubes, plus 1 T. melted butter
Instructions
Pre-heat oven to 425º, with rack positioned in center. If using a baking sheet,line with parchment paper, or grease. (I cook my biscuits on a cast iron griddle pan, so, no parchment paper or greasing necessary.)
Combine buttermilk and chives in medium bowl.
Whisk flour, cornmeal, sugar, and 1/2 t. ground black pepper in large bowl to blend. Add butter cubes, and rub in with fingertips or cut in with pastry blender, until mixture resembles coarse meal. Add buttermilk mixture and stir until moist clumps form.
Gather dough together. Turn dough out onto floured surface and knead gently just to combine, about three to four turns.
Roll out to 3/4" thickness. Using floured 2"cookie or biscuit cutter, cut out rounds. Re-roll scraps and cut out additional rounds. Place 2" apart on prepared baking sheet or griddle. Brush tops of biscuits with melted butter, and sprinkle lightly with pepper.
Bake until golden, about 20 minutes. Spread tops with more melted butter, if desired. Because...hello? Biscuits need butter!
Recommended Products
As an Amazon Associate and member of other affiliate programs, I earn from qualifying purchases.
Nutrition Information:
Yield:
12
Serving Size:
1
Amount Per Serving:
Calories:

124
Total Fat:

2g
Saturated Fat:

1g
Trans Fat:

0g
Unsaturated Fat:

1g
Cholesterol:

4mg
Sodium:

291mg
Carbohydrates:

23g
Fiber:

1g
Sugar:

4g
Protein:

3g
Be sure to pin this one, or print it out, so you'll remember to make them later.(And I have four scrumptious soups that would pair nicely with these delicious darlings, so click on these links, and check them out, too! They are: Slow Cooker Tortilla Soup, Lentil Soup with Kielbasa, Baked Potato Soup, and Minestrone with Pesto.Are you a biscuit lover?