This post contains links that, if you click on them and make a purchase, will earn me money. Regardless, I only recommend products or services that I believe will be good for my readers. Thanks for helping me continue to produce great content!
I've learned how to make creamy homemade polenta in my pressure cooker/multi-cooker, (for some of you, that's an Instant Pot) and I will never go back to the old way I used to make polenta again! Making it in my electric pressure cooker is so much easier! No more molten lava spatters on my hands or arms! No standing around stirring!
Polenta Without Pain
I even considered titling this recipe "Polenta Without Pain", but I was pretty sure no one would be googling that. But they SHOULD. Because that's exactly what this recipe is: polenta that is neither painful to the appendages, nor a pain in the patootie.
Even if you've never tried making polenta the old fashioned way, you have GOT to try this method, if you have an Instant Pot, or some form of pressure cooker. You're going to love how convenient, and most of all, how DELICIOUS this method is. I'm envisioning polenta being on my menu a LOT MORE this fall and winter, since I learned this simple method.
It's A Polenta Miracle
The pictures tell the story. Because pretty much, there's no story to tell. Just place the ingredients in the pressure cooker, seal it up and let it do its magic. Give it 10 minutes to release some pressure, and stir in some cheese, butter, and season to taste. Glory be! It's a polenta miracle!!!
Ingredient Notes on Creamy Homemade Polenta:
The Cornmeal:
You can use store-bought stone ground cornmeal for this, any color: white or yellow. Your polenta will be wonderful.
However, I grind my own cornmeal in my NutriMill Grain Mill. Cornmeal that's freshly ground from popcorn (yes, popcorn!!!) tastes so fresh and sweet, you won't believe the difference it makes in your cornbread or polenta.
My recipe calls for 1 and 1/2 cups of cornmeal, and that's how much popcorn I poured into the mill. As you can see in this picture, when you grind 1 1/2 cups of un-popped popcorn, you get more than 1 1/2 cups of ground cornmeal. I store the leftovers in a ziplock bag in my freezer, to use the next time I need cornmeal. Sometimes I use it to "bread" okra, when I fry okra. Sometimes I use it on my pizza pans, before I put the pizza crust onto them. It crisps up and adds texture and flavor to my crust.
Cheese for Creamy Homemade Polenta
You can use whatever variety you'd like to, to change up the flavor. For my version I used havarti (because it's creamy and melty) and freshly grated parmigiano reggiano, because it's nutty and salty.
Is It Cheese Grits, or Is It Polenta?
At this point, you can probably safely call this dish either "cheese grits" or "polenta". If you choose to identify it as cheese grits, in order to pacify someone you live with who complains regarding eating "fancy foods", I'll never tell. No one will be the wiser. In that case, you might want to serve these cheese grits for breakfast or at an elegant brunch. They can be cooking while you pull the rest of your brunch together. How convenient is that?
Likewise, if you want to call it "polenta", have an elegant Italian dinner, and serve this under Pork Osso Buco, that would be equally fitting. I chose to serve it under Grilled Ratatouille with Roasted Garlic, to use up some of the tomatoes and zucchini that have been finding their way into my kitchen. And it was heavenly!
What If You Prefer Your Creamy Homemade Polenta Crispy?
Honestly, between the two, I'd have to say I prefer my polenta crispy. And that's super easy to achieve. All you have to do is spread the polenta out on a rimmed cookie sheet, and let it cool in the fridge. You can do this with the entire batch of polenta, or with the leftover polenta, if you have enough. Since there were only two of us eating this meal, we had enough.
We used a cookie cutter to cut out these neat cheesy circles from the chilled leftover polenta, and had them the next night, with the leftover grilled ratatouille veggies. Best leftovers EVER!!! Then you just brown them slowly in a little puddle of half olive oil, half butter. The butter brings that great buttery flavor and the olive oil prevents burning, as butter burns at a lower temp than olive oil.
And because we had about 6 circles of leftover, unbrowned polenta left after that, we froze them! So that some winter evening, all I'll need to do is stick a pan of chopped veggies in the oven to roast, and brown those little polenta circles up, for an elegant meal that will taste like I slaved hours over it. The anticipation of a good meal when I need it most makes me happy!
The Recipe for Creamy Homemade Polenta:
Yield: 6 servings
How to Make Creamy Homemade Polenta in a Pressure Cooker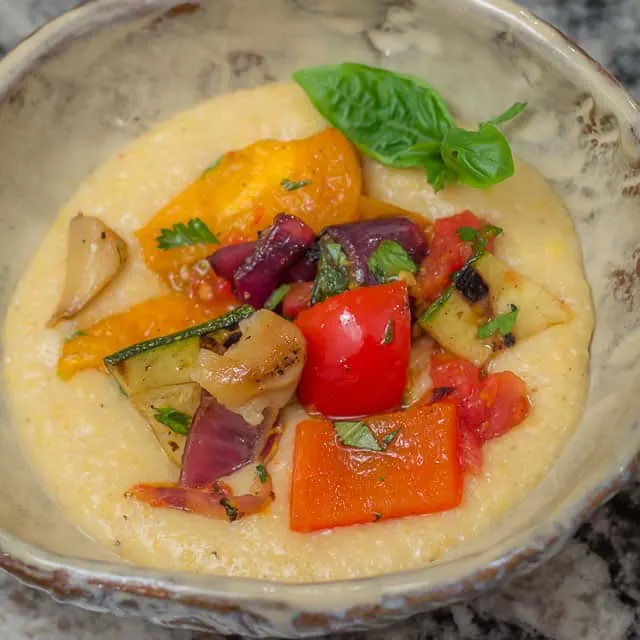 Deliciously creamy homemade Polenta, cooked in a pressure cooker/multicooker/InstantPot.
Additional Time
15 minutes
Ingredients
5 c. chicken stock
1 1/2 c. stone ground cornmeal
3/4 teaspoon sea salt
1 bay leaf
3 tablespoons of butter
3 oz. Havarti, or other soft, melty cheese
4 oz. freshly grated Parmigiano Reggiano
Instructions
Stir all the ingredients, except the last two cheeses into the pressure cooker, and cook on high pressure for 15 minutes.
Allow the pressure to release naturally, and then uncover and stir vigorously to break up any clumps. Add the cheese, and stir some more. Let the polenta sit 5 or 10 minutes, to fully absorb all the liquid. If it's too thick, you can add some more hot chicken stock, or milk, or even water.


Notes
Don't forget: you can make crispy polenta by spreading any leftovers on a rimmed cookie sheet and refrigerating it. Then cut into whatever shapes you desire. A heart would be nice for Valentine's Day! And let each slice of polenta you've cut out crisp up in a small puddle of butter and olive oil in a cast iron skillet.
Recommended Products
As an Amazon Associate and member of other affiliate programs, I earn from qualifying purchases.
What Goes Great with Polenta?
Here are a few more dishes you can serve with Creamy (or Crispy) Homemade Polenta: